France v Denmark match report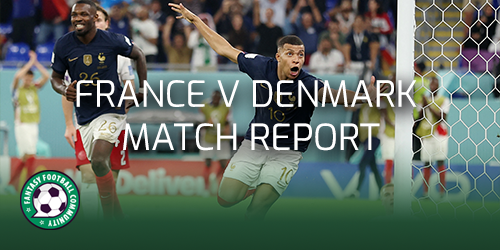 The World Cup continues. Our second match in Group D Matchday 2 begins. We take a look at the France v Denmark game. We will highlight the line-ups, pick out the key moments and standout World Cup Fantasy performances during the match.
Covering the France v Denmark match can be very useful to World Cup Fantasy managers. Highlighting line-ups, key moments and standout fantasy performances can aid decisions regarding future transfers, captaincies and chip strategy.
Line-ups – France
Kylian Mbappe (£11.5m) will be looking to extend his form after scoring in Matchday 1. Many managers may have sold the striker ahead of his tough match against Denmark and another favoured asset could be left back Theo Hernandez (£5m).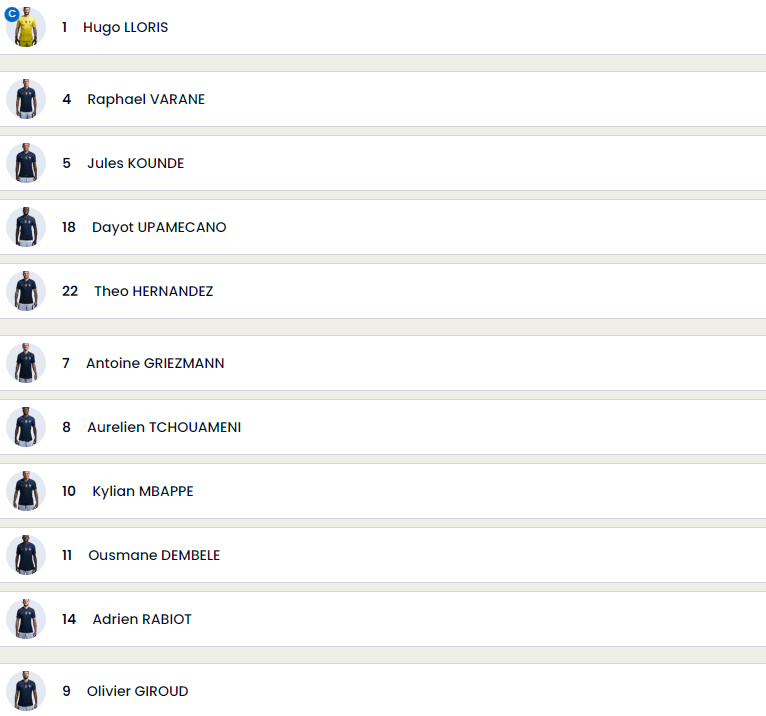 Denmark
Many managers within the community have sold Joakim Maehle (£4.5m) ahead of France. The defender has become fantasy football gold over the years for country. Midfielder Andreas Skov Olsen (£6m) fails to start the match.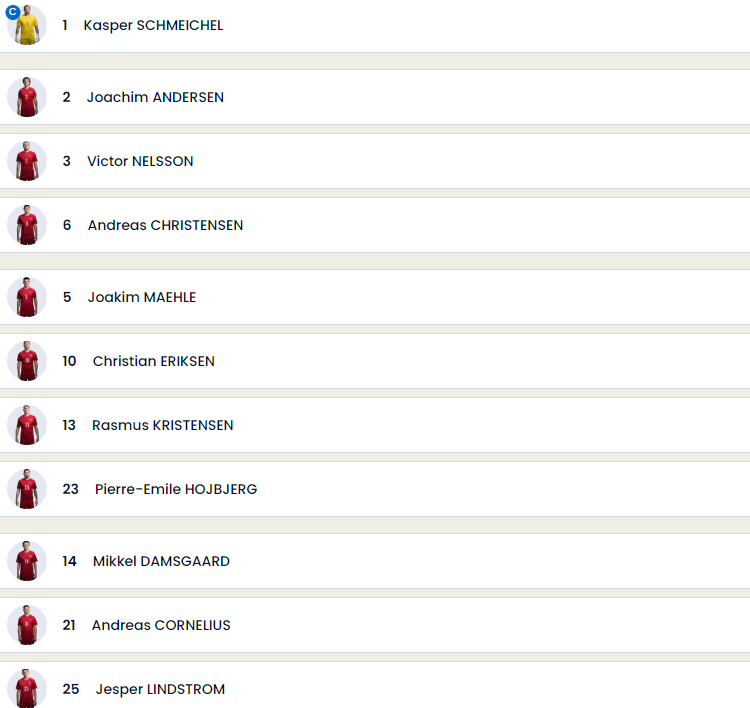 Key moment
The match gets underway.
France are mounting pressure on Denmark but the Danes are doing well to defend against it.
Antoine Griezmann (£8.5m) crosses the ball to fellow forward Olivier Giroud (£7.5m) but the ball was cleared by Denmark forward Andreas Cornelius (£6m).
France counter a Denmark attack at speed. Kylian Mbappe looks through on goal but gets dragged down Andreas Christensen (£5m). The defender receives a yellow card.
France striker Ousmane Dembele (£8m) whips a cross into the box which connects with midfielder Adrien Rabiot's (£6.5m) head to force a save from the Danish goalkeeper. That was a huge chance to score for France.
Andreas Cornelius picks up a yellow card for arriving late and catching Olivier Giroud's foot.
Kylian Mbappe scurries into the Denmark penalty area after showing fantastic pace. Mbappe plays a cross into the box which falls to Jules Kounde (£6m). Kounde's shot is blocked by Denmark midfielder Pierre-Emile Hojbjerg (£6.5m).
Denmark are weathering a storm of shots from France.
Ousmane Dembele finds himself in plenty of space. He places a ball to Kylian Mbappe who has a very good chance to score but his shot is hit way over the bar.
Jules Kounde receives a yellow card for his challenge on defender Victor Nelsson (£4.5m).
The halftime whistle blows.
Second half
The second half gets underway, and Denmark will be hoping to improve.
Kylian Mbappe burts into the Denmark box, unleashes a shot but is an easy save for the goalkeeper.
Antoine Griezmann is through on goal, but he lashes his shot over the bar.
GOAL! With a series of one-two passes between Theo Hernandez and Kylian Mbappe on the left side, both venture into the opponent's box. Kylian Mbappe releases a shot which is deflected off Andreas Christensen and into the net. The score is 1-0 to France.
GOAL! Denmark midfielder Christian Eriksen (£8m) takes a corner. His corner is thundered into the back of the net by Andreas Christensen!
Denmark striker Kasper Dolberg (£7.5m) whisps a ball into the box which connects with the foot of Martin Braithwaite (£6.5m) and flies just past the post.
GOAL! Antoine Griezmann shifts the ball onto his left foot and sends a dangerous cross into the path of Kylian Mbappe who forces the ball into the net. 2-1 to France.
The match ends 2-1 to France.
Standout World Cup Fantasy performances
The match ended 2-1 which meant there was a lack of defensive returns.
Kylian Mbappe was the standout player. He scored two goals, taking him to a massive 13 points.
Theo Hernandez earned four points for his assist and Antoine Griezmann matched that total with his assist.
Andreas Christensen hit six points because of his goal.
@FPLReaction's (Louis) comments
Kylian Mbappe was in top form and that was obvious after his two goals. Despite his goals, he was excellent overall. There were question marks over how Mbappe would do against a tougher opponent, but those questions were answered.
Furthermore, France look highly investable in attack moving forward but despite this Mbappe is the standout option.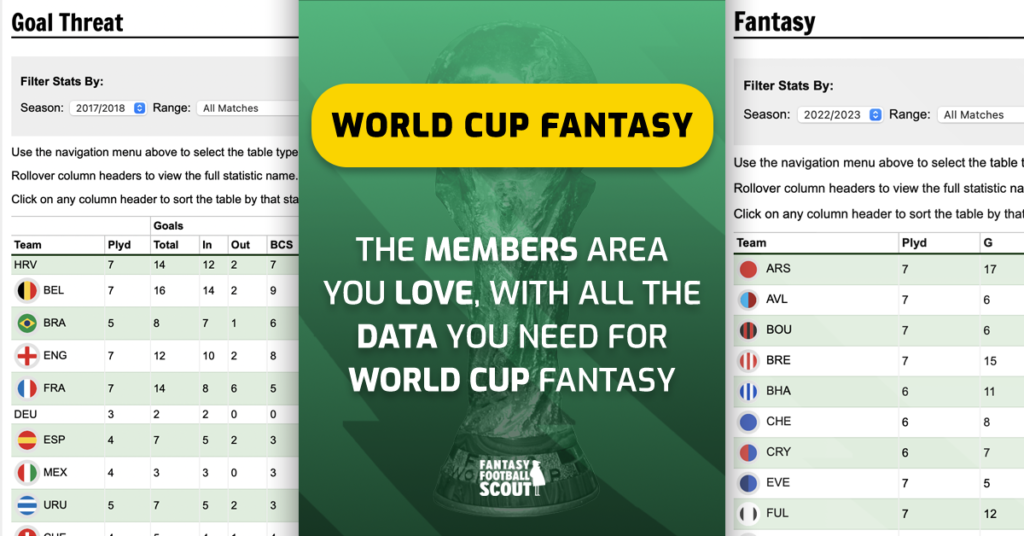 ---
Catch up on Ecuador v Netherlands here.