UCL Fantasy chip strategy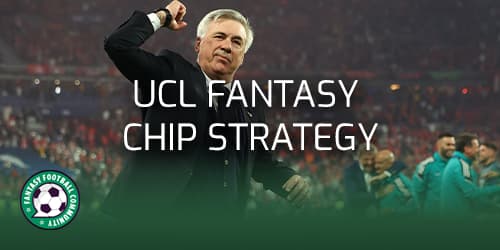 We take a look at the best UCL Fantasy chip strategy. Taking a look at both the wildcard and the limitless chip, what they are and how best we can deploy them. With the help of the UCL Fantasy fixture list we can focus on fixture swings and how that can contribute to effectiveness of the chips.
The UCL Fantasy chip strategy can be detrimental to how successful a season is for managers in any game. However, due to how short the UCL Fantasy season is in terms of matchdays chips can be seen as more important for rank than in any other fantasy platform.
When to use chips generally?
Experienced UCL Fantasy managers tend to use their chips in the group stages. When the best teams play the weakest teams there is massive opportunity for points, this is a factor that backs the use of chips in the group stages. This also indicates that as the competition goes on the quality of teams increase which then leads to tougher matchups and a lower ceiling for points.
The earlier we use chips the better. As the best team's rack up wins their more likely to rotate their best teams and players to prioritise their domestic leagues. For that reason, avoiding the use of chips in Matchday 6 could be beneficial.
Limitless
Below we can see how the limitless chip works: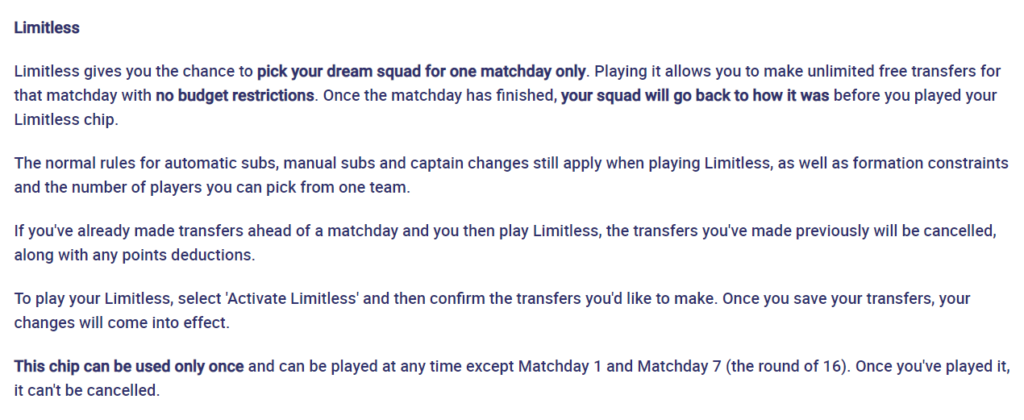 When to use the Limitless chip this season?
There are several great opportunities to utilise the limitless chip. However, one matchday does stand out above the rest. Matchday 2 appears to have great potential and that's because of several reasons. Firstly, using limitless in the second round means you could attack the first round of fixtures in matchday 1 without having to think about Matchday 2. Even more so if managers intend on using their wildcard in Matchday 3 (see below).
A second reason that should be factored into the appeal of limitless in Matchday 2 is fixture swings. Teams like Sevilla, PSG, Celtic, Inter and Napoli all have tough fixtures in Matchday 1 but easier in Matchday 2. This means that managers on a limitless could target those easier fixtures.
The final reason for a limitless in Matchday 2 is that teams like Dortmund, Leipzig, Benfica, Ajax, Barcelona, Spurs, Sporting and Porto all play easier fixtures in Matchday 1 and tougher fixtures in Matchday 2. This means managers can target those fixtures in Matchday 1 knowing they can change up their team in Matchday 2.
The wildcard
Below we can see how the wildcard works in general: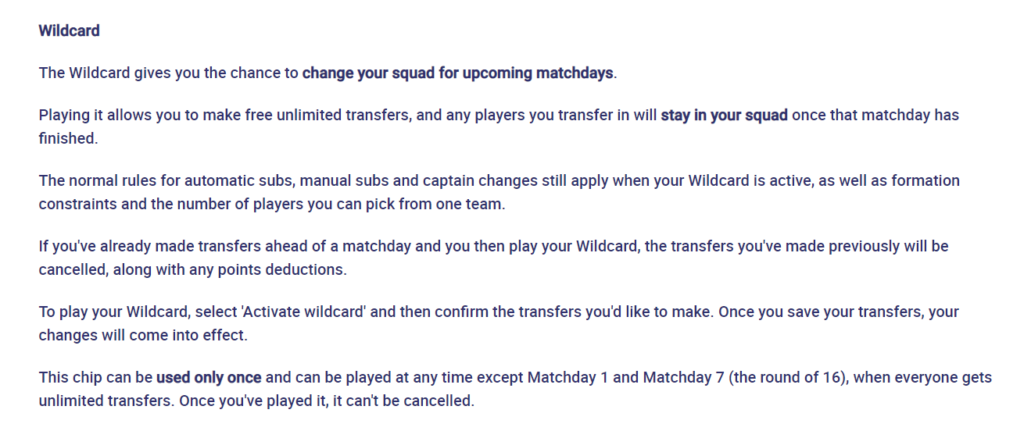 When to use the wildcard this season?
We can already see a great use of the limitless chip in Matchday 2, that could mean that there is some pressure to wildcard in Matchday 3. However, even with that pressure there is huge factors that indicate wildcarding in Matchday 3 could be a fantastic opportunity to attack the large fixture swings.
Teams like Leipzig, Salzburg, Spurs, Atletico, Man City, Juventus, Rea Madrid, Sporting, Bayern, Liverpool and Porto all have back-to-back fixtures against weaker opposition. This means we can set our new teams up to target two consecutive matchdays.
It's also worth noting that teams like PSG, Ajax, Barcelona, Inter, Napoli, Chelsea and Milan all have tougher back-to-back fixtures so coming off those players within our fantasy teams around Matchday 3 is also likely to be beneficial.
---
You can see all of the UCL Fantasy Matchday 1 fixtures in our article here.