UCL Fantasy Matchday 1 fixtures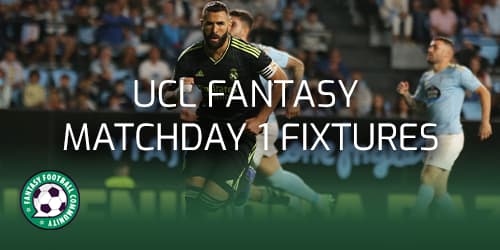 With the release of the official game comes the UCL Fantasy Matchday 1 fixtures. Managers can now see the fixtures schedule for the group stages all of the way up to Matchday 6. Below we highlight each fixture played in the first round as well as any initial thoughts on player assets.
Seeing the UCL Fantasy Matchday 1 fixtures can help managers with key elements like building our squads, captaincy, and which early line-ups we will see. This can then help us get off to a good start in UCL Fantasy.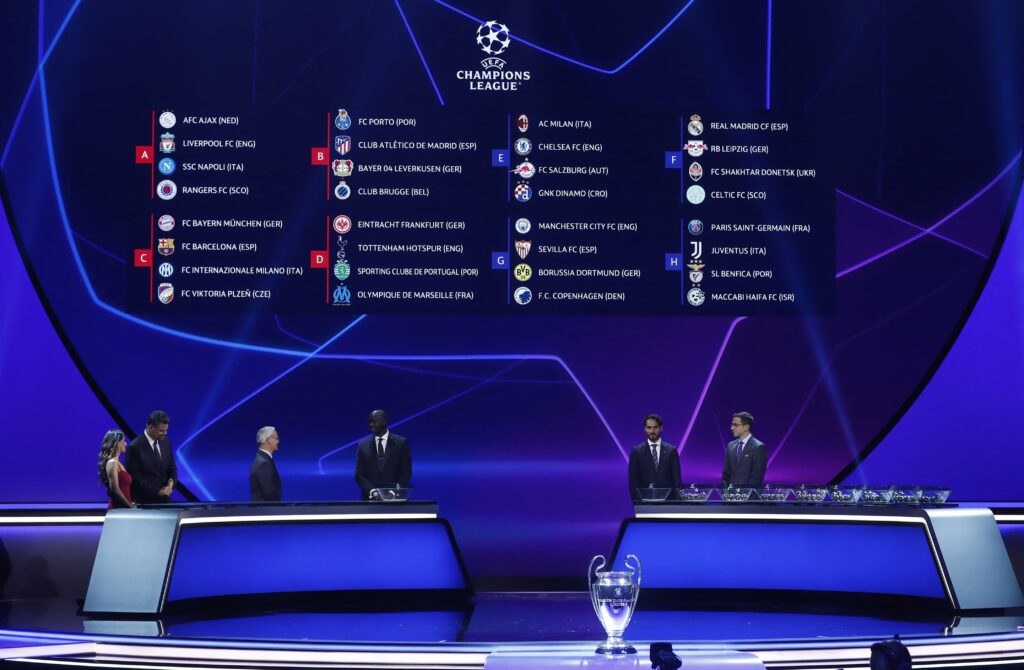 Dinamo Zagreb v Chelsea (17:45)
One of the early kick-offs sees the 20/21 champions Chelsea away at Dinamo Zagreb. This means that managers have access to the line-ups for both teams and could even include their assets in their set-ups if starting.
Although the Chelsea attack hasn't been what fans have hoped, it could be the defence managers invest in. £6m Reece James could be the stand-out asset that people choose. Defender and £5m Koulibaly could be the cheapest way into the blues backline.
Dortmund v Copenhagen (17:45)
The second early kick-off comes in Germany which means again, we can see their line-ups before the deadline. Dortmund have invested well over the summer at the back. Although, those summer signings are yet to help Dortmund keep more clean sheets than fans expected.
UCL Fantasy managers could see this as a great opportunity to invest in the Dortmund attack. Marco Reus could be the midfielder to tempt the community in Matchday 1.
Benfica v M.Haifa (20:00)
Portuguese team Benfica will be firm favourites going into this game, especially as the meeting is at home. Benfica could tempt UCL managers into investing ahead of Matchday 1. Both the Benfica attack and defence could be appealing for this matchup.
Salzburg v AC Milan (20:00)
The reigning Italian League champions come up against Salzburg away from home. Although Salzburg became a team many would flock to for great value assets last season that could now change. Salzburg have lost the likes of Kristensen and Adeyemi ahead of the new campaign, two players many fantasy managers owned last campaign.
Celtic v Real Madrid (20:00)
Scottish League champions will likely be huge underdogs going into this match. The Champions League holders are home to the 21/22 season's highest scoring UCL Fantasy player. £11m forward Benzema became a sensation last season as his relentless consistency led to him becoming the most captained player within the game.
Leipzig v Shakhtar Donetsk (20:00)
German team Leipzig haven't started the domestic season well. With just one win in their last four matches, they could be a team to avoid defensively. However, in attack, the £9m midfielder Nkunku could be the go-to pick for UCL Fantasy managers.
Sevilla v Man City (20:00)
Away team Man City will likely be firm favourites here. After making it to the advanced stages of the competition last campaign things may only get better. New signing and £11m forward Haaland could be the first player included in many managers teams in 22/23.
Paris v Juventus (20:00)
The meeting between the French and Italian giants could be seen as one of the most exciting matches in Matchday 1. Many will back Paris for the win, but will that be enough to want to invest in their pricey options?
Ajax v Rangers (17:45)
The second day of Matchday 1 sees another early kick-off. This again, means that we can see both line-ups before the deadline. Dutch League champions will be going into his home match looking for the win. Ajax was another team many UCL managers invested in last season due to their great value assets.
The community could be considering the in-from Ajax attacker £7m Bergwijn. The midfielder's great early form consists of four goals in his last four league matches.
Frankfurt v Sporting CP (17:45)
The fourth and final early kick-off comes between German team Frankfurt and Portuguese team Sporting both offering up their line-ups before the UCL Fantasy deadline. Sporting CP became another great team to invest in for great value assets.
£7.5m midfielder Goncalves was owned by large parts of the UCL community last season. His back-to-back double-digit hauls reflects his huge potential, and this could be a great game for him to continue that form.
Atletico v Porto (20:00)
The battle of which team tops the group could be decided by these two teams. Although both have pricey attacking options, both also have very cheap defensive options. Managers could be heavily appealed by the defender assets in Atletico and Porto.
Inter v Bayern (20:00)
This meeting offers up one of the most exciting matchups of the matchday. German giants became a key team in UCL managers fantasy campaign last season, however, with a fixture like this, many could now be avoiding in Matchday 1.
Napoli v Liverpool (20:00)
English side Liverpool made it all of the way to the final last campaign. Although their assets are usually highly targetable in UCL Fantasy that may not be the case in Matchday 1. Napoli away could present an early challenge for the visitors.
Club Brugge v Leverkusen (20:00)
Club Brugge showed last season they were no pushovers. This could be a tightly contested match and one that UCL Fantasy will likely avoid when it comes to investing in their assets.
Barcelona v Plzen (20:00)
Barcelona's summer re-build could see the Spanish side heavy favourites in this one. This could be the best time look to their assets as they face Plzen at home. New signing and £11m forward Lewandowski could be the first player managers think of when investing.
Tottenham v Marseille (20:00)
Premium forwards continue to dominate the community's thoughts with a Tottenham home game against French side Marseille. £10.5m Harry Kane comes in at £0.5m cheaper than the likes of Haaland, Lewandowski and Benzema, but could he have the same UCL Fantasy effect in Matchday 1?
---
Check out the full Champions League draw right here.