The World Cup Fantasy community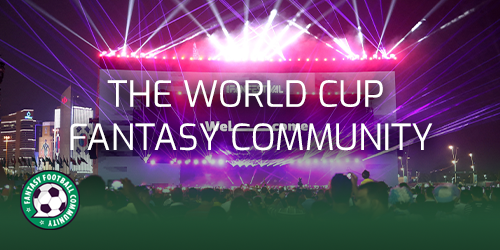 The World Cup starts tonight so many managers will be scrambling to finalise their teams, chip plan, captaincy and more in preparation. We take a look into what the World Cup Fantasy community have been tweeting as Matchday 1 draws ever closer.
With the Premier League now on hold due to the World Cup many have flocked to the exciting new World Cup Fantasy game. Although the app and rules have been recently clarified, the changes and confusion have created a turbulent World Cup Fantasy environment on Twitter.
@LetsTalk_FPL
Andy became a saviour for many this week. The World Cup Fantasy rules have been up in the air for some time and managers within the fantasy community have been hoping and looking for confirmation on those rules.
Fantasy Football content creator Andy cleared up a lot of the confusion surrounding the use of chips, captaincy and other vital factors for those playing the game. Reading Andy's thread will be detrimental to planning and getting those first drafts together.
@fpl_austria
FPL Austria has become one of the most consistent content creators covering World Cup Fantasy recently. From predicted line-ups to some of the best picks, FPL Austria has been excellent and the same can be said for the content he has provided.
FPL Austria has also been providing content for the Fantasy Football Scout. For all of the reasons above, it could be extremely wise to follow FPL Austria on Twitter. In addition, closely monitoring the content he will be providing throughout the World Cup.
@FplMode
Long term Fantasy Football Scout contributor and content creator Andy tweeted his team ahead of the deadline. Andy will be activating one of his boosters/chips in Matchday 1. The chips he is using is called the 12th man.
Many within the community are aware Striker Kylian Mbappe faces a tough match against Denmark in Matchday 2. For that reason, Mbappe looks set to be the most popular 12th man selection for the first round of World Cup Fantasy.
@Greyhead19
FPL Greyhead tweeted some very useful news this week. The Fantasy Football Scout contributor has been one of the most recognisable mini league creators over the years. His Great and The Good leagues have provided a platform for many to battle it out with some of the best personalities in the community.
FPL Greyhead has continued his great form. He has created a World Cup Fantasy version of the Great and The Good. Some of the details of the league have been included in one of his latest tweets below. Be sure to follow FPL Greyhead. But also join his fantastic leagues.
@FPLReaction
Fantasy Football Scout and Fantasy Football Community contributor @FPLReaction has also become a go-to account for fantasy football. As well as hosting Twitter spaces before each deadline, he will also be producing top picks for each Matchday in World Cup Fantasy.
For managers still looking to finalise their teams, it could be worth reading up on his pinned tweet. @FPLReaction highlights the best assets for every position ahead of Matchday 1. Keeping tabs on his tweets could be hugely beneficial.
---
Wondering what to expect from Matchday 1 in World Cup Fantasy? Take a look at our article here.