World Cup Fantasy expert team reveals for Matchday 1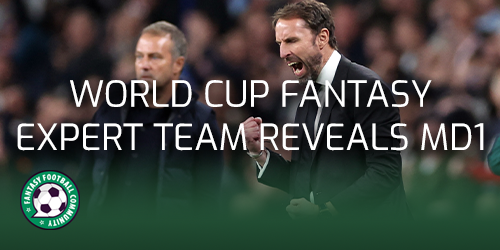 We check out some World Cup Fantasy expert team reveals for Matchday 1. World Cup Fantasy is here! We take a look through some of the most experienced managers teams ahead of the new round. We will see why they have made some of their decisions and some of the things that could change within their teams.
As the Matchday 1 deadline approaches thick and fast World Cup Fantasy managers will be scrambling to clarify some big decisions. Looking at World Cup Fantasy expert team reveals for Matchday 1 can help bring clarity to our own decisions within our teams.
@FplToni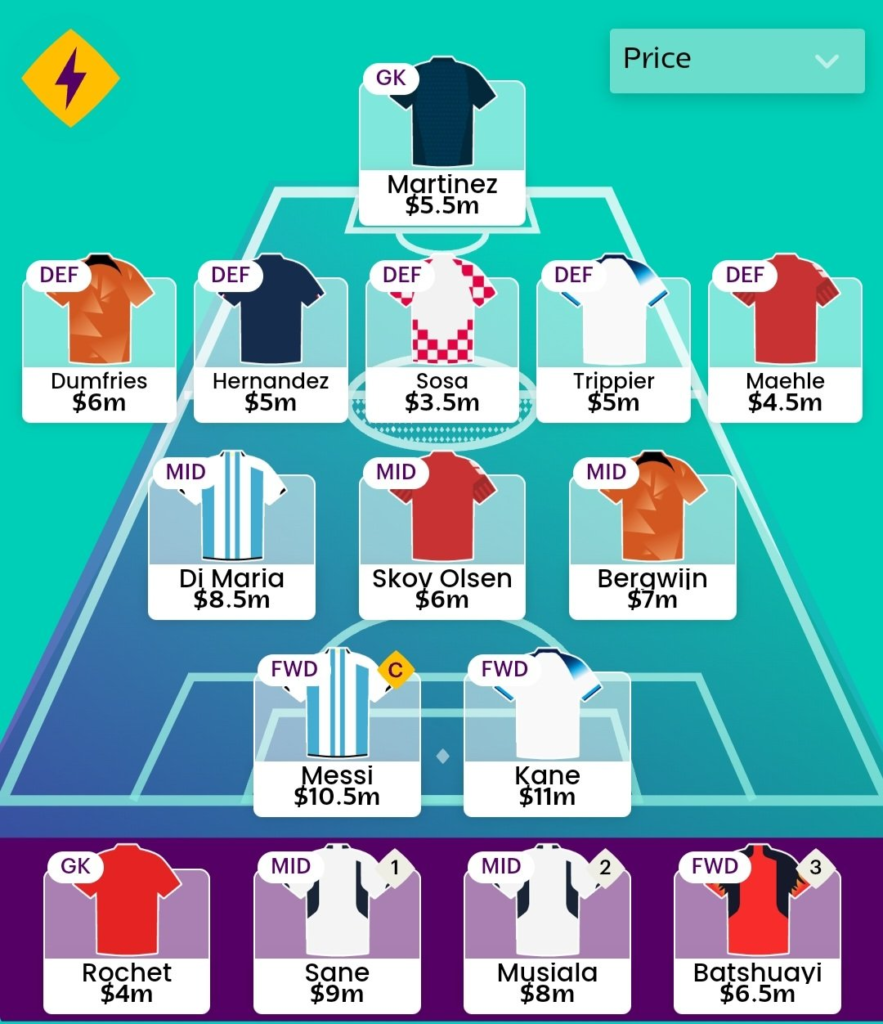 Notes
I will most likely use the 12th man chip on Mbappe this week.
I'm pretty set on every position except the goalkeeper and the third forward.
I still need to decide if I go with double cheap goalkeepers to afford a mid-priced forward instead of Batshuayi.
@FplRossoneri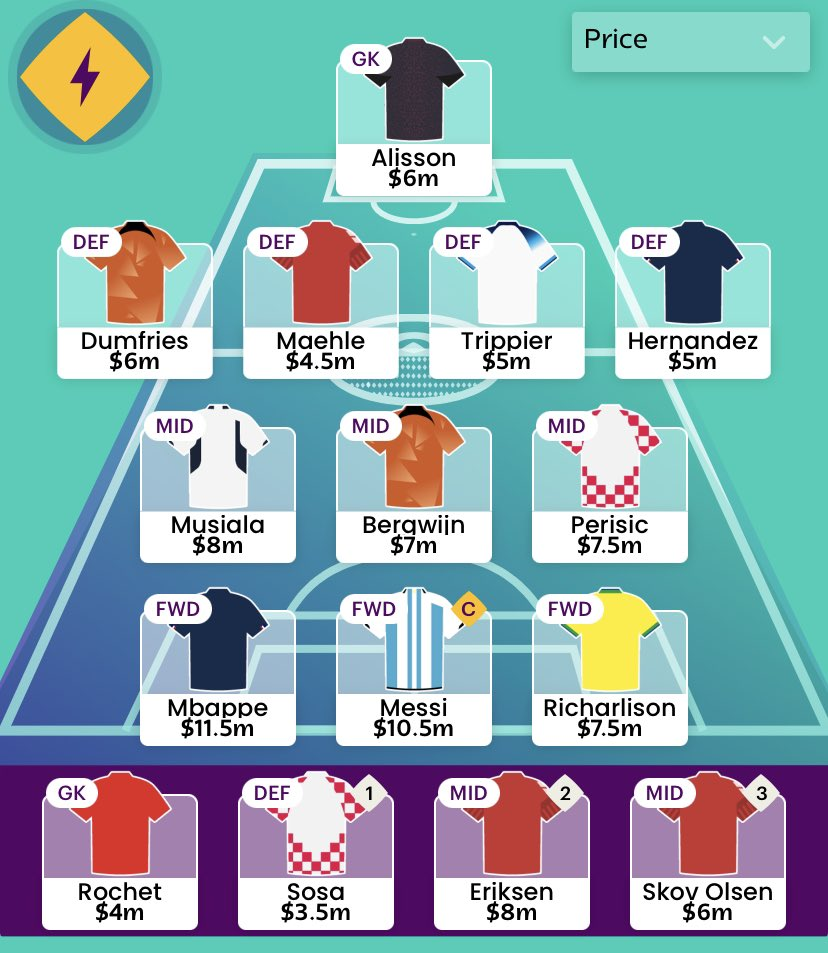 Notes
Goalkeepers speak for themselves in these. I expect Allison to do well and £4m Rochet is just a filler.
At the back I have all of the usual suspects, Dumfries, Trippier and Maehle, Sosa, all are locks. Theo at £5m is a punt because his upside if he starts against Australia is insane. Also I love Theo Hernandez, so I have that bias towards him!
Midfield is where I have some doubts, Musiala and "Danish Sweetheart" Skov Olsen are locks.
Bergwijn is playing out of position, so I can't ask for more. Eriksen and Perisic could become Kevin De Bruyne, that decision will go down to the wire!
Lastly up front I can't really go without Messi or Mbappe, so they are locks. My third Forward position is where I am going to take a punt. I am currently on Richarlison but that could be anyone.
Captain Messi then Mbappe.
I will 99% be playing my 12th Man chip either on Harry Kane or Neymar!
@Konate_FPL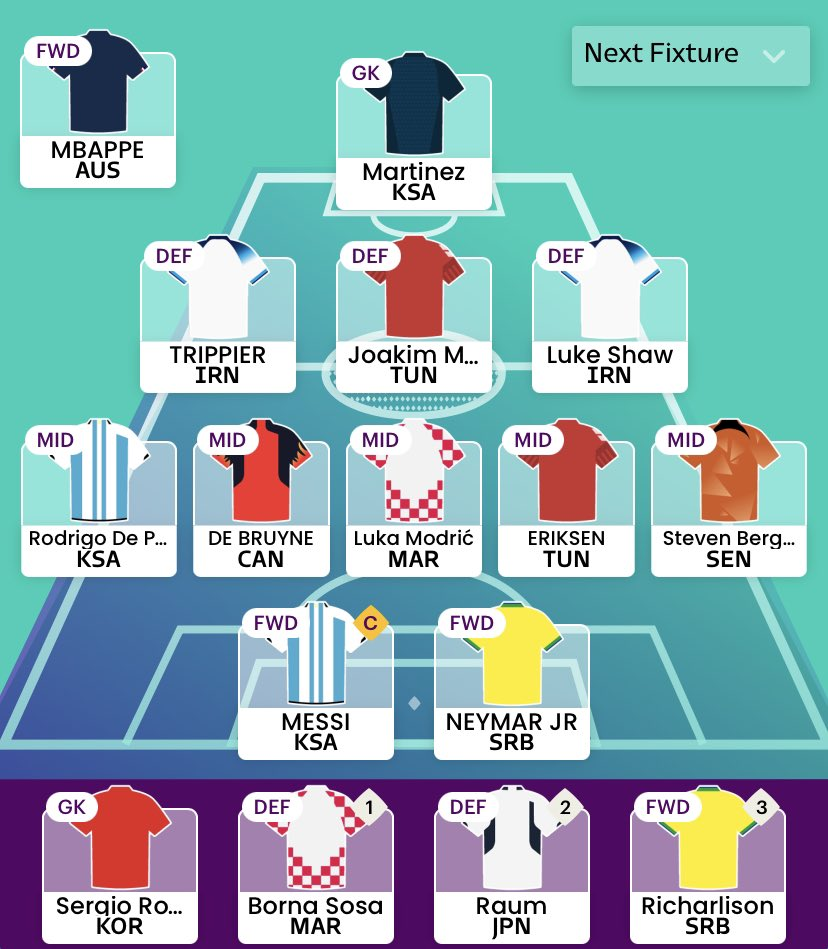 Notes
Triple Argentina, as I think they'll be too strong in the group stages.
Double Brazil attack as they have the highest predicted goals of the group stages.
De Bruyne, Modric, Eriksen for key passes, set pieces, and two out of three are on penalty duty.
Bergwijn likely playing up top provides value at £7m.
Double England defence as Trippier & Shaw both take set pieces for England and have the fourth highest predicted chance of a clean sheet. Maehle, Raum & Sosa are all attacking full backs, playing in strong enough defences with cheap price-tags.
The 12th Man is on Mbappe.
@uclfantasypod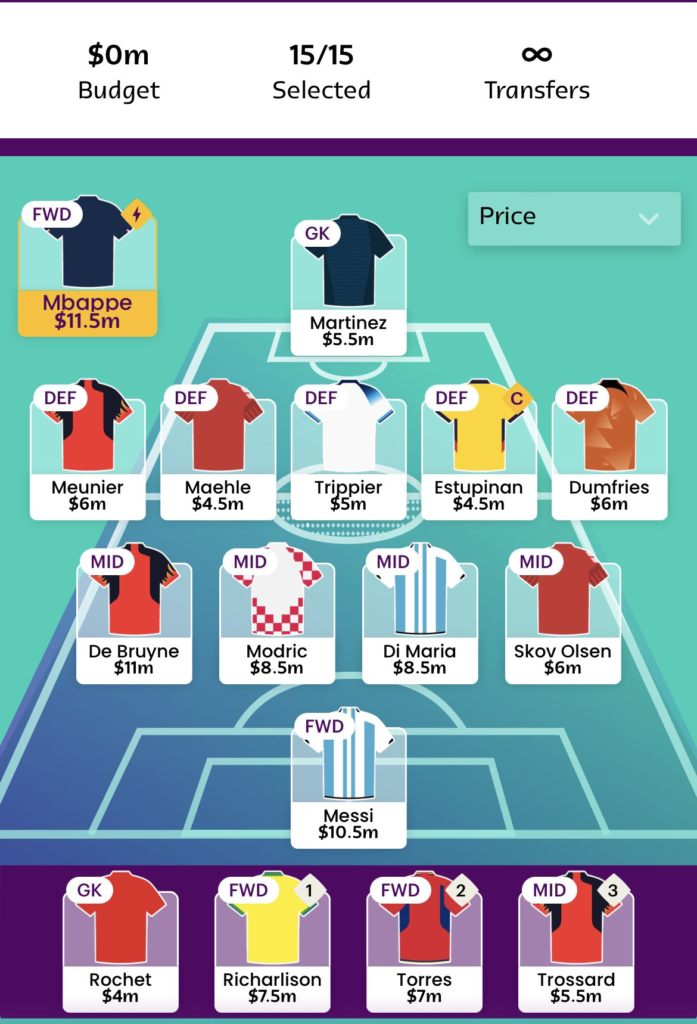 Notes
I'll be using my Wildcard in Matchday 2 now to exploit the liberal rulings on transfers.
That means this team is set up for just one week.
I'm not 100% set but gratefully there's scope to make transfers on doubtful starters like Torres, Meunier and Trossard. The latter definitely isn't guaranteed a spot.
I want triple Argentina against one of the worst teams in the competition. Hopefully a clean sheet and two of their strongest attackers will be good tactic.
Triple Belgium against Canada also seems like a good idea. Meunier is capable of returns at both ends in this game and Kevin De Bruyne is the best central midfielder in the world.
Also have double Denmark for their game against Tunisia as Maehle and Skov Olsen are two of the best value players on the game.
England should hopefully keep a clean sheet against Iran and Trippier has free kick goals and open play assist potential galore.
Estupinan is cheap, attacking and plays against Qatar.
Lastly Dumfries in defence because of his attacking potential against a team without their best forward. He'll get One point or 20.
Modric is on penalties, gets goals and assists, plays key passes, tackles and faces Morroco. Yes please.
Brazil's striker for 7.5m versus a strong but leaky Serbia seems like a great shout.
Torres up front is a concern for minutes but against Costa Rica, I need a Spaniard!
Mbappe is my 12th man against Australia because it would be silly not to have one of the best, most selfish strikers in world football when he plays against Australia.
I'll captain Messi that day so his 11.5m price is more suited to the 12th man.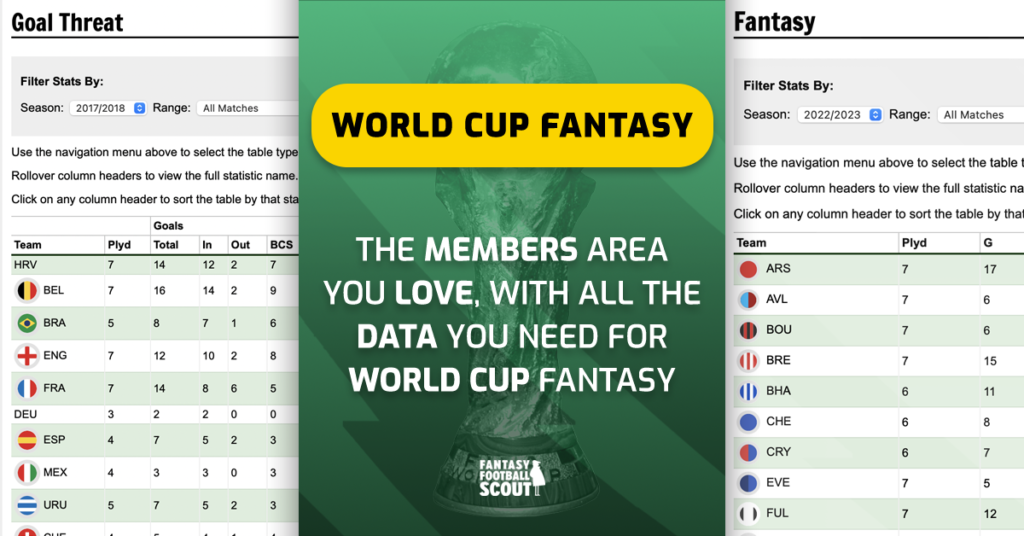 ---
We have an entire section dedicated to World Cup Fantasy; you can check out all of our articles here.