World Cup 2022 Fantasy team reveal – Marc Jobling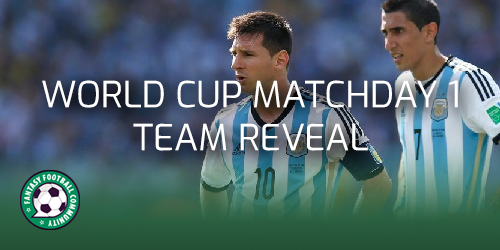 The 2022 World Cup starts today, so here is Marc Jobling with his team reveal for FIFA's official Fantasy game.
As mentioned in my first draft article from Wednesday, the World Cup is a relief after a horrific few Fantasy Premier League (FPL) weeks and I hope to use this short Fantasy game as a confidence booster.
After taking their sweet time to eventually add many called-up players to the game, FIFA have caused community confusion over the game's captaincy and transfer rules.
Honestly, that has affected my team below because even I'm not entirely sure what is happening.
CAPTAINCY
After contradicting themselves over how often captaincy can be changed within a Matchday, there is now an answer.
LOCKED PLAYER: An individual whose team's match has started (even if they're not playing)
UNLOCKED PLAYER: An individual whose team's match hasn't yet kicked off
The captain's armband can be used twice per Matchday. You get one attempt to move it from a locked to unlocked player and it can even go to someone playing later that day.
TRANSFERS
Meanwhile, your Matchday transfers aren't necessarily for the next round. They can either replace a locked player for the following Matchday or be used immediately between two unlocked players. So, if a team sheet brings bad news, you can quickly sell for someone else yet to play.
For example, as soon as the final game of Matchday 1 ends, we get two free transfers for Matchday 2. Whether we use them immediately or wait for mid-round team sheets is up to us.
MY TEAM REVEAL
If I have interpreted the Wildcard rules correctly, I will activate it in Matchday 2. All players will be locked once that round's final match (Portugal v Uruguay) kicks off, yet the Wildcard is still active until full-time. So there's 90 minutes to quickly use unlimited transfers to set up a Matchday 3 team.
This essentially means all three Matchdays will be like an FPL Free Hit.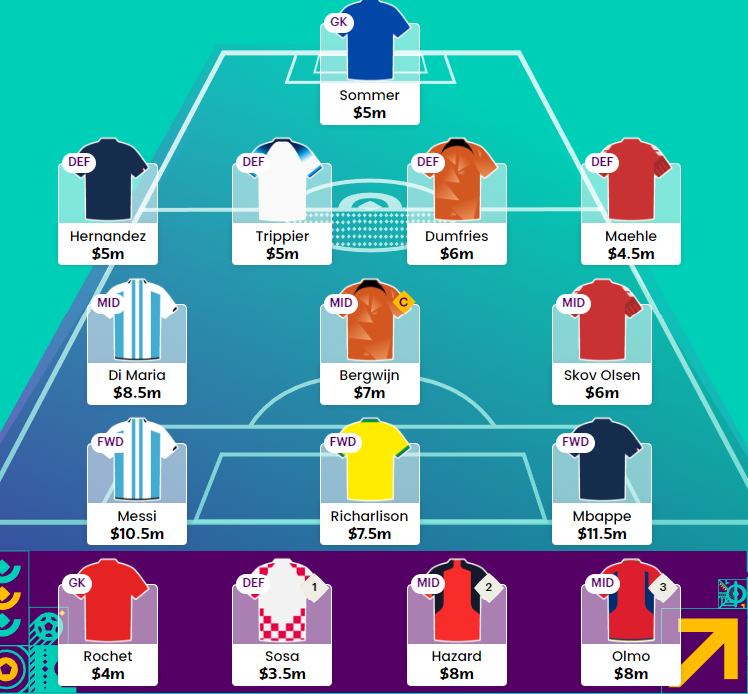 With an unlimited number of manual substitutions allowed, I like this strong 15-man squad.
Goalkeeper Yann Sommer ($5.0m) faces Cameroon first, with all five defenders offering potential at both ends of the pitch. Denzel Dumfries ($6.0m) caught the eye at Euro 2020, whilst Theo Hernandez ($5.0m), Kieran Trippier ($5.0m) and Joakim Maehle ($4.5m) are so cheap.
Ahead of these, the midfield is composed of mid-priced names that don't need the long-term comfort that premiums bring to FPL. Steven Bergwijn ($7.0m) usually plays further upfield and, being in Group A, could be a captain.
Dani Olmo ($8.0m) and Andreas Skov Olsen ($6.0m) are against Costa Rica and Tunisia in Matchday 1, although Eden Hazard ($8.0m) doesn't fill me with confidence.
Together with Angel Di Maria ($8.5m), Lionel Messi ($10.5m) forms an Argentina double-up to face Saudi Arabia. Both he and Kylian Mbappe ($11.5m) are megastars, who we know will be brilliant.
Additionally, Richarlison ($7.5m) is a good way to get Brazil coverage, as he seems to be their number one forward.