Should managers Wildcard now?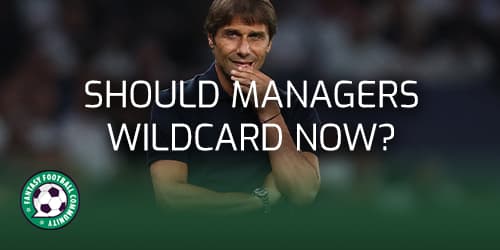 Normally international break is a time that FPL managers target to play their Wildcard. This is because they have longer to think through their decisions and catch price rises. Blank Gameweek 8 will have caused some FPL managers to play the chip earlier, however should managers Wildcard now if they still have the chip to play?
The cancellation of some fixtures in Gameweek 8 as well as the postponement of Gameweek 7 means that some FPL managers who intended to play their Wildcard in the international break have already used the chip. However, there are a number of other managers who will now be thinking about playing the chip ahead of the Gameweek 9 deadline on the 1st of October. Here we look at what FPL managers should consider when deciding if now is the right moment to Wildcard.
Current Team
A lot of the FPL community will play their Wildcard during this international break. However, this does not mean that it is the right time for all managers to play the chip. Managers should look carefully at their teams in conjunction with the Fantasy Football Scout Fixture Ticker and decide whether their team needs a Wildcard.
Some FPL managers will look at their team ahead Gameweek 9 and only want to make one or two changes. If that is the case then it is not worth playing a Wildcard. However, if a manager look at their team and thinks that their are more than five players that they would like to change then this is the right moment to Wildcard.
Fixture Swings
Gameweek 9 brings about a series of fixture swings. Ahead of this run of fixtures FPL managers had been heavily invested in teams like Brighton, Liverpool and Arsenal. However, after the international break when you run the fixture ticker to Gameweek 16 and the Unlimited Transfers they are at the bottom end. This means that they have the most difficult fixtures.

In addition teams like Leeds also have a difficult run of fixtures to come as well as Man City and Arsenal blanking in Gameweek 12.
Managers that are heavily invested in the bottom of the ticker may wish to swap and invest in teams who now rank highly. Teams like Crystal Palace, Leicester, West Ham and Newcastle all have great fixtures up until the World Cup and would be good differentials.
Therefore, if managers want to target the fixture swings and potentially be ahead of future bandwagon teams and players, now could be a good Wildcard moment.
Price Changes
Wildcards are a good opportunity for managers to grow their team value. Popular players will rise in price and those being sold will drop in price. Therefore Wildcarding over the international break is a good opportunity to catch price rises. This can be important in the later parts of the season for affording more expensive assets.
Managers who Wildcard over the international break should follow the price changes and move players in and out accordingly.
If not now when?
In a normal FPL season waiting on the Wildcard can make sense. It means that managers are able to delay playing their second Wildcard which can be useful around single and blank gameweeks. However, with the Unlimited Transfer window in November if managers delay their Wildcard it's use could be lessened.
Managers who do not Wildcard in to Gameweek 9 should have a plan for when it is played. There is another fixture swing in Gameweek 11 which managers could target, however this allows less time for the impact of the Wildcard to be felt.
When deciding if now is the right moment to Wildcard for your FPL team, consider the question if not now when. Fantasy Football Scout members have access to the Transfer Planner. Using this can help you see what your team will look like in the coming weeks. This can be a really useful tool for seeing when the Wildcard could have the most impact.
Overall, should managers Wildcard now?
For many FPL managers this will be the right time to Wildcard. It will allow managers to avoid and gain price rises and falls, as well as targeting the fixture swings and jumping on form players. However, if it will not be universally the right time. If waiting for the next fixture swing is better for your FPL team then it is ok to wait and hit the Wildcard later.
Consider the following questions to help you decide:
Do I want to change more than five players?
Do the teams I am invested in have bad fixtures?
Are my players in bad form?
Are there lots of key players I don't own?
Do I look longingly at other FPL teams and wish they were mine?
If the answer is yes to most of these then now is likely the right time.