Fantrax Draft Gameweek 16: The Gold League Experience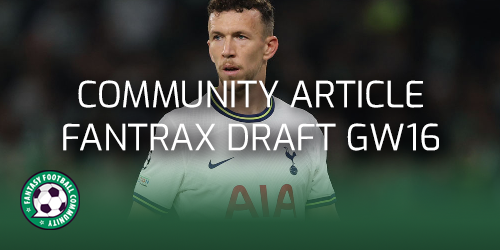 Will from Fantasy Football 92 is back to talk us through his Fantrax Draft Gold League competition. Here, he looks back at Gameweek 15 and upcoming trades.
"Seven years of drafting. A 'Draft We Must' league title. An 'International Genie League' title. A 'Draft Community League Champions Cup' title. It's not often you get to brag about your Fantasy Football achievements, so I'm grabbing this opportunity with both hands!"
Why the (not so) humble brag? Well, my Togga/Fantrax experience has inadvertently landed me with my biggest and toughest task so far – qualification to the Draft Community Gold League – and here I am writing about my experience. This is unarguably the toughest league, one where I could genuinely finish dead last… hopefully not, eh?
FANTRAX DRAFT REVIEW
This week we go head-to-head with our oldest Togga/Fantrax friend and draft legend @tottiandor, as well as try going 5-0 in the cup against overall Payet Posse leader @jmoneytaco.
File this in the 'minor fantasy miracles' category. If you viewed last week's article, you'll have seen some massive pessimism for going into battle against fantasy legend @tottiandor without star strikers Son Heung-min and Aleksander Mitrovic as well as (admittedly terrible) third-rounder Philippe Coutinho.
Something incredible was needed to defeat Totti's bunch of Man City players and that's what we got. The four combined for only 18 points, giving us a fighting chance going into Sunday's games. Furthermore, streamers Crysencio Summerville and Goncalo Guedes combined for 45 points to put us in a commanding position.
A good streamer or two is crucial in any match-up and this was certainly the case here. We picked up Summerville but didn't start him for his winner against Liverpool, as he was bought for the following fixture at home against Bournemouth. It proved to be an inspired add, with a goal, assist and 28.5 points. Another gamble was Guedes, who timed his first goal of the season impeccably.
Sunday began with a narrow lead that was immediately extended by Leon Bailey enjoying another new manager bounce. A Lucas Paqueta assist brought Totti back into the game but the star of Michael Olise turned on the style to put it beyond doubt, with an 11 ghost-point performance topped off by a last-minute goal. Is he a MID1 for the rest of this season? Going forward, he's definitely a great one to roster in Fantrax and trading him has been a brilliant move.
The only upside of Son's injury (although missing your best player in Fantrax really hurts) is that Ivan Perisic's value increases. Dominating set pieces and playing up front, Perisic hit the woodwork twice and completed five key passes in a monster 17.5 ghost-point performance. We need more of the same from him this week.
Remarkably, despite being the top FPts scorer in the Gold League, this is the season's first set of back-to-back wins. It's been a slog, thanks to facing some massive scores throughout the first half of the campaign. Hopefully, we can now kick on.
This will be tough against another draft legend in @benchickens, again without my lethal strike partnership. Olise and Perisic against Nottingham Forest and Leeds will be crucial, while streamers Brennan Johnson and Adam Lallana need to do their best Summerville and Guedes impressions.
THE CHAMPIONS CUP – TITLE DEFENCE
Incredibly, we are 5-0 in the 'Group of Death'.
It was super tight going into Tottenham vs Liverpool against @jmoneytaco, the Payet Posse league leader (who, by the way, has a ridiculous team. Some trade investigations need to take place!). There was a narrow lead going into the game, with Rodrigo Bentancur and Joe Gomez versus Perisic left.
Yet Perisic's monster display was enough to pull off an unlikely victory by 124.5 points to 121.5.
We now go into the final three group games two wins ahead of our closest rivals. This means that one more should be enough to secure a safe passage into the knockout rounds.