Fantrax Draft Gameweek 15: The Gold League Experience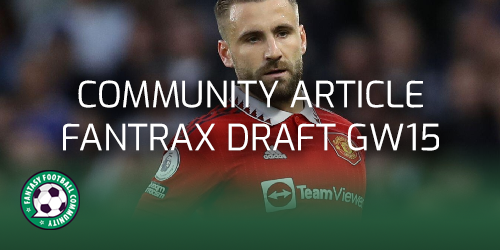 Will from Fantasy Football 92 is back to talk us through his Fantrax Draft Gold League competition. Here, he looks back at Gameweek 14 and upcoming trades.
"Seven years of drafting. A 'Draft We Must' league title. An 'International Genie League' title. A 'Draft Community League Champions Cup' title. It's not often you get to brag about your Fantasy Football achievements, so I'm grabbing this opportunity with both hands!"
Why the (not so) humble brag? Well, my Togga/Fantrax experience has inadvertently landed me with my biggest and toughest task so far – qualification to the Draft Community Gold League – and here I am writing about my experience. This is unarguably the toughest league, one where I could genuinely finish dead last… hopefully not, eh?
FANTRAX DRAFT REVIEW
This week, I go head-to-head with fellow bad luck sufferer @wrigavin as well as an attempt to go 4-0 in the cup against overall Community League leader @FantraxFluke.
When the managers that have faced the first and third-most points throughout the Community League face off, there's only ever likely to be one outcome. After this mega match-up, we now sit first and second in that unwanted table!
Gameweek 14 saw me come up against good friend @wrigavin, having already decided that it was bound to be a high-scoring thriller. And we were right. Both of us are struggling in the Gold League's bottom half but, realistically, should both be much higher. This match-up of 317.5 points, separated by four points, proved just that.
I was confident coming into the week but knew that I needed a big lead before Bukayo Saka faced Nottingham Forest on the Sunday. A mini Crystal Palace stack against Southampton brought disappointment via Michael Olise's six, alongside the last-minute streamer Jeffrey Schlupp's six. Vicente Guaita's 17.75-point surprise saved the day on that front.
Leon Bailey pulled the typical Fantrax trick of scoring 2.5 points in my starting line-up after bagging 22 points on last week's bench. Also, Son Heung-min scored a decent 15.5 points without a goal, only topped by this team's star Andreas Pereira (17).
I went into Sunday with a 12-point lead, fearing it wouldn't be enough with Saka set to run riot. I kept everything crossed that one-week streamers Thomas Partey and William Saliba could somehow match him.
Finally, FINALLY, this game saw me benefit from some extraordinarily good luck. Saka reduced the lead to just four points within a few minutes but hobbled off before the half-hour mark. Had the Arsenal star played even 60 minutes, Gavin would probably have been out of sight. Partey rubbed salt into the wounds with a rare goal to put me 15 ahead, with Man United full-backs Luke Shaw and Diogo Dalot to come.
Predictably, Dalot put in a monster ghost point display to make it a very nervy ending but Shaw's 15.75 gave me enough to hold onto. As ever with this team, it seems like my joy may end up being short-lived!
Son is my marquee player in this league, or at least he was. It's obviously unclear as to the extent of his eye injury but, right now, it's not looking good.
The Korean star won't be around until after the World Cup, therefore missing the next two for sure. However, with an operation set to correct four fractures to the eye socket, what will the rehab period really be?
The temptation to trade him out to try and break into the top half is huge but that's exactly what I shouldn't do. Still, I'm fielding a lot of offers for him that haven't been too bad, actually. More on that next week.
Before then, I face probably my oldest Togga/Fantrax friend @tottiandor. Without sounding like a doom merchant, this one is an absolute write-off. Pereira and Aleksandar Mitrovic travel to Man City and, without Son, it's difficult to see where points will come from.
On the other hand, Totti is set to have Jack Grealish, Phil Foden, Bernardo Silva and potentially Julian Alvarez. I'm expecting it all to be over by 5pm but hopefully not.
THE CHAMPIONS CUP – THE TITLE DEFENCE
Meanwhile, the Champions Cup title defence is going incredibly well. I faced @FantraxFluke, who came into the weekend with an incredible 11-0-1 record in the Junior Stans league. It looked like an extremely tough clash and that's how it panned out. My 120.75 was eventually enough to beat Fluke's 111.5 and keep up the 100% record, which I can't quite believe.
This is undoubtedly the competition's 'Group of Death' and, going into the last game of the weekend, I needed 6.75 points from Luke Shaw to keep up Group K's only perfect record. The left-back ensured I pulled off a surprise victory and got me within touching distance of reaching the knockout rounds.
The next two weeks without Son will be difficult but a win this week against @Jmoneytaco would go a long way towards qualification!