Which teams will win in Gameweek 16?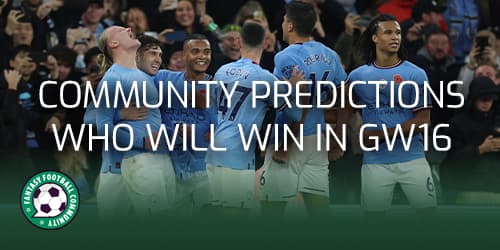 Our community score predictions panel are back. Here they take a look at the what they expect to happen in the Gameweek 16 fixtures. The Gameweek 16 community score predictions are there to help managers make key decisions. When making FPL decisions many FPL managers mentally predict the outcome of matches and use this to target players. Here they predict who will win in Gameweek 16.
The community score predictions panel is back for another season. In these articles we will ask the panel to consider the questions that FPL managers ask themselves ahead of setting up their teams
Who will win?
Will there be a clean sheet in this match?
How many goals can I see being scored?
How many players do I want to play in this game?
Our community score predictions panel share their predictions for who will win in Gameweek 16. They consider what this might mean for our FPL plans.
Gameweek 15
With the points added from Gameweek 15 the leaderboard stands as follows:
FBL Thinker – 99
FPL Shake n Bake – 95
FPL Reactions – 94
Pilot Flame – 86
El Statto – 80
FPL Rabbi – 73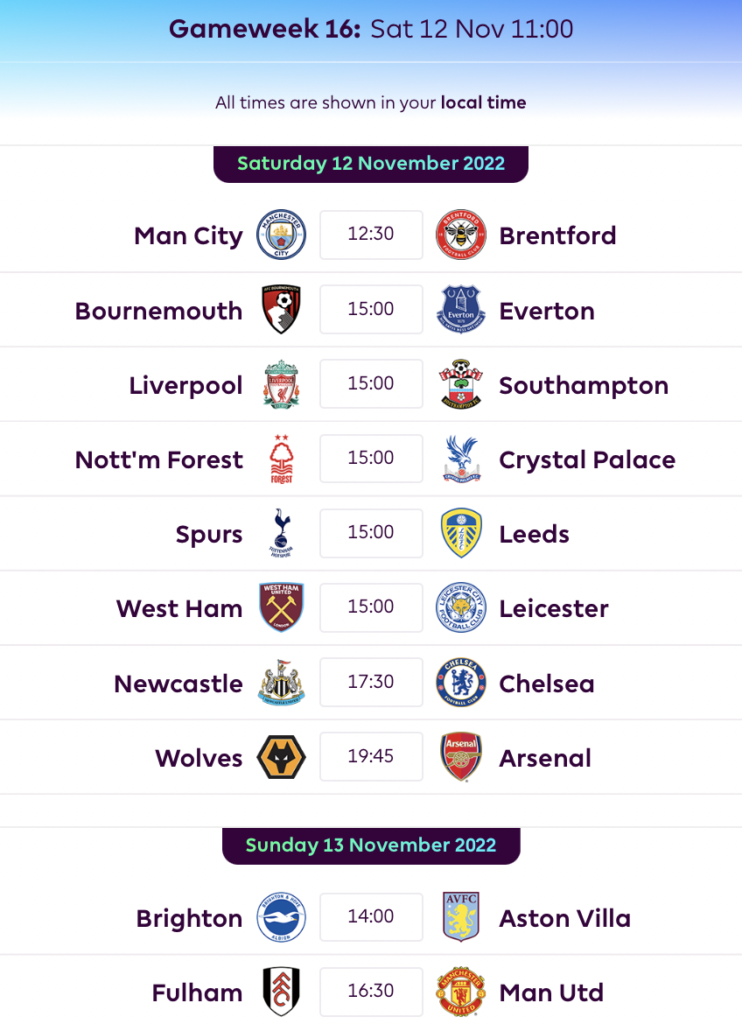 Gameweek 16 community score predictions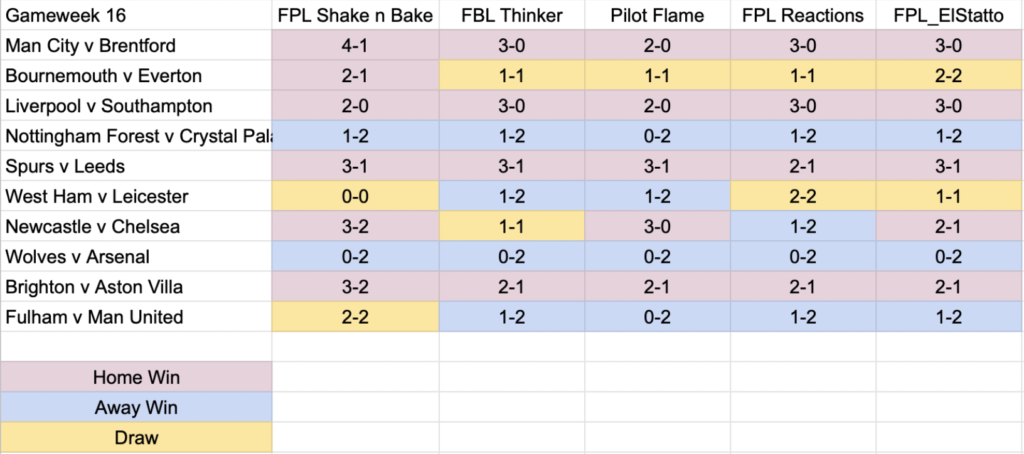 Key talking points
The panel are unanimous in their feelings that Man City, Liverpool, Spurs and Brighton will win at home in Gameweek 16. They also all believe that Arsenal and Crystal Palace will win away.
The panel are predicting 19 clean sheets this week. They all believe that Liverpool and Arsenal will keep clean sheets. Therefore these could be the best defences for FPL managers to invest in.
Between them the panel have predicted 145 goals will be scored. Man City, Spurs and Liverpool are predicted to score the most goals in Gameweek 16. The panel also believe that Man United will score at least two goals. Therefore these are potentially attacking teams for FPL managers to target.
FPL Comments
This week is a week to have fun.

Pick the players you like. Treat this like a Free Hit team. It's the last week of FPL for a while so make the most of it before the World Cup, and remember…. It's coming home!

FPL Shake n Bake