What have the top 10k done in Gameweek 9?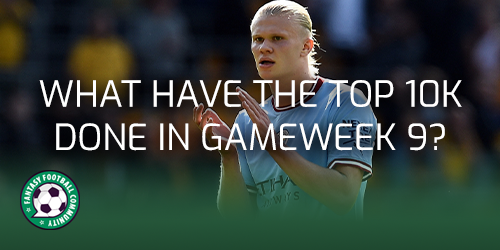 Using the popular FPL website Live FPL we can answer the question, what have the FPL top 10k done in Gameweek 9? We can see what chips were used, the most owned players, and which player was the most captained.
Tracking the best ranked FPL managers in the world can really help us making future decisions within our own teams. In addition, It also gives us a good knowledge regarding ownership, captaincy and much more. Answering the question what have the top 10k done in Gameweek 9 can also be very insightful and managers can see which players will have a good or bad effect on their rank.
Live FPL
Using the Live FPL website, we can use one of its many fantastic tools available for FPL managers. The graphic below gives us the ability to look into ownership and captaincy in the top 10k ranked managers.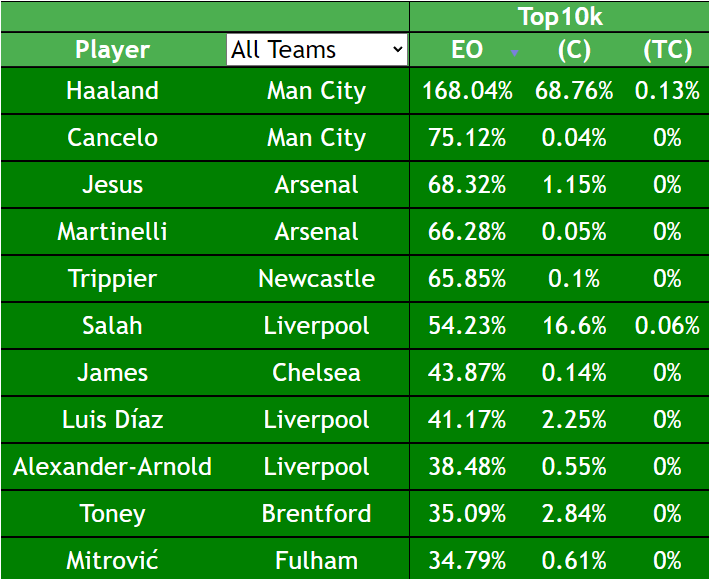 Ownership
As we can see below Man City striker Erling Haaland (£12.1m) remains the highest owned player within the top 10k. The forward is now close to 100% ownership within the game. Staying with Man City, defender Joao Cancelo (7.2m) is now at a whopping 75% ownership.

Captaincy
As we can see below, Haaland continues his dominant captaincy stats this season. Liverpool midfielder Mohamed Salah (£12.8m) is the second highest selected captain with his 16%. The midfielder's managers will be hoping to see more of his old form moving forward.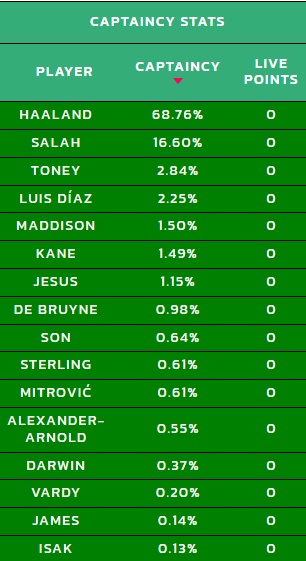 Chips
87% of the top 10k did not use a chip this week. Nearly 10% activated the wildcard. Only 1% of managers used the free hit and bench boost chips but less than 1% of the top 10k used the triple captaincy chip.
---
Gearing up for Matchday 3 in UCL Fantasy? Check out all of our latest articles to help get you ready here.