Transfer Window: gossip and rumours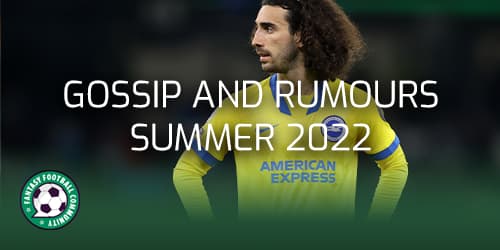 With the summer here, the internet is rife with FPL transfer rumours and gossip. So here is a round-up of today's key talking points.
The summer transfer window is always busy for clubs as they get ready for the new season. It is also a time where FPL managers carefully watch the market to get a feel for how their FPL teams might look next season.
As singings are made official our new signings article will be updated.
Monday 18th July: gossip and rumours
The Sun: Cucurella interest
The Sun are reporting that Manchester City have stepped up their interest in Marc Cucurella. City reportedly are looking for a replacement for Zinchenko who has been linked with a move to Arsenal.
FPL Comment: At £5.0m in FPL Cucurella would be a very exciting FPL prospect at Man City. The defender has plenty of attacking threat and this would likely increase in a attack minded City team. His ability for clean sheets would also increase in Manchester.
The Mail: Broja on loan
The Mail are reporting that Broja will join West Ham from. Chelsea on a season-long loan. They suggest that West Ham wanted to sign him on a permanent deal but the Blues were reluctant to sell.
This is also supported by Fabrizio Romano.
FPL Comment: Biroja proved in his loan at Southampton that when he has the service he can be a consistent goalscorer. At West Ham Broja would have excellent creative assets around him and therefore alongside Antonio could be a good option.
Friday 15th July: gossip and rumours
ESPN: Ronaldo interest
Yesterday multiple sources were reporting that Ronaldo had been offered a lucrative contract with a Saudi Arabian side. Today ESPN are reporting that he is set to turn it down with Bayern Munich and Atletico Madrid showing interest in signing him.
FPL Comment: If Manchester United can make Ronaldo happy he would be a great FPL differential. The majority of the game will be looking to invest in Haaland. However, Ronaldo's a proven Premier League goalscorer and therefore could be a great option if fully committed.
The Mail: Harrison to the Toon?
The Mail are reporting that Newcastle United are preparing to offer £20m for Leeds midfielder Jack Harrison. They suggest that Leeds want more money for Harrison.
FPL Comment: Harrison scored eight goals and returned five assists for Leeds last season in 35 Premier League games. Leeds however had a difficult season where they didn't; score many goals and suffered with injuries. At Newcastle Harrisons opportunity for goals would likely improve, making him a more attractive FPL asset.
Thursday 14th July: gossip and rumours
Football Insider: Traore interest from the Toffee's
Football Insider are reporting that Everton are interested in signing Adama Traore this summer. The Toffee's have reportedly been told Wolves will accept a £10m bid for the winger.
FPL Comment: Traore in the past has been an excellent FPL option. However his lack of consistent game time at Wolves made him a difficult own. The winger returned two assists in La Liga as well as two assists in the Europa League while on loan. If he gets a move to Everton and consistently plays under Lampard he could be a decent differential for FPL managers.
Romano is reporting that Manchester United will imminently sign Lisandro Martinez.
FPL Comment: Lisandro Martínez returned one goal and four assists in Eredivisie and the Champions League last season. However he did miss the last seven matches through injury. The Ajax defender worked with new Manchester United manager Ten Hag last season and can play at centre-back or left-back. He could be a good for strengthening the United defence, making the wingbacks increasingly appealing.
Wednesday 13th July: gossip and rumours
The Telegraph: New striker for Newcastle?
The Times are reporting that Newcastle have held talks with Real Sociedad about signing Alexander Isak. If agreed the transfer would be a club-record deal.
FPL Comment: Arsenal we interested in signing the striker during the transfer window. However there were reports that the player had doubts and the transfer never happened. The player scored 10 goals and registered six goals in all competitions last season. He would add to Callum Wilson and Chris Wood as forward options at Newcastle and therefore could have some rotated minutes.
The Athletic are reporting that Broja will join Chelsea on their pre-season tour. The player had stayed behind amid interest from other Premier League clubs.
FPL Comment: If Broja stays at Chelsea FPL managers will likely avoid the forward through fear of a lack of minutes. However, if the player gets game time for the Blues over preseason and they do not sign another forward he could offer a cheap route in to the Chelsea attack. Managers will want to monitor this window closely.
---
Previous rumours
Tuesday 12th July: Yarmolyuk to the Bee's – Ronaldo's future – Raphinha moving?
Monday 11th July: Chelsea join race for Lewandowski – Kane to Bayern a non-starter
Friday 8th July: Chelsea making moves – Lenglet to Spurs
Thursday 7th July: Ronaldo MIA – Sterling agrees terms
Wednesday 6th July: Broja targeted by Everton – Ronaldo to Chelsea?