Transfer Window: gossip and rumours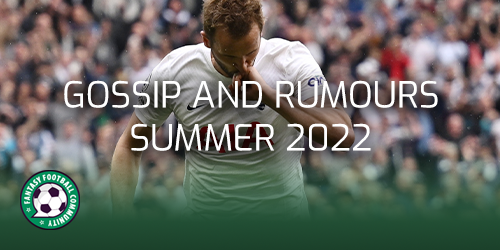 With the summer here, the internet is rife with FPL transfer rumours and gossip. So here is a round-up of today's key talking points.
The summer transfer window is always busy for clubs as they get ready for the new season. It is also a time where FPL managers carefully watch the market to get a feel for how their FPL teams might look next season.
As singings are made official our new signings article will be updated.
Monday 11th July: gossip and rumours
Over the weekend there were rumours of Bayern's interest in signing Harry Kane. This is to replace Robert Lewandowski who wants to leave the club this summer. However Romero reports these rumours are unfounded and that Spurs will open talks on a new deal with the player this summer.
FPL Comment: Haaland is currently proving to be the most popular player in FPL, this means that Kane is being somewhat overlooked. At the back end of the 2021/22 season under Conte Kane was outstanding. a full season under Conte could see him as one of FPL's top scorers.
The Mail: Chelsea to join the Lewandowski race
The Mail are reporting that both Chelsea and Paris St-Germain will enter the race to sign Lewandowski. Lewandowski wants to join Barcelona this summer, however the Mail suggests that should this fail to happen that Chelsea would be interested in the player
FPL Comment: Chelsea missed an out and out striker last season with Lukuka never really making his mark on the club. With Lukaku reportedly looking for a route out of Chelsea this summer Lewandowski would be an excellent replacement. He would likely be £11.5m in FPL which would dent Haaland's popularity.
Friday 8th July: gossip and rumours
Sport in Spain are reporting that Chelsea will offer Azpilicueta, Marcos Alonso and £51m in the race to sign Frenkie de Jong from Barcelona. They suggest that this is try ensure the players signing ahead of Man United.
Meanwhile The Times are reporting that the Blues are in advanced talks to sign Nathan Ake from Man City.
FPL Comment: Chelsea defenders Reece James and Ben Chilwell have been popular picks in FPL since the game launched. The defenders were both priced at £6.0m and with the addition of Ake Chelsea's defensive security should be more appealing having lost Rudiger at the end of last season.
Romano is reporting that Spurs have agreed a loan deal for Lenglet.
FPL Comment: Barcelona defender Lenglet would make the Spurs defence increasingly attractive this season in FPL. The defender played just 818 minutes last season for Barcelona and returned an assist.
---
Previous rumours
Thursday 7th July: Ronaldo MIA – Sterling agrees terms
Wednesday 6th July: Broja targeted by Everton – Ronaldo to Chelsea?
Tuesday 5th July: Lenglet to Spurs – Ronaldo on the move?
Moday 4th July: Malacia to United