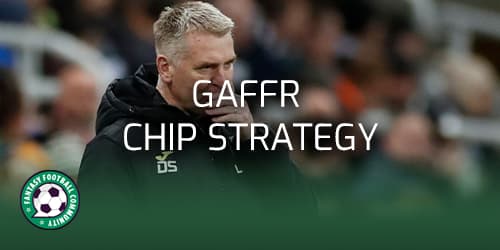 Here we will discuss GAFFR chip strategy and the six chips/boosts available to GAFFR managers. Covering when could be great game weeks to use those chips with the help of the GAFFR fixture ticker.
Chips are a key element to help gain rank in most fantasy games. Finding the best times to use them so they reach their full potential can be vital in securing a successful rank. The most experienced managers tend to plan out a chip strategy weeks and sometimes months in advance.

Chips available
Firstly it is important to see the pool of chips managers will be able to choose from in the first period game weeks 1-15. You can see all chips below with their description:
Overhaul
This means managers have unlimited transfers that particular week. This can help change the team when your original picks aren't as great as you thought they would be. This chip can also be used to set your teams up perfectly to use another chip straight after.
Captain fantastic
With a x3 captaincy multiplier, this chip only gives managers the option to boost the output of a single player. This can be helpful when you have a player in great form playing against a team in poor form.
Park the bus
Park the bus has a x2 multiplier on all defenders. This is perfect when you have formation of five defenders at the back. Finding teams with great defenders playing at home against poorer sides is key here. This chip comes with captaincy multipliers cancelled.
Multi-captain
Having a x2 multiplier on players captain, vice-captain and emergency captain. This is great when having three in form players playing for good teams against poorer teams.
Midfield dynamos
Double points for all midfielders on the pitch. This chip also cancels the captaincy multiplier. Having five midfielders on the pitch would be key here of course. Teams with talismanic midfielders with great fixtures and playing for good teams is ideal.
Away days
A x2 multiplier to all players playing away from home. The captaincy multiplier would again be cancelled. Having 11 away players in good teams and playing against poorer teams is advised here.
Chip strategy
Chip strategy would of course be different for most GAFFR players. Most managers however will be looking for great teams with good fixtures playing in the same game weeks. This could apply for most of these chips.
Lets quickly run through the chips again but with the periods that could be a great time to utilise them in.
Overhaul
Overhaul could be used in times of big fixture swings, for example although Blackburn, Burnley, Middlesbrough, Sheffield United, Watford and West Brom start with less desirable fixtures. Those same teams then all begin to have a nice fixture run in game week 4. This means you could target the teams with better fixtures in game weeks 1-3 and then overhaul into the teams suggested in game week 4.
This chip can also be used in preparation of using another chip straight after that requires a complete team re-shape.
Captain fantastic
Although a powerful, chip players may prefer utilising other boosts to maximise their potential. Still powerful and players like Pukki in game weeks 2, 7, 13 and 14 could be a great use. Monitoring teams and players performance could be useful here. This gives us an idea of players form which can help provide managers with more options as the season progresses.
Park the bus
Game week 4 could be a good time to use Park the bus when Burnley play Hull at home, Coventry play Wigan at home, Middlesbrough play Stoke away, Norwich play Huddersfield at home, Sheffield United play Sunderland at home, Watford play Birmingham away and West Brom play Cardiff at home.
Game weeks 5,6,7,10,12 and 13 could also be great times to use the chip.
Multi-captain
Another great chip and like captain fantastic could be worth monitoring teams and players form first. Initial thoughts are that big teams like Burnley, Watford, Norwich and West Brom have great fixtures in game weeks 4, 5, 10, 12, and 13. This means that key players playing for those teams in those periods could be great options.
Midfield dynamos
Another chip that can be quite flexibly used and could also be used in the game weeks suggested in multi captain. Game weeks 4,5,10, 12 and 13 with teams like Burnley, Watford, Norwich and West Brom with great midfielders could do well.
Its important to mention that this chip may take some planning. With money seemingly tied up in defence and forwards a transfer plan may well be needed where managers slowly bring midfielders. Another option could be to overhaul into this chip in game weeks 3, 4, 9, 11 and 12 , a game week before the best time to use your midfield dynamos chip.
Away days
A hugely powerful chip and if used correctly could be fantastic. Game week 6 looks to be the standout game week as Bristol City play Blackpool away, Burnley play Wigan away, Coventry play Hull away, Norwich play Sunderland away and West Brom play Huddersfield away.
This is another chip that needs to be planned. As managers will look at have 11 away players playing they could use the overhaul boost to prepare for this. That means that overhauling in game week 5, the week before players use away days will be perfectly set up.
---
For more GAFFR Championship articles see our entire selection of content here.