The interesting xG, xA and xGC numbers of FPL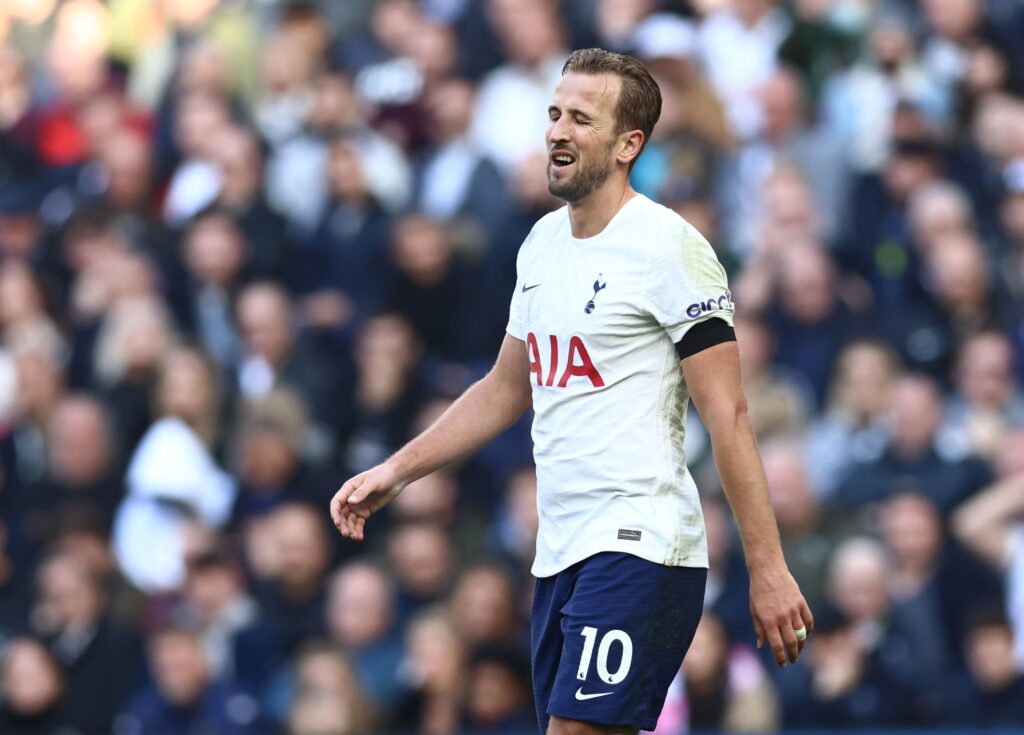 Some people love them, some people don't. The 'expected' statistics are an underlying way to judge a player or team's performance away from looking at the scoreline. Perhaps there's good luck, bad luck, underachievement or overachievement. Using Fantasy Football Scout's Members Area, here is a glimpse at how things are.
xG (EXPECTED GOALS)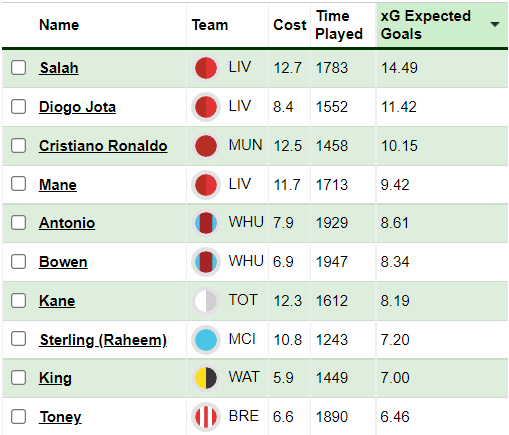 No surprise to see Mohamed Salah top the expected goals rankings, as he leads most attacking statistics. Only two forwards appear in FPL's top 30 points scorers so far but they rank well in terms of xG. Over the last six games of each player (as opposed to Gameweeks), Dominic Calvert-Lewin comes first with 4.76 although three of those began the season, pre-injury. The top here is completed by Harry Kane (4.69), Salah (4.38), Odsonne Edouard (4.27) and Alexandre Lacazette (4.02).
xG Delta compares expected goals with the actual goals scored. The biggest overachiever so far is Emile Smith Rowe, whose eight goals exceeds his 3.57 xG by 4.43, but next up is the highly-selected Emmanuel Dennis (+4.42). Others with a Delta over 3.00 are Maxwel Cornet, Kevin De Bruyne and Jamie Vardy.
On the other end of the scale, Francisco Trincao's xG Delta is -3.47 and is shortly followed by Kane (-3.19), Gabriel Jesus (-2.81) and serial woodwork hitter Bryan Mbeumo (-2.69).
xA (EXPECTED ASSISTS)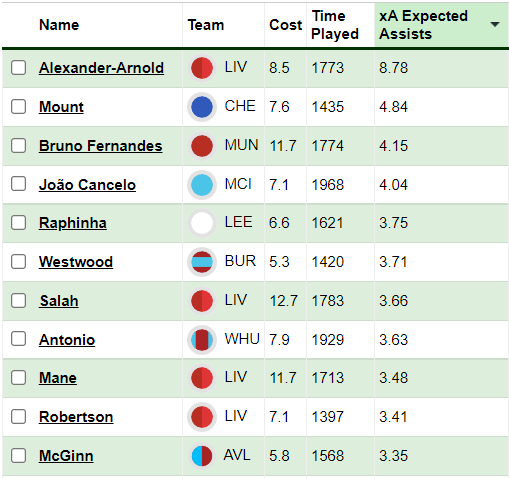 By far, the leader of expected assists is Trent Alexander-Arnold, with Mason Mount, Bruno Fernandes and Joao Cancelo forming the top four. The Liverpool right-back also ranks highest over the past six matches (2.65) ahead of Martin Odegaard (1.89) and John McGinn (1.86).
Incredibly, despite registering 12 FPL assists, Jarrod Bowen only has a 2.99 tally for xA. The seven assists of Paul Pogba during the first four Gameweeks exceeds his xA of 1.53 (+5.47), with Salah (+5.34), Andrew Robertson (+4.59) and Gabriel Jesus (+4.19) also overachieving. The assists of Sadio Mane (-2.48), Bernardo Silva (-1.96) and Wilfried Zaha (-1.95) should be more.
xGI (EXPECTED GOAL INVOLVEMENT)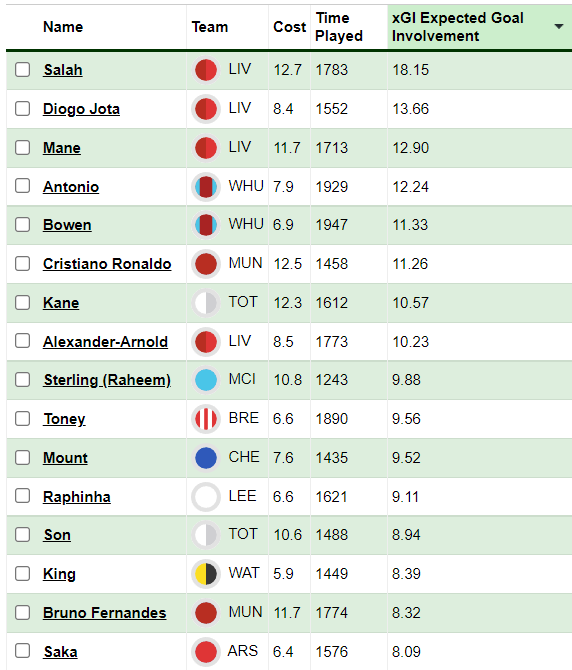 Combine expected goals and expected assists numbers, you get expected goal involvement. The top three is dominated by Liverpool – the attacking trio of Salah, Mane and Diogo Jota. West Ham duo Bowen and Michail Antonio are next, followed by premium assets Ronaldo, Kane, Alexander-Arnold and Raheem Sterling.
Over everyone's last six matches, Kane, Salah, Sterling and Calvert-Lewin all have an xGI tally over five. Between Gameweek 1 and now, Watford forward Dennis is the biggest overachiever (+8.03), followed by Salah (+6.85), Smith Rowe (+4.72), Robertson (+4.66), Reece James (+4.35) and Pogba (+4.03).
Trincao (-4.23), Mane (-3.90), Kane (-3.57) and the departing Adama Traore (-3.25) have the opposite problem.
TEAM STATS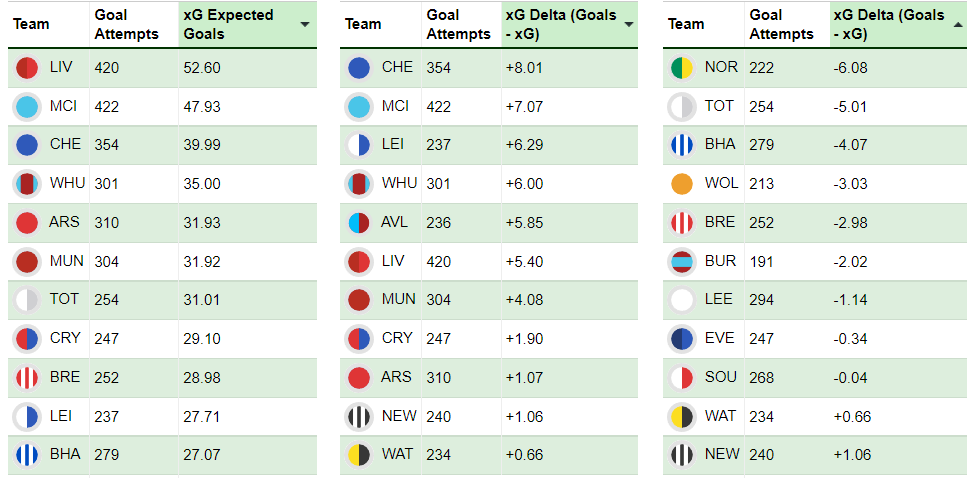 As a unit, Chelsea probably won't be able to sustain their goalscoring rate (xG Delta of +8.01) but – consistent with Kane's Delta data – perhaps Spurs are a bit unlucky so far.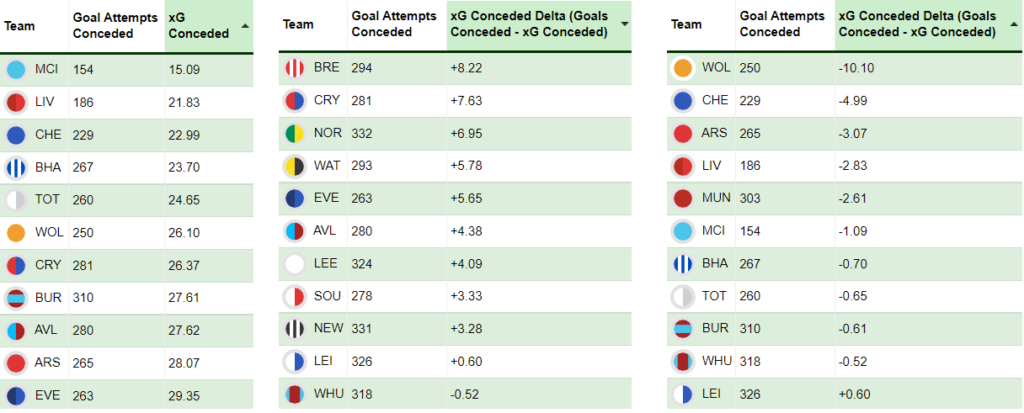 Brentford's 38 conceded goals is fifth-highest but, according to xGC data, they should only have let in 29.78 so far. The Wolves defence ranks well for xGC but their 16 conceded – bettered only by Man City – is perhaps slightly too good.