Should I play my Wildcard?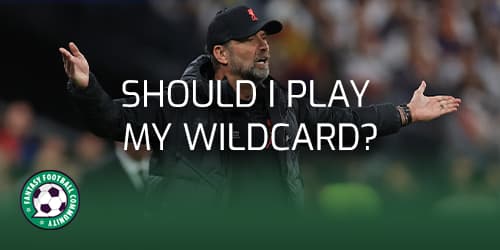 After the opening gameweek in FPL many managers could be asking themselves should I play my wildcard? We'll take a look at when could be the best times to use the first wildcard to answer exactly that. Using the help of the Fantasy Football Scout season ticker along the way.
The wildcard can be vital in either making multiple changes within FPL managers teams without taking hits or targeting multiple fixture swings which requires lots of changes. Changing our teams around fixture swings can be fantastic in bringing in players who have great fixtures ahead as well removing players who have tougher fixtures ahead.
Unlimited transfers
Firstly it's important to mention that FPL have introduced unlimited transfers around the time of the world cup. This means that managers have the use of a third wildcard but only to be used within the period stated below by the Premier League website.
What that means is that managers will be able to use their first wildcard anywhere between gameweek 2 and gameweek 15 at the time of writing. Finding a period in-between those dates could be key because a lot can happen if managers use it too early.

International break
The next international break could be a great time to use the wildcard. It arrives around the 20th of September. This means that after gameweek 8 the international break is here.
Interestingly gameweek 9 is around the half way point to the world cup break where managers will have the ability to use unlimited transfers. This then gives us the ability to split our seasons into four parts.
Gameweek 1-gameweek 9 being the first part. Gameweek 9-15 being the second part. Then parts three and four can be separated with the third wildcard. That could be one way that managers approach the season giving themselves the ability to attack four large sets of fixtures.
Gameweek 9
Using the Fantasy Football fixture ticker we can see which teams have good or bad fixture swings that could indicate when one of the best times to use the first wildcard could be. We can see below in gameweek 9 (the halfway point to the first international break) that there's teams who have fixture swings.
Positive fixture swings for the likes of Chelsea, Leicester, West Ham, Fulham, Aston Villa, Nottingham Forest, Bournemouth and Newcastle arrive which means managers could be looking to invest there.
Negative fixture swings appear for teams like Man City, Brighton, Arsenal, Liverpool and Wolves. All very popular teams currently for assets and with great fixtures. However around gameweek 9 it could be a good time to lose some of those players due to their fixtures and shift the funds towards teams with better fixtures.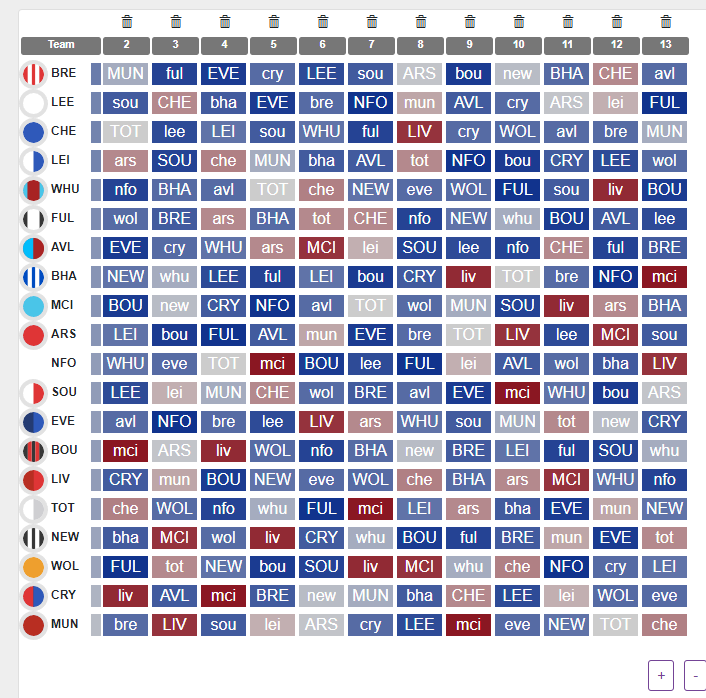 Gameweek 9 wildcard?
It could be worth waiting until gameweek to wildcard. Gameweek 9 is half way between the start of the season and the start of the unlimited transfers after gameweek 15. Not only this but the huge fixture swings, positive and negative could mean gameweek 9 is a time to use it.
Is it too early to use the wildcard now?
Although there is no right or wrong answer there can always be better times to use the wildcard like in gameweek 9. After only one gameweek as FPL managers we can only take so much from the one set of fixtures that have played. Sometimes being patient and monitoring our teams for several weeks can be really insightful.
Key assets
We can't own everyone but it is important to have the best players in our teams. Man City assets Cancelo and Haaland could both be considered key especially with the fixtures ahead. Liverpool players Salah and Trent even more so with the inclusion of a third Liverpool asset.
Arsenal attacking assets could also be considered key early on with the likes of Jesus, Martinelli or even Saka. A Chelsea defender could also be a great option too.
When looking at the key assets above if most don't reside in our fantasy teams there could be a good reason to wildcard. Their ownership alone could cause rank damage but taking into account their performances too means we should probably own them.
How many hits justifies the use of the wildcard?
Again this is very team specific but the majority of the most experienced mangers tend to stay away from a minus eight hit or above unless it's a double gameweek. If we are looking at our teams needing three or more transfers then that could justify the use of the first wildcard.
Conclusion
The wildcard can be extremely useful especially around the fixture swings and international break in gameweek 9. Being patient in the early gamweeks can also give us a clearer view of our teams and more data to judge if we need the wildcard in a few gameweeks time. If missing lots of the key assets above however then the wildcard could be beneficial.
Using the wildcard much earlier than gameweek 9 could mean navigating the international break and fixture swings with just transfers which could mean falling behind.
---
Looking at using a free hit chip in gamweek 2? Take a look at the best free hit article here.