MLS Fantasy Round 14 team reveals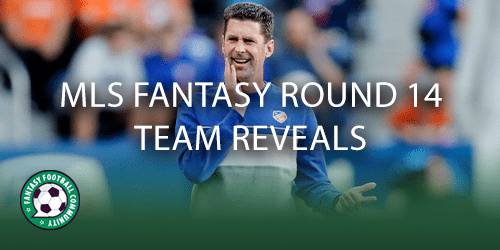 The brand new campaign continues! We take a look at MLS Fantasy Round 14 team reveals from some of the most experienced managers around. They share their thoughts on their teams going into the new round including captaincy.
Looking at some MLS Fantasy Round 14 team reveals can be extremely beneficial for new managers. Seeing some of the best assets, who managers will be looking to captain and their general thoughts can help bring clarity within our own teams.
@dmpwright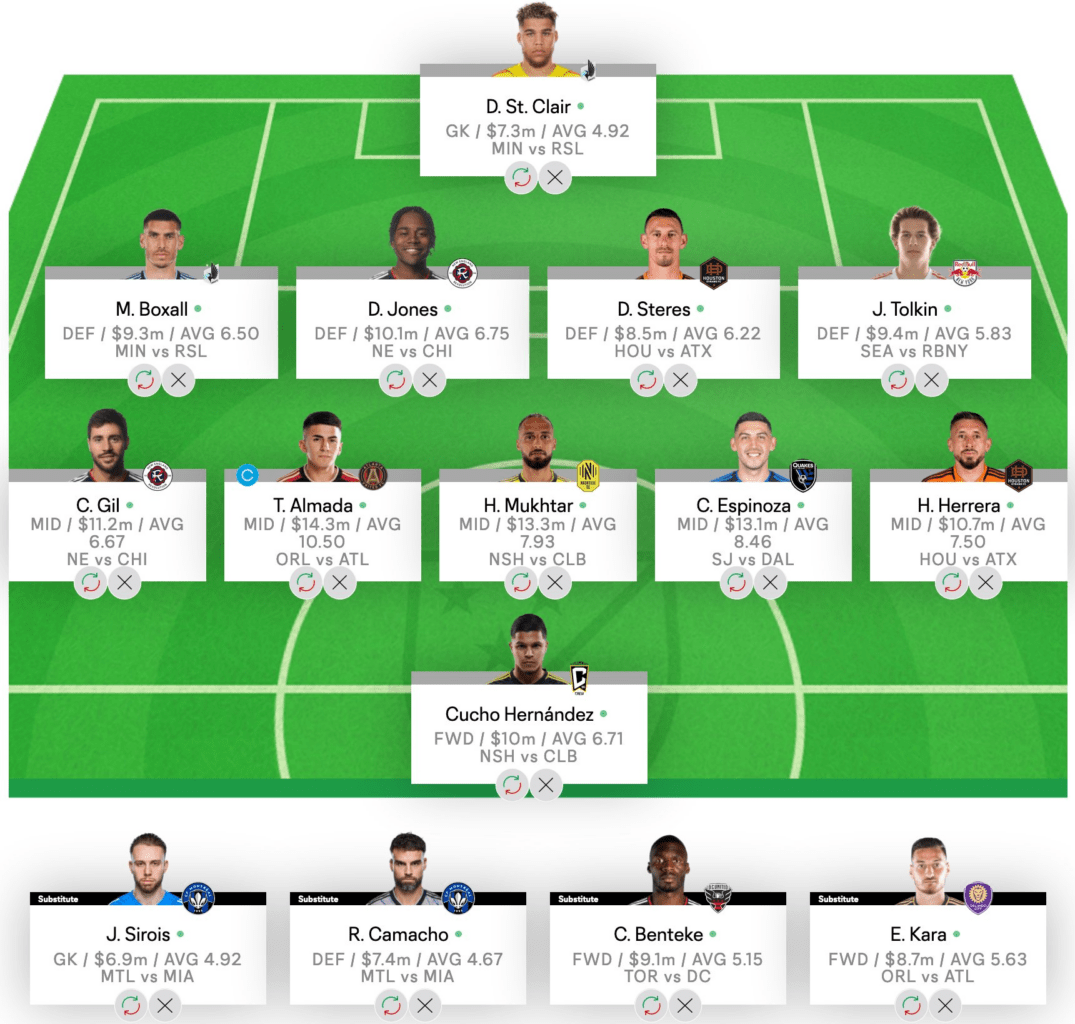 Notes
I'm not loving the defensive options this week. There doesn't seem to be many standout clean sheet chances. However, with the exception of Minnesota and possibly New England, who have home fixtures against RSL and Chicago, respectively. With that in mind, I've taken St Clair as one of my goalkeepers, along with Michael Boxall and DeJuan Jones from the Revs.
I've currently opted for Daniel Steres and John Tolkin, although Kai Wagner, Álvaro Barreal and Seattle defenders are all in my thoughts for Round 14.
Thiago Almada, Hany Mukhtar and also Cristian Espinoza are locks in midfield. If Giorgos Giakoumakis starts for Atlanta, Almada will probably get the armband as I think they stand a good chance of scoring multiple goals on Orlando.
Elsewhere, Héctor Herrera has flattered to deceive of late from a fantasy perspective, but he should do well at home to Austin provided he can avoid a third (!) red card in six games. Carles Gil is my final midfield pick, although he remains an injury doubt for the weekend. Should he miss out, shot-happy Martín Ojeda will likely come into my team. Orlando-Atlanta is a fierce rivalry game that often produces goals on both sides. Upfront, two of my forwards are likely to be bench plays this week. I like the look of Ercan Kara, who is on a run of four goals in his last five outings, while Christian Benteke also looks a strong play against Toronto, who by Federico Bernardeschi's own admission are lacking ideas tactically.
However, I may also take a punt on Giakoumakis should he start for Atlanta. Cucho Hernández occupies my final forward spot. Nashville have looked defensively suspect without Walker Zimmerman and I think Columbus score at least once should he miss out again.
@melvin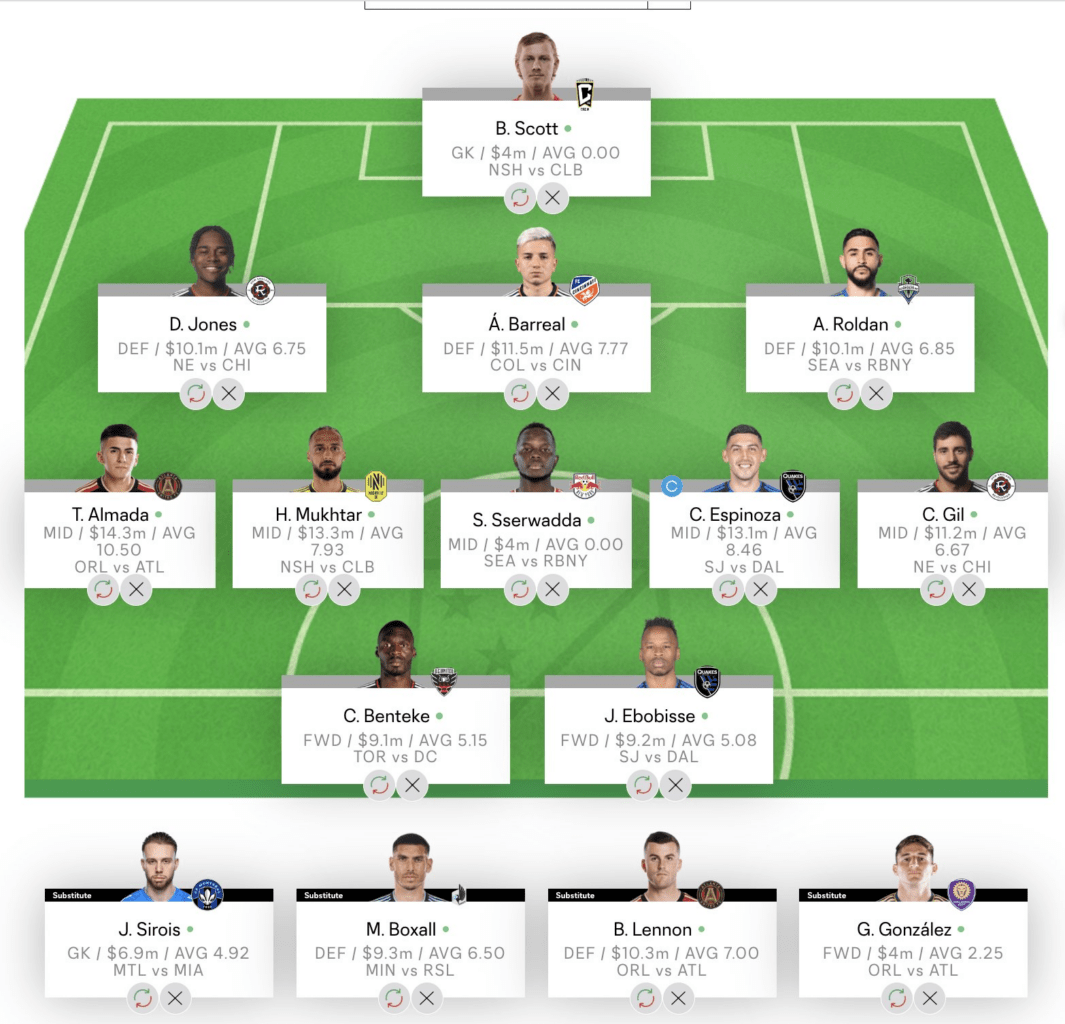 Notes
Defender: Alex Roldan (SEA; 10.1m): Seattle are top for clean sheet odds this week and have five kept consecutive home clean sheets. I back him to do well in the round ahead. He also has three double-figure hauls in six games for Sounders.
Defender: DeJuan Jones (NE; 10.1m); 7.8PPG at home this season including four double-figure hauls and three assists. Taking into account the combination of good clean sheet odds this weekend make Jones a top pick.
Midfielder: Carles Gil (NE; 11.2m); second best winning odds make the NE attack worth a look for Round 14. Gil has 8.8PPG at home this season including five goals. This makes him a good pick this week.
Midfielder: Hany Mukhtar (NSH; 13.3m); Mukhtar got an incredible 20-pointer last week and Nashville have a winnable home game vs CLB which makes him a great pick again this round. Mukhtar is also high with the stats on shots, shots on target, key passes and crosses in MLS.
My captain is likely to be one of Almada or Espinoza.
@Mahoney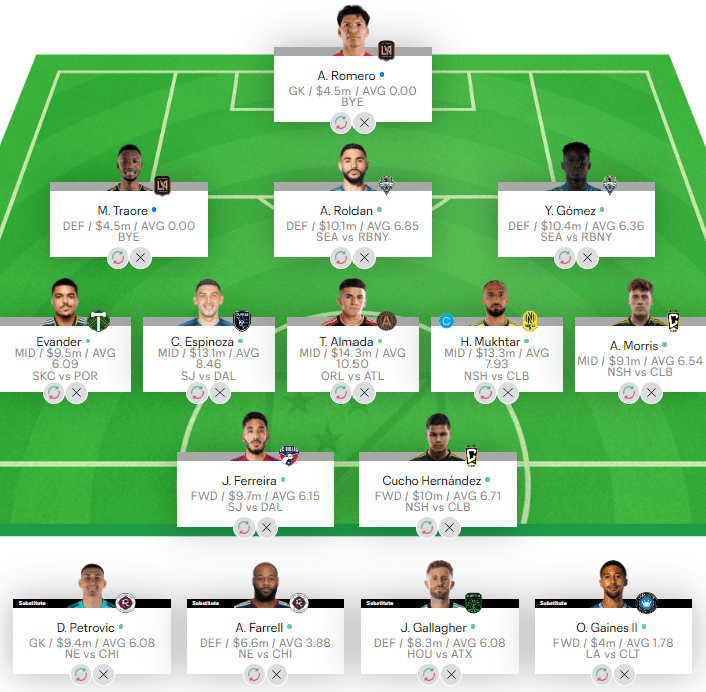 Notes
Round 14 – 133 points, a little disappointing as I missed Zimmerman's groin injury. Red arrow to 1376 this week.
LAFC are on bye so using cheap starters there for some bench management.
NSH at home so Hany captain.
I'm looking at SEA and NE Defences to have good weeks this week.
CLT have a midweek US Open Cup match along with some others so tough to know right now who will be good for the weekend and I may need to do a little more research before the deadline.
@MotleyBarnets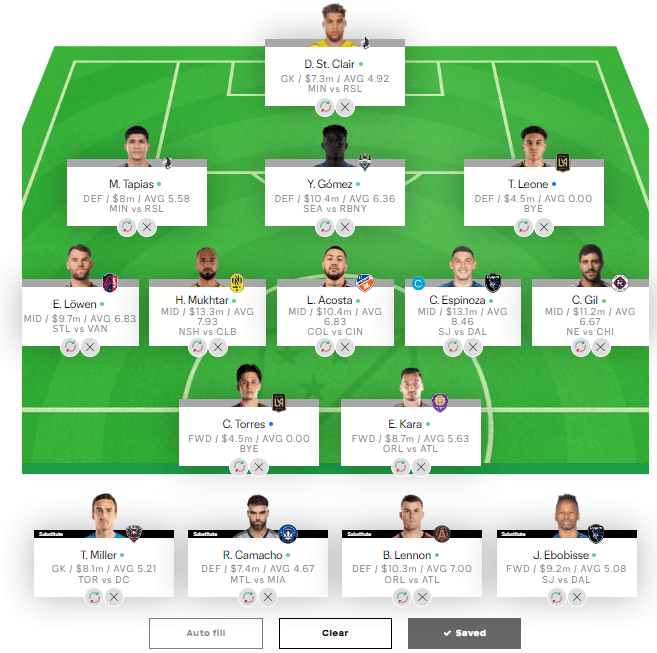 Notes
Goalkeepers – At the top of my EAPR are Montreal and New England, but Sirois ($6.9m) edges out Petrovic ($9.4m) given that Montreal has the better xGC per 90 over their last three home games. However, Minnesota are also on the up defensively. Because of this St Clair ($7.3m) is another option.
Defenders – Minnesota are also second in my EAPR for defenders, so I could double up there with Tapias ($8m) who is cheap and has a good average rating over his last three games.
Both Montreal and Seattle rank quite highly as well, and both teams have an xGC of less than one goal per90 over their last three home games. That's enough for me to go with Yeimar Gómez Andrade ($10.4m) and Camacho ($7.4m), who both offer good bonus point potential.
Although I'm not too hot on his team's defensive prospects, you can't overlook Lennon ($10.3m). With Atlanta being on the road this week, he will take a place on my bench for a possible autoroo appearance.
Midfielders- My midfield is stacked this week with Espinoza ($13.1m) the standout player which is why he is my captain. Mukhtar ($13.3m) and Lowen ($9.7m) also have decent home matches this week. Also if Gil ($11.2m) is fit enough to play then he will also by in my starting XI. Should he not make New England's line-up, then I will swap him out for Herrera ($10.7m).
Acosta ($10.4m) will make up my five-man midfield, with his recent form glossing over the fact he is on the road this week against Colorado.
Forwards – Personally, I feel that the striker pool is quite shallow this week. If fit, Klauss ($9.8m) could be a good call. However, I'm leaning towards starting Kara ($8.7m) who has been in great form recently.
On the bench I will have either one of Benteke ($9.1m) or Ebobisse ($9.2m), with the slightest of preference going towards the latter despite his recent poor form.
@_FutboIOscar
Notes
160 points in DGW13 saw me drop down to 66th overall.
I'm likely to have Tyler Miller ($8.1m) as one of my goalkeepers this week.
I've paired him with SKC goalkeeper Kendall McIntosh ($4.3m).
In defence I've gone for a Minnesota double up of Boxall ($9.3m) and Tapias ($8m). They have been really solid at home this year with only four goals conceded.
Thiago Almada, Hector Herrera, Hany Mukhtar and Christian Espinoza are all locks for me in midfield this week.
My fifth midfield pick is Luciano Acosta who scored a massive 23 points in the double gameweek. His points consisted of three goals and four key passes. I expect him to have good chances of returning against Colorado away.
Up front I've gone for Benteke, Kara and a BYE. Both Benteke and Kara got on the scoresheet in DGW13. I expect them to have good chances of finding themselves on the scoresheet again in Round 14.
My captain this round is likely to be Thiago Almada even if he's on the road this week.
@eytexi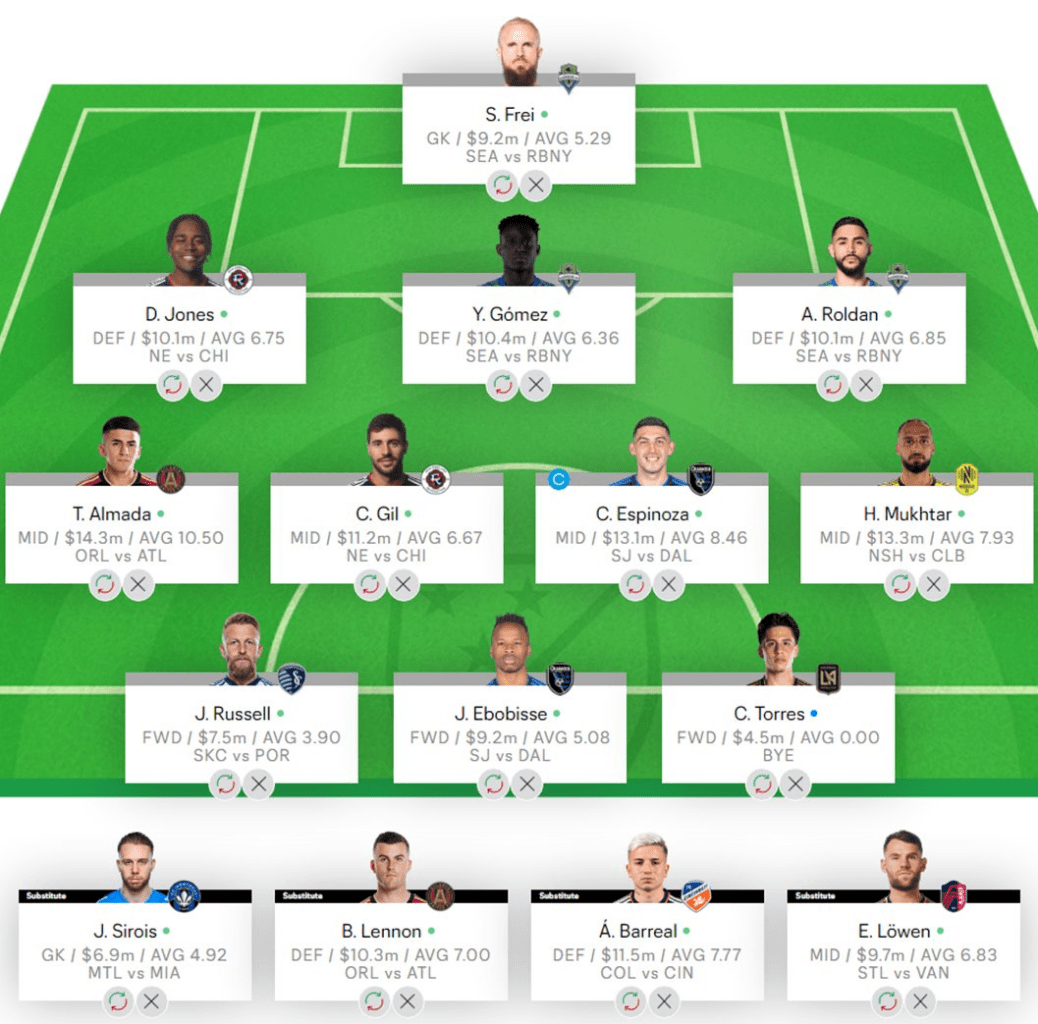 Notes
MLS-leading clean sheet odds (2.37) and five consecutive home clean sheets (up until their last two games) give me plenty of reason to back Seattle this weekend. Their opponents New York Red Bulls have scored just three times in seven away games in 2023. Frei provides a perfect pairing with Sirois (given kick-off timings), who himself has 2.62 odds for a clean sheet.
Three double-figure hauls in six games for A.Roldan make him an easy pick. Just four MLS defenders have more than his three big chances created this season, three having more than his his 18 key passes, and NONE having more than his 188 final third passes.
Yeimar Gómez completes the triple-up: he's only failed to tally two or more defensive bonus on one occasion.
The MLS' second best winning odds (1.75) makes New England Revolution attack worth a look for GW14, and why look any further than Carles Gil? He has 8.8 points-per-game at home this season including five goal involvements, his bonus-floor also meaning he's only scored fewer than six points in just one of his starts this season.
Three goal involvements in his last two home games make Ebobisse a great pick for a San Jose attacking double-up, especially given the lack of forwards presenting viable selections. Only Espinoza at San Jose can top his five goals, 3.6xG, 23 shots, eight shots-on-target, or 13 key passes; if there's goals, he's likely to be involved.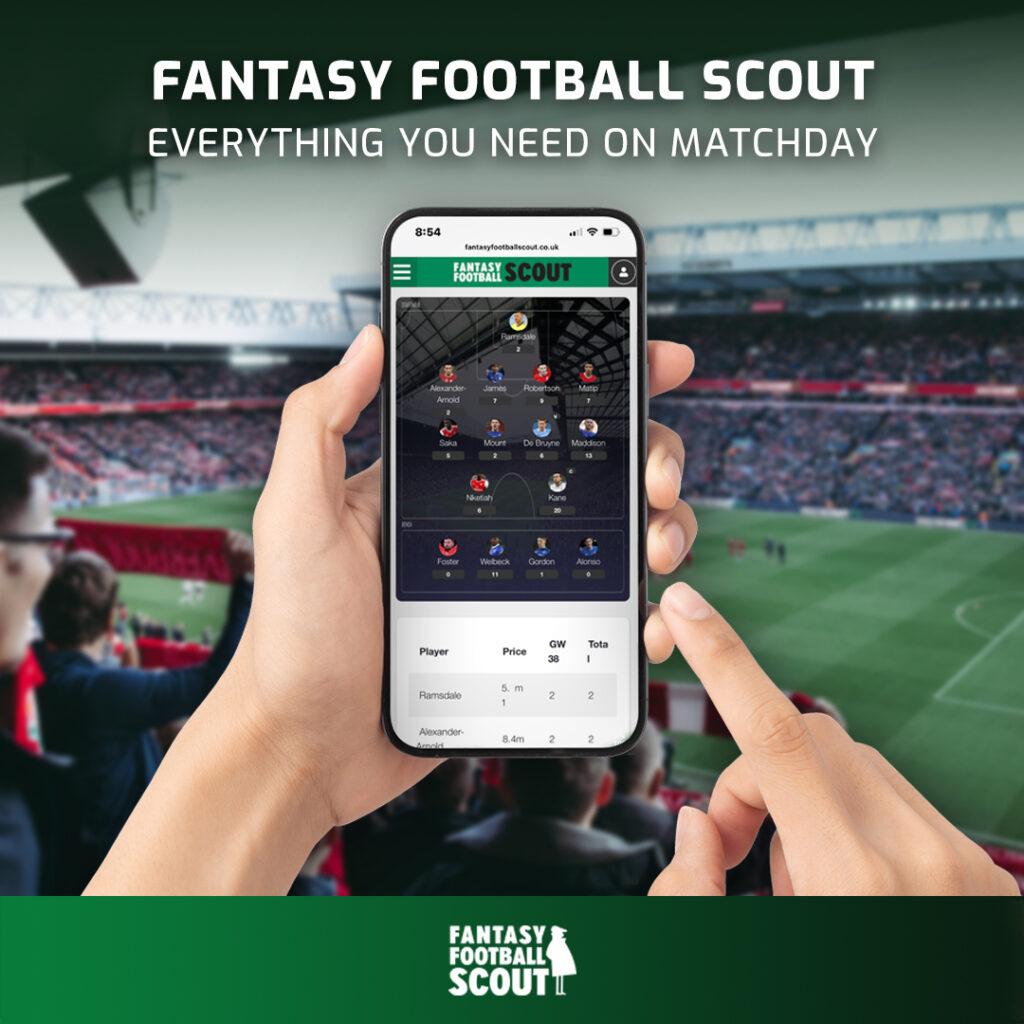 ---
Are you looking to gain rank in Gameweek 38 FPL? Check out the best differentials right here.