Gameweek 8 best free hit team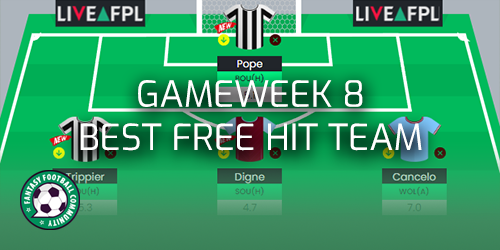 With a new gameweek upon us we take a look at the free hit chip. Using the Fantasy Football Scout members area we can use the help of the season ticker and underlying stats to determine the gameweek 8 best free hit team.
The free hit chip in FPL allows managers, within the same budget and formational limits, to select a team for one particular gameweek. Managers can attack any given gameweek with the free hit whether that be to utilise a good set of fixtures, in-form teams or players or a mixture of it all. However, Experienced FPL managers usually tend to use the chip in blank gameweeks.
Fixture ticker
Postponements
Brighton, Chelsea, Crystal Palace, Leeds, Liverpool and Man United do not play in Gameweek 8. This means we cannot select any of their players for the free hit this week.
Who has the best fixtures?
We can see that Newcastle, Fulham and Nottingham Forest all rank as the top three for having the best fixtures. This could indicate that investing in their assets could be beneficial for FPL managers.
It is worth noting that Fulham and Nottingham Forest play each other in Gameweek 8.
Who has the worst fixtures?
Wolves, Leicester and Brentford all sit as the bottom three teams in the fixture ticker. Not only does this mean they face the toughest matches, but they could be also worth avoiding when building our free hit.
Best free hit team
Let's take a look at the Gameweek 8 best free hit team: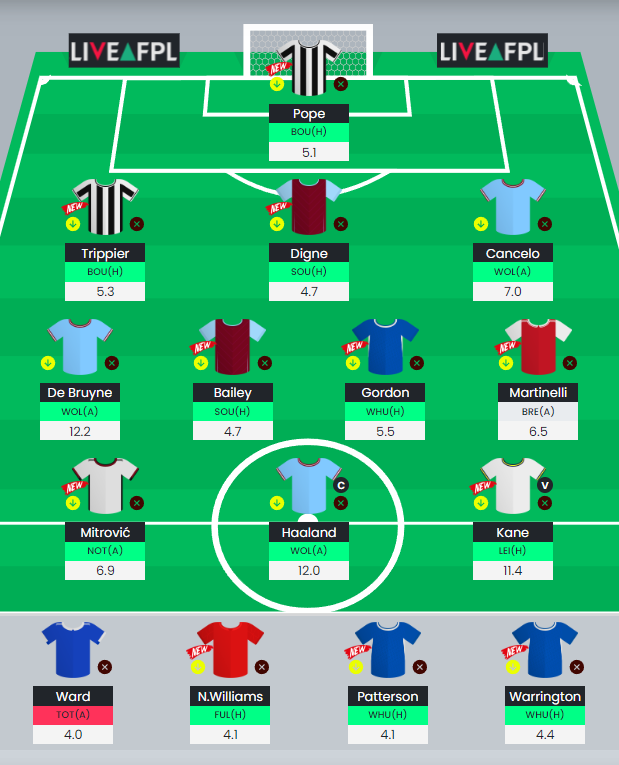 Goalkeepers
Newcastle rank first on the fixture ticker with a Gameweek 8 match against the struggling Bournemouth. Defensively Newcastle have been far better than average. They rank in the top five teams in the league for goals conceded, clean sheets kept and shots on target conceded. For that reason, £5.1m Pope makes the free hit team.
Pope is backed up by the only playing £4m goalkeeper in the game and Leicester's Ward.
Defence
Staying with Newcastle, £5.3m Trippier has also been selected. As well as the clean sheet potential Trippier has dominated the underlying distribution stats in some gameweeks. This could reflect good potential for creating assists and further adding to his appeal.
Man City have dominated the underlying defensive stats for some seasons and that great form seems to be continuing. For that reason, and for the fact he plays against Wolves, £7m Cancelo is an easy selection. Aston Villa face Southampton in Gameweek 8, they rank fourth on the season ticker, with great assist potential from his excellent distribution £4.7m Digne makes the cut.
Midfield
£12.2m Kevin De Bruyne will be looking to continue his solid start to the Premier League season after his four returns in his last six matches. Amongst all players in the league the Belgian makes the top two players for both chances created and big chances created. Although in poor form Everton face a team who have only kept one clean sheet in in their first six matches, West Ham. £5.5m Gordon makes the team for both his enabling price-tag and his newfound form.
Arsenal are up there with some of the best attacking sides in the league. £6.5m Martinelli has now hit four returns in his last six matches and at such a cheap price, it could be difficult to leave the Brazilian out. Aston Villa are fourth on the fixture ticker with a meeting against Southampton. £4.7m Bailey comes in at one of the lowest prices in the game and came away with a goal in his most recent match. With a game against a leaky defensive unit, he could well have good potential in Gameweek 8.
Forwards
Not only does £12m Man City forward Haaland make the team but he also takes the armband. The striker sits as the highest owned and highest scoring FPL player in the game. His recent form continues to reward owners and for that reason, has to be considered as essential for Gameweek 8.
£6.9m Fulham man Mitrovic currently resides as one of the most attacking players in the league for offensive stats. The Serbian has picked up points in five of his six matches so far this season and with a matchup against Nottingham Forest, has to be considered.
Leicester rank as the second worst team in the league for goals conceded and big chances conceded. For that reason, £11.4m Tottenham man Kane makes the team. Kane has only failed to return in one of his matches so far this season and could have plenty of potential in Gameweek 8.
---
Which players could perform well in Gameweek 8? We take a look at that in our article here.