Gameweek 3 best free hit team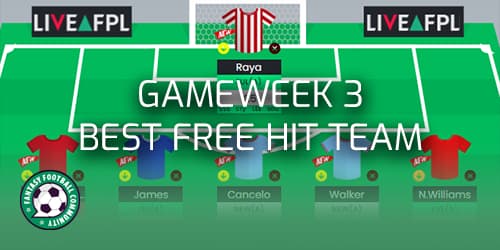 With a new gameweek upon us we take a look at the free hit chip. Using the Fantasy Football Scout members area we can use the help of the season ticker and underlying stats to determine the gameweek 3 best free hit team.
The free hit chip in FPL allows managers, within the same budget and formational limits, to select a team for one particular gameweek. Managers can attack any given gameweek with the free hit whether that be to utilise a good set of fixtures, in form teams or players or a mixture of it all. Experienced FPL managers usually tend to use the chip in blank gameweeks however.
Fixture ticker
The Fantasy Football season ticker has many benefits. FPL managers can select any period of fixtures whether that be one match, ten matches or however many we'd like to indicate which teams have the best fixtures in that given period.
We will look at gameweek 3 specifically to see which teams have the easiest fixtures to help us build the best free hit team for the round ahead.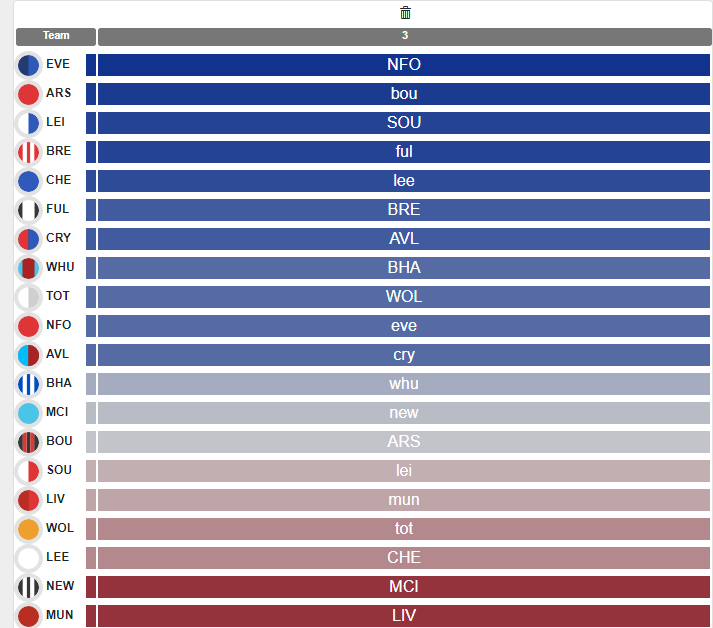 Although the fixture ticker can be helpful, using form and stats with it can be really important. Basing an entire team on a fixture ticker can sometimes lead us away from players and teams in form as well as the use of effective ownership.
Who has the best fixtures?
The top five teams according to the fixture ticker are Everton, Arsenal, Leicester, Brentford and Chelsea. With the use of stats we can potentially disregard teams like Everton as they have no standout options. We also know that Leicester have been poor defensively so could potentially disregard their defensive assets.
Chelsea have also failed to look convincing in attack so the money could be better used in their defensive assets. Arsenal are another team who have failed to keep a clean sheet as well but have shown fantastic attacking form.
Who has the worst fixtures?
The teams at the bottom of the fixture ticker are Man United, Newcastle, Leeds, Wolves and Liverpool. Avoiding all teams but Liverpool could be a good idea when selecting a free hit team. Man United have shown how poor their defensive assets are already this season. Conceding six goals whilst only scoring one goal.
This means that although the ticker suggests not to back the Liverpool assets, the stats disagree and we have to take that into account.
Best free hit team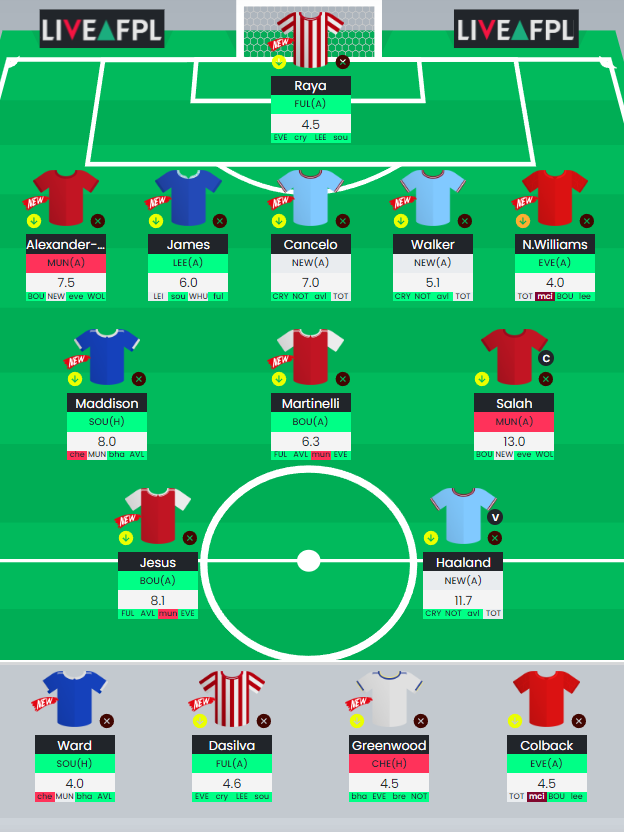 Goalkeepers
The cheap Brentford goalkeeper could be a great option this week. Ranking in the top five for fixtures in gameweek 3 Raya has good potential for the clean sheet. He is backed up by £4m playing goalkeeper Ward from Leicester. He will only come on if Raya doesn't play.
Defence
Trent makes the team due to his fantastic underlying stats recently. Mixed with his high ownership and Man United's recent lack of scoring ability.
Reece James is also an easy pick. With big ownership and great offensive stats its hard to leave the wing-back out. Neco Williams from Nottingham Forest could reside on the bench for many this week. However with Everton's poor form and missing a natural goal scorer he could have great potential this week. The young wing-back is only £4m and will also help enable the rest of the team.
The double Man City defence could be fantastic. Cancelo makes the team for similar reasons to Trent and James but Walker at just £5m could be too cheap to refuse. Man City were the best team in the league defensively last season and with two clean sheets in two games already they look set to continue that.
Midfield
The midfield didn't look as convincing this week but there's still some great options with even better fixtures. £8m Leicester man Maddison started the season well with his two returns in two games. His upcoming opponent have already conceded six goals. Maddison could likely have big potential this gameweek.
Martinelli of Arsenal makes the team for several reasons. Arsenal rank second on the fixture ticker this week. Combining that with his two goals in two games, his low price, his great underlying attacking stats and that their gamewek 3 opponents just conceded four goals to Man City Martinelli has to make the team.
Salah not only makes the team but stands out for the captaincy this week. Man United have started the season torridly. After being completely dismantled by Brentford the reds could be in trouble this week. They face a Salah that has hit 60 FPL points in the last five head to head matches against them.
Forwards
Gabriel Jesus makes the team for many of the same reasons as team mate Martinelli. In addition the Brazilian forward hit four attacking returns against Leicester in gameweek 2 he also dominated a lot of the underlying offensive stats like goal attempts.
Haaland's ownership is ever growing along with his great performances. The Man City striker managed two goals and one assist in his first two games. That total could be set to increase in gameweek 3 away to Newcastle.
---
Looking for more FPL stats based articles? Take a look at our expected goal involvement toppers edition from gameweek 2 here.