GAFFR Gameweek 30 Key takeaways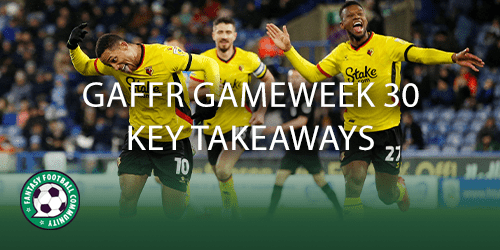 We take a look at the GAFFR Gameweek 30 key takeaways. We go through each and every game that played in the Championship in the most recent round. Taking into account clean sheets, assists, goals and bonus points we highlight the most successful assets in Gameweek 30.
Picking out the GAFFR Gameweek 30 key takeaways can give managers even more information to make those all-important decisions for the round ahead. Whether it be for transfer plans or captaincy, the key takeaways can very beneficial to fantasy managers.
West Brom v Coventry
It was a tough game to call ahead of the West Brom and Coventry but the home side pinched a 1-0 win. The Coventry assets failed to muster up more than five points each and GAFFR favourite Viktor (£8.1m) hit just two points.
There was plenty of West Brom defensive returns as the entire starting backline hit more than four points each. One of the biggest successes was midfielder Wallace (£10.7m) claiming 11 points for his assist and bonus. Fellow teammate and midfielder Diangana (£7.4m) went one point better after his goal and bonus.
Norwich v Burnley
Burnley surprisingly dismantled the home side in their 3-0 win. No Norwich asset picked up more than two points in GAFFR. There was three double digit returns in the match. Two of them were picked up by defenders Maatsen (£6.3) and Ekdal (£6m). The latter scored, bagged clean sheets and picked up bonus whilst Maatsen created an assist, kept the clean sheets and also hit bonus.
Another success was midfielder Zaroury (£7.1m) who collected a huge 11 points because of his goal and bonus.
Rotherham v Sheffield United
Football fans were quite surprised when Rotherham claimed a goalless draw against one of the promotion favourites. As expected with the result there was plenty of defensive returns for both sides. The biggest return of the game came via Sheffield United defender Bogle (£6.3m). He picked up nine points for his clean sheets and bonus earned.
Huddersfield v QPR
Huddersfield held struggling QPR to a 1-1 draw this week. The biggest Huddersfield return came from defender Turton (£4.9m) hitting 10 points for his assist, second half clean sheet and bonus. Fellow teammate and striker Waghorn (£5.9m) came close with his nine points because of his goal and bonus.
QPR striker Lowe (£7.6m) scored and earned bonus to bag 11 points.
Hull v Cardiff
It was a tight affair between the sides as Hull claimed a 1-0 victory. Cardiff's biggest GAFFR success came from midfielder Philogene-Bidace (£5.9m) hitting seven points for his penalty win and bonus. Hull's best asset was goalkeeper Ingram (£5.3m) who bagged a whopping 15 points for his clean sheets, save point, penalty save and bonus.
Hull did have another huge return via defender Christie (£5.7m). He struck 14 points for his clean sheets, goal and bonus.
Luton v Stoke
Luton continued their great run of form with a 1-0 win over Stoke. The away side failed to have a single asset hit over five points. The biggest Luton haul came via midfielder Ruddock Mpanzu (£5.4m) picking up 12 points due to his goal and bonus.
Middlesbrough v Blackpool
The home side won 3-0 against the strugglers Blackpool. No Blackpool assets managed more than two points in GAFFR this week. There was four double-digit hauls within the Middlesbrough team in GAFFR. One of them, which was the biggest was striker Akpom (£6.5m) who picked up a massive 16 points due to his two goals and bonus.
The second highest scoring GAFFR player in the tie was defender McNair (£6.3m) bagging 13 points for his clean sheets, goal and bonus.
Millwall v Sunderland
Many fans expected a tight game between the teams and that it was as the game finished 1-1. The best Millwall asset return came via defender Copper (£6.2m) collecting 11 points for his first half clean sheet, goal and bonus.
Sunderland's most successful GAFFR return was created by defender Cirkin (£4.4m) coming off the bench to secure nine points after his goal and bonus.
Preston v Bristol City
Both teams scored here but it was the away side that won the game 2-1. The biggest success in the Preston team was striker Evans (£5.5m) who picked up 11 points for his goal and bonus. Bristol City midfielder Sykes (£5m) claimed his sides biggest return with nine points for his goal and bonus.
Reading v Watford
It was a goal fest between both sides as the game finished 2-2. Reading midfielder Ince (£6.4m) hit a whopping 13-points due to his assist, penalty scored and bonus. Fellow midfielder and teammate Hendrick (£5.2m) scored and earned bonus to pick up 10 points.
Watford were not shy of double-digit returns either as midfielder Sarr (£11m) returned 10 points due to his goal and bonus.
Swansea v Birmingham
The most thrilling game of the week came between these two teams as Birmingham clamed a huge 4-3 victory. Swansea's best return came via striker Piroe (£8.8m) collecting a colossal 19 points for his two goals, assist and bonus.
Birmingham midfielder Chong (£6.5m) hit his teams highest return with 10 points for his goal and bonus.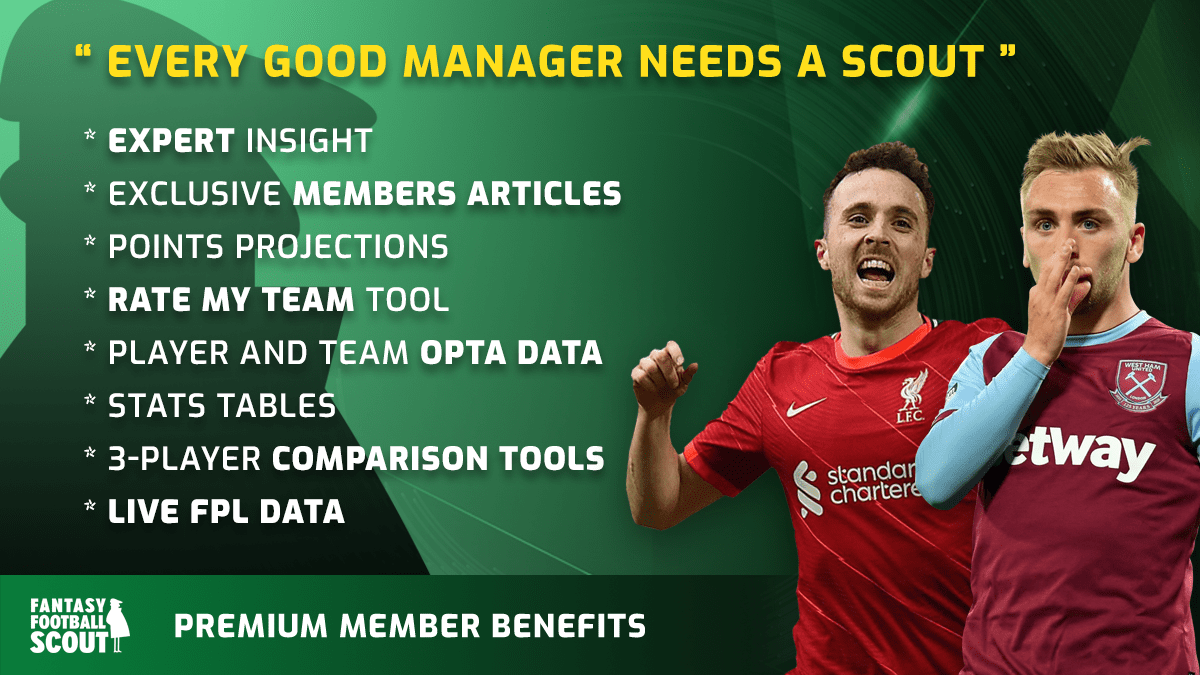 ---
We create a lot more GAFFR articles these days so be sure to keep up to date with all of our most recent ones here.