Forward planning for Gameweek 29 and 30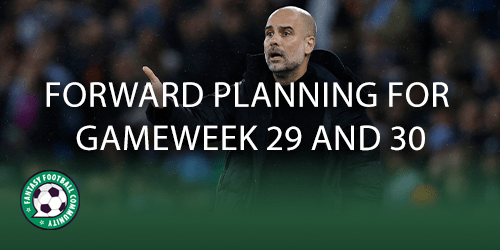 We take a look at forward planning for Gameweek 29 and 30. With the help of the Fantasy Football Scout members area we can utilise its fixture ticker and underlying stats to pick out the best teams and players to target for the double and single Gameweek ahead.
Forward planning for Gameweek 29 and 30 can be absolutely vital to the success of any given managers season. Double Gameweeks are some of the most important periods in FPL so being able to target the right teams and players could be key.
Double Gameweek 29
Firstly it is vital that we are aware of the double Gameweek in the round ahead. Leicester, Nottingham Forest, Brighton, Bournemouth, West Ham, Newcastle, Chelsea, Aston Villa, Leeds, Manchester United, Brentford and Liverpool all have two fixtures each this week.
Another significant fixture is Arsenal v Leeds. The league leaders hold plenty of ownership within their assets and have bags of potential in their single Gameweek fixture.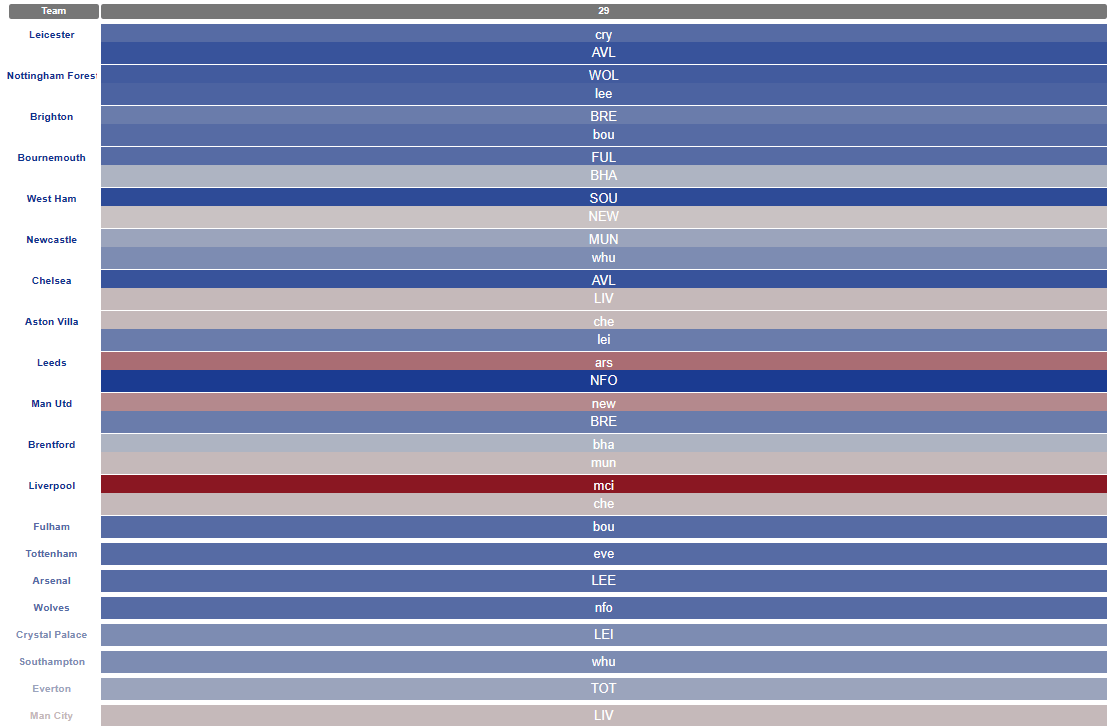 Should we use a chip in Gameweek 29?
Bench boost – It could be a great opportunity to use the bench boost. There will not be a better time to use it as Gameweek 29 will be biggest double Gameweek until next season. With heavily owned players having great single Gameweek fixtures as well, it only adds to the bench boost appeal.
Free hit – It is always nice to use a free hit in a double Gameweek. However, most of the experienced FPL managers tend to use their free hit in blank Gameweeks. Interestingly, blank Gameweek 32 could be a great time to use it.
Triple captain- It could be tempting to utilise the triple captain chip this week but the most consistent assets in the game have single Gameweeks (other than Marcus Rashford, who could arguably have tough fixtures). The most consistent assets in the game are likely to double in Gameweek 34 and 37, so it could be worth holding onto the triple captain chip.
Wildcard – It could be a fantastic Gameweek to use the wildcard. Building a balanced squad to tackle the upcoming double, blank Gameweek 32 and doubles in Gameweeks 34 and 37 could be very beneficial.
Who has the best fixtures in Gameweek 29 and 30 combined?
Below we can see the fixture ticker has ranked the best teams at the top with the easiest fixtures all of the way down to the teams at the bottom with the toughest fixtures.
Leicester, Nottingham Forest, Aston Villa, Manchester United and Chelsea all rank amongst the top five teams with the best fixtures in Gameweek 29 and 30 combined. All of whom double in Gameweek 29 and then have a great Gameweek 30 fixture.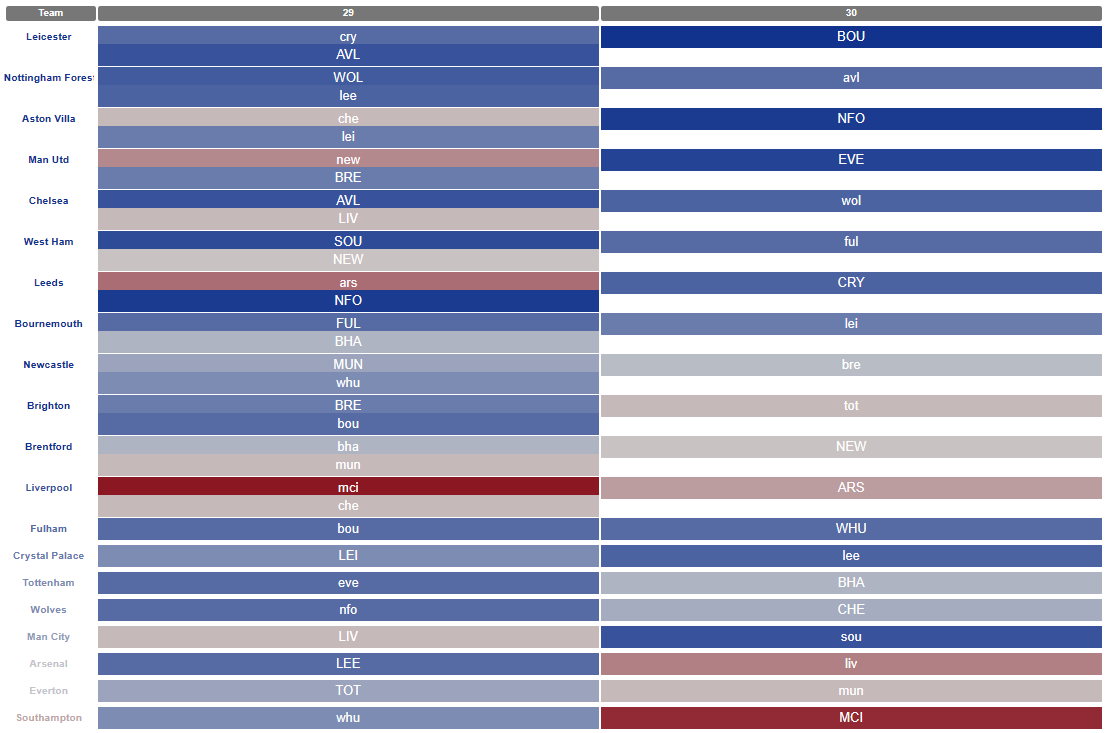 Key players for Gameweek 29 and 30
It is important to highlight the players with the most potential over the next two Gameweeks. Amongst those assets include:
Leicester midfielder James Maddison (£8.2m).
Aston Villa striker Ollie Watkins (£7.5m).
Manchester United defender Luke Shaw (£5.2m).
Manchester United midfielder Marcus Rashford (£7.3m).
Manchester United midfielder Bruno Fernandes (£9.6m).
Chelsea defenders Ben Chilwell (£6m) and Reece James (£5.8m).
Chelsea striker Kai Havertz (£7.6m).
Newcastle defender Kieran Trippier (£6.1m).
Brighton midfielders Alexis Mac Allister (£5.5m), Kaoru Mitoma (£5.5m) and Solly March (£5.1m).
Brentford striker Ivan Toney (£7.9m).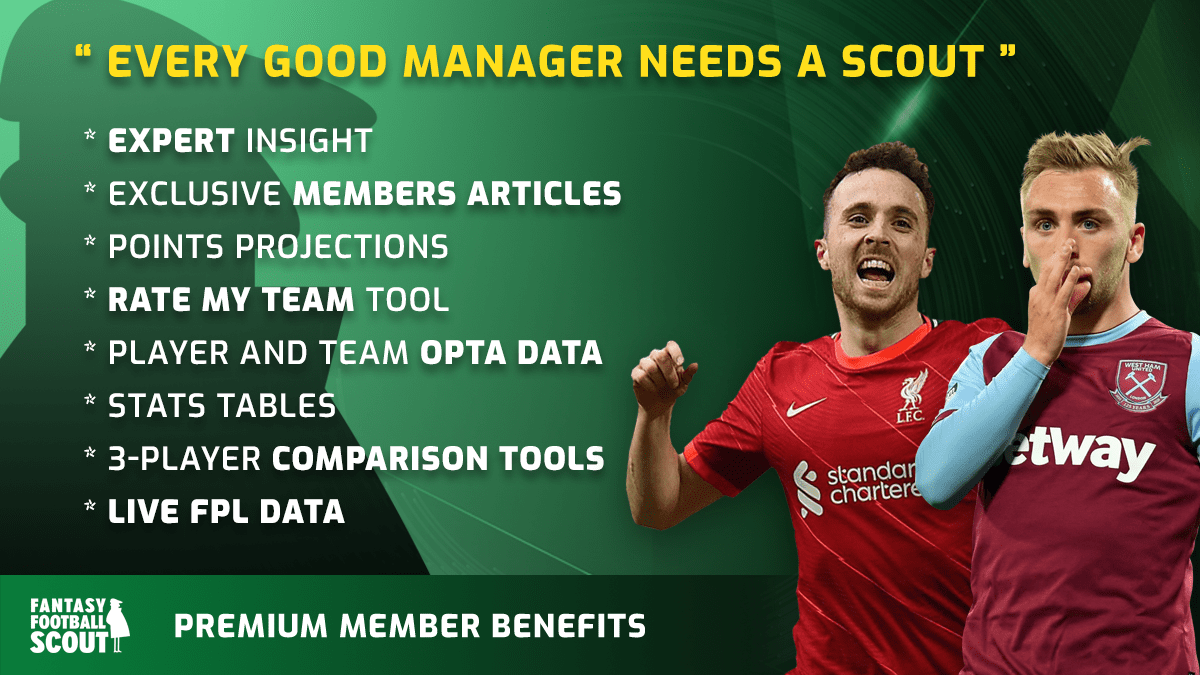 ---
What should we expect from Double Gameweek 29? Find out right here.