Fantrax Draft Gameweek 8: The Gold League Experience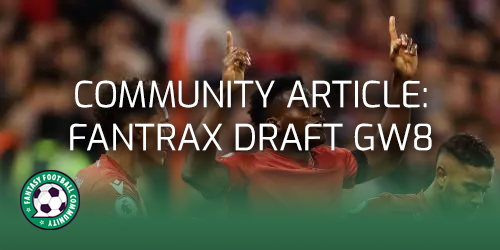 Will from Fantasy Football 92 is back to talk us through his Fantrax Draft Gold League competition. Here, he looks back at Gameweek 8 and upcoming trades.
"Seven years of drafting. A 'Draft We Must' league title. An 'International Genie League' title. A 'Draft Community League Champions Cup' title. It's not often you get to brag about your Fantasy Football achievements, so I'm grabbing this opportunity with both hands!"
Why the (not so) humble brag? Well, my Togga/Fantrax experience has inadvertently landed me with my biggest and toughest task so far – qualification to the Draft Community Gold League – and here I am writing about my experience. This is unarguably the toughest league, one where I could genuinely finish dead last… hopefully not, eh?
REVIEW
After a postponed Gameweek 7 fixture, we faced another very tough Gameweek 8 opponent in a rematch of last year's Champions Cup success. Have I mentioned the cup win?
*Sigh*… here we go again! For the third time in seven weeks, we've come up against the league's top scorer. With a very tidy score of 108.25, @YesTheQB exacted his revenge with a comfortable victory that ensured Team FF92 went into the international break with a negative win/loss record. Time for another moany rant I guess…
It felt like it would be a long weekend when forward Taiwo Awoniyi scored almost immediately on the Friday night. Although my own streamer Jacob Ramsey got on the scoresheet to give me a narrow Friday lead, Kevin De Bruyne's double assist ensured that advantage quickly disappeared.
Without Mohamed Salah's firepower to call upon, it felt a long way back for us. Even though the reliable Ivan Perisic and one-week pickup Aaron Ramsdale produced handy returns, it wasn't enough as the opposition raced away with a 32.5-point win to top this week's Gold League scores. Into the break, our record is 3-0-4. Brutal.
It's been the story of the season so far for me: a short but long, difficult campaign. Despite amassing the highest FPts in the league (due to monster scores that secured the three wins), I've also faced the most, meaning a current rank of seventh place. Surely the luck will turn!
League competitor and long-time friend @ateamofcarras has put together some handy graphics that indicate the various levels of luck and misfortune so far. Thus it's made me feel a little better. A very, very tiny bit.
Fantrax is the best way to play fantasy though, trust me.
FANTRAX DRAFT: TRADES AND WAIVERS
Moves have been made, one big move in particular. A few weeks back, I'd identified the need for a good forward or two. After securing the Luis Sinisterra signature for a low price, Aleksander Mitrovic was next on my hitlist from @DannyNoll following a ridiculously good start to the season. Furthermore, there are excellent fixtures to come.
As an Arsenal fan, I knew Danny would have an interest in Martin Odegaard. Although I pushed and pushed for a 2:2 deal, in the end, we shook hands on a straight swap.
Initially, it feels as though I've given away a bit of value but Mitro's goals away at Tottenham and Arsenal suggest he's pretty much fixture-proof. Meanwhile, Odegaard's numbers have been slightly inflated by his team's kind start to the season.
I also feel that midfielders are currently slightly easier to stream, while many managers are struggling for forwards. There's some trade value there, looking to the future!
Do you feel like my trade was a good one? What other changes would you make to my squad below? Feel free to let me know!