What have we learned so far in FPL 2022/23?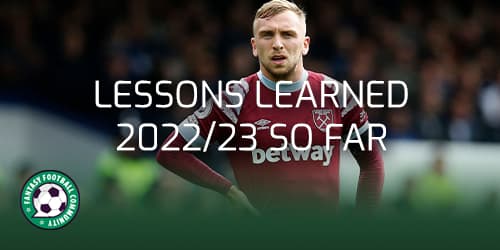 At the end of each FPL season managers sit down and assess what they have learned to help them with the new season. However, there is some real value to be had in pausing at intervals during the season to reflect on what we have learned so far. During the International break we assess what we have learned so far in FPL 2022/23.
Don't expect the rules of one season to apply in another
It can be very easy as an FPL to expect everything to be exactly the same as the previous season.
Back in 2021/22 Mo Salah was the highest scoring player in the game and Jarrod Bowen was a most have. However, in 2022/23 Bowen has yet to register any attacking returns and 15 players are currently outscoring Salah.
At the beginning of the season FPL managers base their decisions on recent history. This means the previous campaign as well as preseason and potentially any international competitions. However, now is a good time to move away from the rules that last season taught us and focus in on the rules we are learning about the new campaign.
Don't make transfers to early
The Covid disruptions of the 2020/21 and 2021/22 seasons taught managers to be cautious. Many FPL managers go in to the habit of waiting until moments before the deadline to make their FPL decisions. This season many were hoping that they would be able to make their transfers earlier to take advantage of the price changes.
However, we have continued to see disruption this season. With thecancellation of Gameweek 7 and the postponements in Gameweek 8 many FPL managers will continue to be cautious. Not making transfers too early is still a good lesson for FPL managers, even in 2022/23.
Be loyal to the must have assets
Erling Haaland is a must have. At the start of the season when he first arrived in the Premier League FPL managers pondered on whether Upside Chasing might be a good strategy. Upside Chasing is a stategy used by some FPL managers. It involves transferring players in and out based on their potential to return points in any given week.
When managers looked at the fixtures there seem to be potential to move between players such as Haaland, Harry Kane and Salah throughout the season. However, now Haaland's form and the way City are playing makes loyalty an FPL managers best friend.
The five sub rule isn't having too much impact
There was a lot of chatter in the FPL community in preseason about the five subs rule and the potential impact. We discussed this in a preseason article. Whilst many managers have been making full use of the five subs, it is not having a major impact on FPL.
There have been a few casualties, for example Trent Alexander-Arndold's 58 minute substitution in the Merseyside derby. However, FPL managers have learned that the new ruling doesn't need to change the way that they play the game.