Familiar Faces of FPL GW35: Fabio Borges set for sixth successive top 2k finish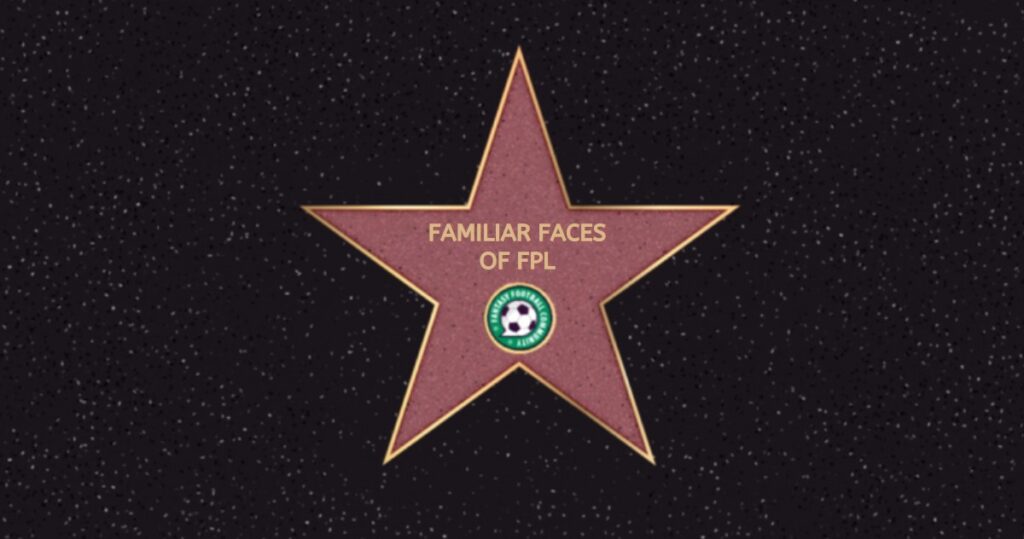 A round-up of how the well-known, familiar Fantasy Premier League (FPL) faces fared during the last Gameweek.
---
FPL familiar faces: Gameweek 35 progress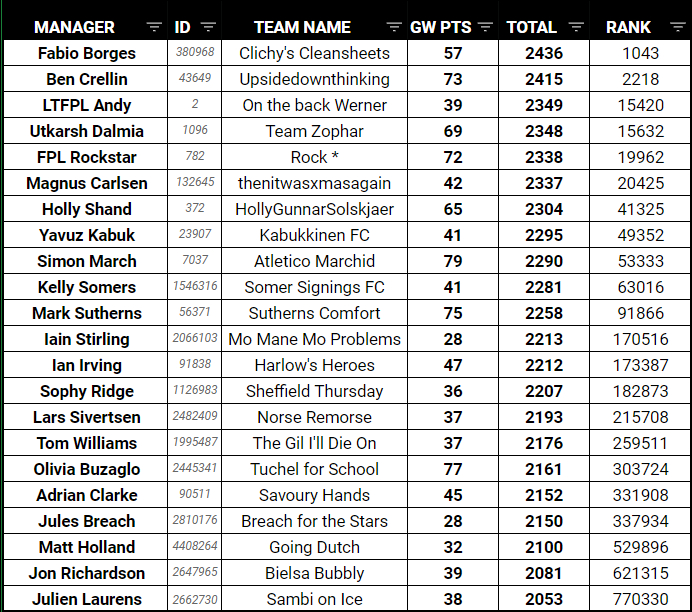 It's been a while since the last update on these 22 competitors – five Gameweeks, in fact.
Fixture guy Ben Crellin has had the best time since then, accumulating 392 points. Interestingly, all of his chips have been used since Gameweek 29 but his Wildcard has been strong enough to oversee nine green arrows out of ten.
It's also a good run for FPL Rockstar, scoring 350 points. He used a Free Hit in Gameweek 33, followed immediately by a Wildcard with a Bench Boost soon coming.
Alternatively, it's been a difficult spell for Jules Breach. Eight consecutive red arrows and just 229 points from the last five Gameweeks for the broadcaster.
Team Focus: Fabio Borges
Top of Fantasy Football Scout's Career Hall of Fame is the legendary Fabio Borges. Incredibly, none of his seven FPL seasons has finished outside of the top 20k. Remove the first season and he always finishes in the top 5k, which is remarkably consistent.
2021/22 has seen a gradual rise through the ranks. Having stayed in the 250k-720k range until Gameweek 12, Fabio has remained in the top 100k since Gameweek 18 and the top 20k since Gameweek 21.
The following week, a 98-point haul inspired by the two goals and two assists of captain Bruno Fernandes returned Fabio to his top 5k home, where he has kept rising ever since. Additionally, he also won Ragabolly's inaugural Virtual FPL tournament last summer.
Here is Fabio's current team: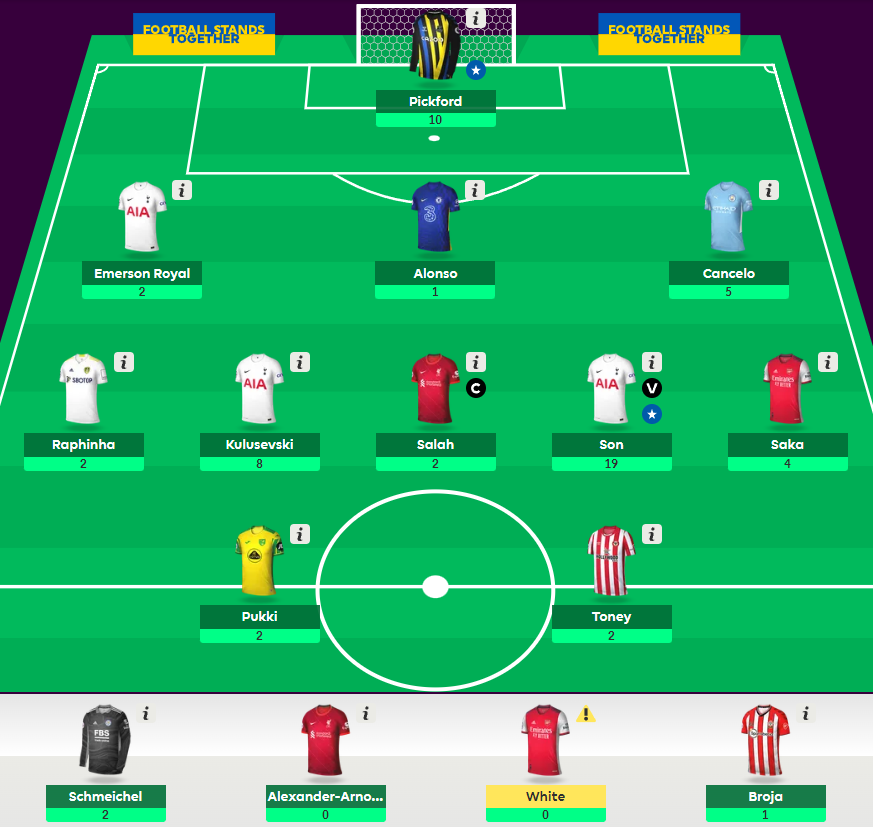 57 points arrived in Gameweek 35, with the big regret of captaining Mohamed Salah over Son Heung-min. The South Korean star is his preferred Spurs asset. By not once opting for Harry Kane, Fabio shows that there truly is more than one way to succeed in FPL.
A strong defence covers Liverpool, Man City, Chelsea, Spurs and Arsenal, often being preferred to the cheap strikeforce of Ivan Toney, Teemu Pukki and Armando Broja.
Having Jordan Pickford for his man-of-the-match performance against Chelsea was great, with further relief when Dejan Kulusevski came off the bench to bag two assists.
Looking forward, Fabio still has a Free Hit and Bench Boost to use in these final three rounds. Yet the Gameweek 35 transfer was unused – is the plan to use two of these for a Gameweek 36 Bench Boost, then a Free Hit in 37?
His 15-man squad currently contains 13 Double Gameweek players, where just Toney and Broja are exceptions. With £1.6m in the bank, Fabio may seek to bring in a combination of Richarlison, Ollie Watkins and Eddie Nketiah.
No matter what he does, his current season and FPL history suggest the decision will be right.