Community Team Reveal Gameweek 15 – Marc Jobling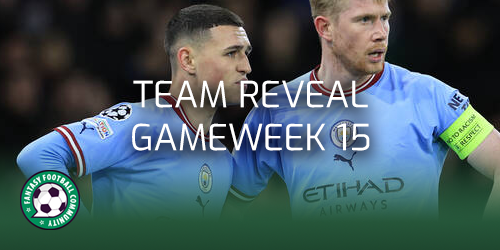 Each Gameweek brings an FPL community team reveal. As a result, that person gives insight into their transfers, captaincy and future plans.
---
Ahead of Gameweek 15, it's the turn of Marc Jobling tell us what he is doing to his team.
Hi Marc and thanks for the team reveal. So how did Gameweek 14 go?
It was another bad week, going from 20k to 50k and now to 80k since Gameweek 12. Can't really go around saying times are bad because eyes will roll and I'm still high in mini-leagues. But, honestly, I am a bit crushed and feel like hopes of a truly excellent season have disappeared.
I waited until the team leaks before selling Phil Foden for Bukayo Saka. Both ended up on one point and I'd now quite like Foden back in. My original plan was to await confirmation of Erling Haaland's absence and buy an Arsenal defender, going 4-4-2. Naturally, that was the better route and I didn't take it.
60 points mostly came from template names like Kieran Trippier (11), Gabriel Martinelli (8) and Joao Cancelo (6). Captain Mohamed Salah (14) scored, with a nice differential clean sheet for Vicente Guaita (9). However, not having highly-owned Nick Pope, Miguel Almiron or Kevin De Bruyne caused serious damage.
What does your defence look like?
If Neco Williams gets back into Nottingham Forest's starting XI, that'd be really useful. He played during their two recent clean sheets and was benched for Sunday's 5-0 loss at Arsenal, so you'd like to think he'll be back.
Kyle Walker-Peters was recruited on a Wildcard for the single purpose of Gameweek 12 at Bournemouth. It worked, as he notched six points, but he's injured at a time when bodies are needed.
Elsewhere, I'm pleased with Trippier and Cancelo, whilst probably opting for Danny Ward over Guaita this time.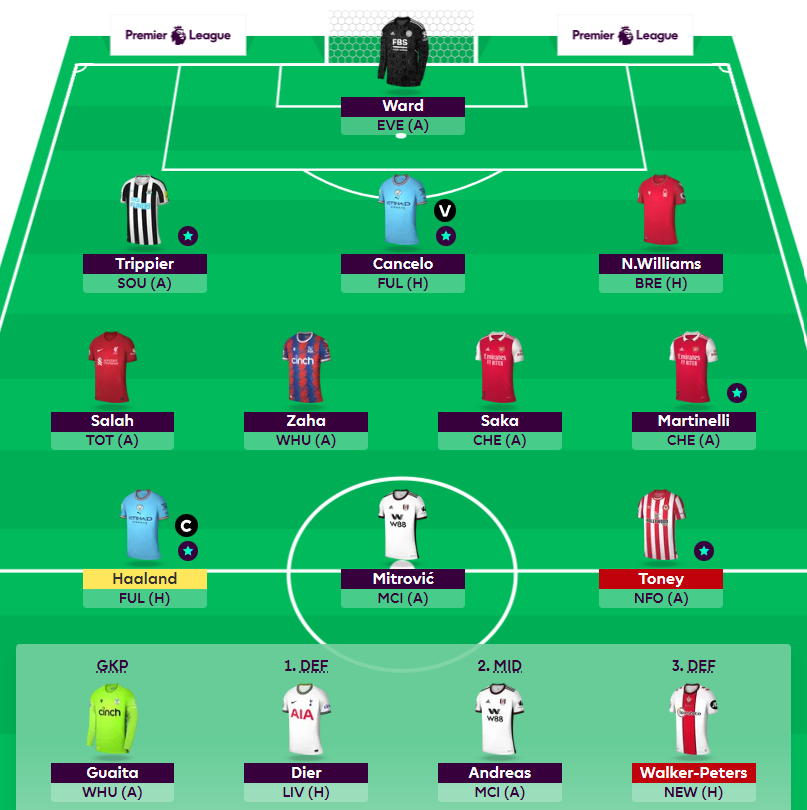 Meanwhile, what about your midfield and attack?
Seeing Saka not be injured is handy, although it might've made a Foden transfer more straightforward. Erling Haaland is also back in training, so things are looking less grim than at the start of the week. It's bad enough having to replace the suspended Ivan Toney and needing to keep Aleksandar Mitrovic versus Man City.
Salah, Martinelli, Andreas Pereira and Eric Dier have nasty fixtures too but at least we're all suffering together. It's just the general nature of Gameweek 15.
So what are your pre-World Cup transfer plans?
Originally, I wanted these final transfers to be on appealing differentials like Gianluca Scamacca or Dominic Calvert-Lewin.
Now, I'm reverting into safety mode, collecting well-owned players to stop the big ranking slide. Callum Wilson will reach one million purchases, so I'll grab him in place of Toney.
The second free transfer will go into midfield. De Bruyne for Salah is likely, although Foden, Almiron and Marcus Rashford will almost certainly deliver too.
The Gameweek 16 plan? Not sure yet. Maybe Darwin Nunez can cover for being Salah-less.
Finally, what about captaincy?
Erling Haaland exists, therefore Erling Haaland. If he became absent, the armband would just go to whoever is purchased from Foden and De Bruyne.
Good luck and thank you for the team reveal!