Best Premium Picks for Gameweek 11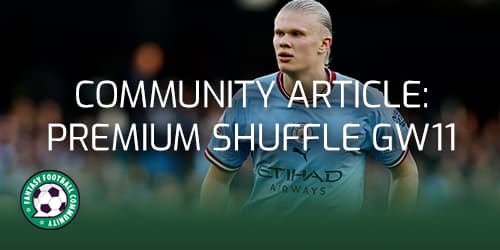 With FPL managers only able to budget for a few premium assets getting the right ones is key. Hindu Monkey has cast his eye over the premium assets so far and whether managers should do the premium shuffle for considering the best premium picks for Gameweek 11.
The Premium Shuffle
The season is nine games old, or 10 gameweeks, or eight matches… look, I know it's confusing okay. But before we embark on three games in a week with no escape from the turbulence of FPL, it's time to check in our Premium Assets and ask the question on everybody's lips. Does anybody want more than one?
Mo Salah (£12.7m)
Points: 45
Shots: 23
Chances Created: 26
xGI: 5.02
Next Three: MCI, WHU, nfo
Salah was last seen getting dragged after an hour. This is turning into a wretched campaign for Liverpool and their star man. The stats however, still hold up for Salah. Sure, it's a brave person who shells out £12.7m for him right now, but Liverpool's fixtures turn from Gameweek 12. He has WHU, nfo, LEE, tot, SOU up until the World Cup.
If the once mercurial Egyptian doesn't turn the corner during that run, it's probably worth putting him on a shelf with the trophies of Newcastle United and forgetting they ever existed.
Kevin De Bruyne (£12.4m)
Points: 59
Shots: 22
Chances Created: 28
xGI: 6.79
Next Three: liv, blank, BHA
The Ginger Wizard continues to impress with his chance creation. His right foot come wand, leads the table in that category this season. He registered his 95th league assist at the weekend, and is closing in on Cesc Fabregas in second.
His price however, looks slightly prohibitive when the on-fire Phil Foden (£8.2m) can be picked up for over four million less. Pep continues to protect his elder statement a little as well, so expect the odd rest in amongst the congestion.
Still, if you've got the money to spare, expect him to put Liverpool's paper mâché midfield to the sword this weekend.
Erling Haaland (£12.2m)
Points: 102
Shots: 38
Chances Created: 9
xGI: 9.92
Next Three: liv, blank, BHA
Managing just one this weekend, Haaland has now "only" scored 15 goals this season. A complete machine, not owning him is simply out of the question. Whether you should ever gamble against him as captain is all that remains.
A blank in Gameweek 12 is the spanner in the works. Although I'm sure all FPL managers will be delighted to have the novelty of a genuine captain debate that game week.
Although on this evidence, you'd still back him to outscore some of the people on this list…
Son Heung-Min (£11.7m)
Points: 44
Shots: 23
Chances Created: 17
xGI: 3.43
Next Three: EVE, mun, NEW
A 20-minute hat-trick off the bench has hugely inflated Son's numbers this campaign. Spurs are a tough team to watch at the moment, almost playing with a central back five at times and relying solely on the wing-backs to get high up the pitch and support the forwards. Fans can point to their league position as justification for these tactics, others might point to the fact that watching them, will cure insomnia.
Middling fixtures up next make Son a hard purchase, when Kane remains cheaper and more involved.
Harry Kane (£11.4m)
Points: 63
Shots: 31
Chances Created: 17
xGI: 6.94
Next Three: EVE, mun, NEW
Kane continues to accumulate both shots and chances for Spurs and with his threat at all set pieces, remains probably the best second Premium option right now. He has not missed a game he was available for since he was a child.
Largely fixture proof, if I was wildcarding today Kane and Haaland would definitely be the way I'd go up top. Supported by either Mitrovic or the value option of Big Dom Solanke (£5.7m). Expect him to tick along nicely until the World Cup, and to never miss a penalty again.
Cristiano Ronaldo (£10.2m)
Points: 16
Shots: 15
Chances Created: 6
xGI: 1.38
Next Three: NEW, TOT, che
Netting his 700th career club goal this weekend, there is a small chance that Ronaldo could kick on from here. With the stricken Anthony Martial (£6.9m) injured yet again, and Jadon Sancho (£7.3m) hopelessly out of form and favour, Ronaldo could well be handed the responsibility yet again of leading the line for United.
The fixtures scream tough, but last season he scored five goals at home to Newcastle and Spurs.
It would take a brave, almost insane manager to gamble on lightening striking twice. But stranger things have happened.
Alex Iwobi (£5.5m) just scored a wonder goal for example.
Raheem Sterling (£10.0m)
Points: 36
Shots: 14
Chances Created: 11
xGI: 3.64
Next Three: avl, bre, MUN
Just when it looked like he was about to become a good option again, Sterling was benched for the full 90 minutes this weekend. Whilst owners may hope that's his rest now out of the way, he remains a tough sell to managers who can pick up other Chelsea attackers for considerably cheaper.
For a £10m price tag Sterling needs to be talismanic for his club. Thus far, his stats show precious evidence of that being the case.
Bruno Fernandes (£9.8m)
Points: 25
Shots: 13
Chances Created: 13
xGI: 3.07
Next Three: NEW, TOT, che
It feels almost an illusion now that Bruno Fernandes was the highest scoring asset in the game during his first 12 months with the club. Whilst his performances have improved, he is playing behind a fluent United front three who look set to hog any attacking returns that come their way.
He has less FPL points than Wissa, Aribo, Bentancur and De Cordova-Reid.
I couldn't recommend a single soul considers him.
Premium Shuffle: best premium picks for Gameweek 11