Best Double Gameweek forward for Gameweek 31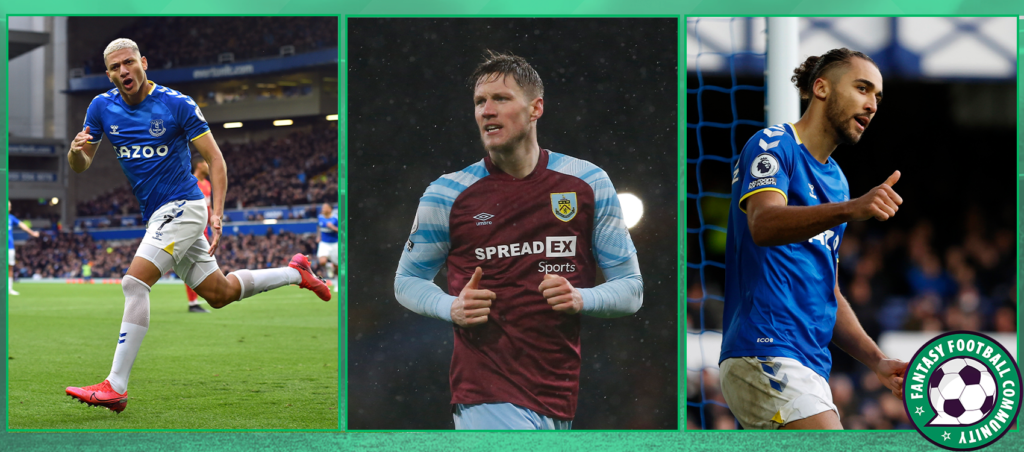 With Burnley and Everton playing twice in Gameweek 31 FPL managers will be considering how they can invest. Wout Weghorst, Dominic Calvert-Lewin and Richarlison are all potential options ahead of their two fixtures. Weghorst's appeal is strengthen by a further pair of fixtures in Double Gameweek 33. We compare the three forwards to assess who is the best Double Gameweek forward for Gameweek 31.
The new members area over on Fantasy Football Scout is the perfect place for comparing the best picks in FPL. We compared Weghorst, Calvert-Lewin and Richarlison to see which is the best pick of the three for Double Gameweek 31.
Heat Maps
Weghorst only joint Burnley during the January transfer window. Since arriving at the club he has made nine starts in the Premier League. Calvert-Lewin's season has be plagued by injury meaning that like Weghorst he has only made nine starts. However he has come on as a substitute meaning that he has one more appearance than the Burnley forward.
Richarlison has made 18 starts this season, double that of Weghorst. He has also come on as a sub twice meaning that he has double the appearances of teammate Calvert-Lewin. The differences in the number of minutes is highlight in the heat maps above.
Richarlison is the most forward thinking of the three assets, however a lot of his possession is in the wide areas.
Richarlison has also had most chances than the other two players, this is to be expected in Double the game time. In the graphic below shots are shown in yellow and shots on target in green.
Richarlison has had 35 goal attempts in comparison to 26 for Calvert-Lewin and 13 for Weghorst.
Underlying stats
With the difference in game time that the players have played it is easier to compare their stats looking at the per appearance numbers.
Calvert-Lewin averages 2.6 goal attempts per appearance, this is in comparison to 1.4 for Weghorst and 1.8 for Richarlison. This means Calvert-Lewin records a chance every 29.3 minutes. Richarlison has a shot every 46.8 minutes with Weghorst having a shot every 58.2 minutes.
Everton's English forward also has the best expected goals (xG) per appearance at 0.6. Richarlison and Weghorst both record a per appearance xG of 0.2. Calvert-Lewin is also top for expected assists (xA).
For both shot accuracy and goal conversion Calvert-Lewin-Lewin comes out top. With Weghorst second for shot accuracy and Richarlison second for goal conversion.

FPL points
Richarlison has returned 64 FPL points so far this season. Calvert-Lewin has 35 and Weghorst 30. However the additional game time means that Richarlison has added an additional 20 points to his tally from playing points. As well as this he has had double the matches to return points.
Team form
Both Burnley and Everton are battling to avoid relegation. In some ways this can be a positive for FPL managers as it should ensure motivation from the players as they fight to maintain their Premier League status.
Burnley have won two, drawn one and lost three in their last six Premier League matches. However the three defeats have come in the last three Gameweeks.
Everton have lost four and won two of their last six matches. They did win their Gameweek 29 match against Newcastle right at the end of the match, however the eye test suggests this was rather fortunate.
Overall
Whilst there is little to choose between the three players in terms of their per appearance stats Weghorst maybe offers managers a slight advantage. Burnley and Everton both play twice in Gameweek 31, but Burnley also have a second Double Gameweek in 33. Investing in Weghorst therefore could offer the additional minutes earlier. We are also yet to see consistent minutes from Calvert-Lewin as a result of his injury hampered season. He played 14 minutes in Gameweek 29 and registered an assist, however will Lampard be able to field him for two 90 minute matches in quick succession.
Richarlison has the best underlying stats of the three, however he is also more expensive. At a time where owning premium defenders, along with a wealth of expensive midfielders and Harry Kane saving budget will be key. Weghorst is £1.3m cheaper than Calvert-Lewin and £1.1m cheaper than Richarlison. Owning the Burnley forward will free up more budget for improving the rest of FPL managers squads for the run in.
---
FPL Family's Sam has her Wildcard active. She shared her early thoughts on targets for her Wildcard with us.