Who made it to the Round of 16?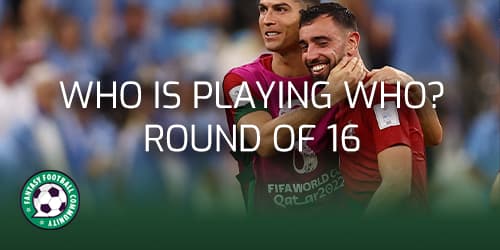 The Qatar World Cup has advanced to the Round of 16 stage. This means that half off the teams have gone home from the competition. This will be music to the ears of some FPL managers who are seeing some of their key players heading home early from the competition. Here we look at who is playing who in the Round of 16 fixtures.
The Round of 16 kicks off on Saturday 3rd of December at 3pm. This coincides with the next deadline in the World Cup Fantasy game. The winners from each of the groups will play the runners-up from a different group at this stage of the competition.
The following explains how the draw works and how the countries came to face each other.
Saturday 3rd December
Winners Group A v Runners-Up Group B
Winners Group C v Runners-Up Group D
Sunday 4th December
Winners Group D v Runners-Up Group C
Winners Group B v Runners-Up Group A
Monday 5th December
Winners Group E v Runners-Up Group F
Winners Group G v Runners Up Group H
Tuesday 6th December
Winners Group F v Runners-Up Group E
Winners Group H v Runners-Up Group G
Round of 16 Fixtures
This means that we have then following fixtures scheduled:
3/12 3pm – Netherlands v USA
3/12 7pm – Argentina v Australia
4/12 3pm – France v Poland
4/12 7pm – England v Senegal
5/12 3pm – Japan v Croatia
5/12 7pm – Brazil v South Korea
6/12 3pm – Morocco v Spain
6/12 7pm – Portugal v Switzerland
---
For more World Cup Fantasy click here.