What to do with Erling Haaland and Harry Kane?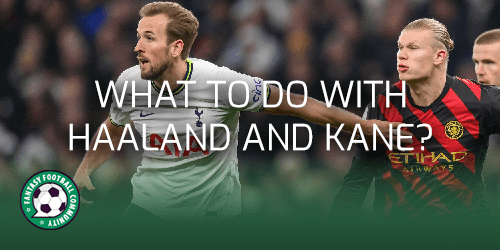 Up next in our 'What to do' series is premium forwards Erling Haaland and Harry Kane. Specifically, should FPL managers keep or sell them?
What to do?
Expensive and without a Double Gameweek 29, there are different feelings about Erling Haaland and Harry Kane right now. The Spurs forward is currently this week's third most-bought player but Man City's maestro, about to blank, is the most-sold.
Managers are thinking of short-term moves to navigate the problematic schedule. Perhaps Haaland sellers intend to bring him straight back in but it uses up two valuable free transfers.
Player Form
Just when it began to feel like Haaland's blistering start was slowing down, he scored an incredible five times past RB Leipzig on Tuesday night. He's also registered a pair of goals and assists from the last three league outings. Saturday brought his 28th strike from just 25 games, making him this season's first player to reach 200 points.
However, the underlying stats have slightly dipped. He's far in front over the season for expected goals (20.14), big chances (43) and shots inside the box (84) but, when ranking everyone's last six matches, he's a bit behind.
| | | |
| --- | --- | --- |
| Goal attempts | 16 | =14th |
| Penalty area touches | 34 | 12th |
| Shots inside the box | 15 | =4th |
| Big chances | 9 | 1st |
| Shots on target | 4 | =33rd |
| Expected goals (xG) | 3.23 | 6th |
Where Haaland ranks over the last six matches
Still, it'd take a brave manager to remove Haaland for any length of time beyond his Blank Gameweek 28.
Meanwhile, Kane's brace against Nottingham Forest ended a slightly below-par four matches that brought two blanks and never more than six points. After the opening day, he only blanked twice in the next 15 games – a remarkable streak that stayed in the shadows because of Haaland.
Team Fixtures

There's no real reason to sell Kane, as Spurs' FA Cup elimination means they'll participate in every gameweek. Although the north Londoners also be without any doubles, it's a nice initial run that takes him to struggling Southampton and Everton.
Arsenal assets left on many FPL benches this week prove that single gameweek players can compete with and outscore doublers. Kane is the same.
It's less straightforward with Haaland, with there very likely being a Blank Gameweek 32 as well. Those intending to Free Hit in 32 are fine but others have a decision to make. Especially when it gives Man City two games in hand and therefore two future doubles.
FPL Alternatives
A big problem is the value tied up in Haaland. He'd risen from £11.5m to £12.2m, so a quick sell-and-buy would lose money. He's already dropped once to £12.1m but it needs to happen a couple more times to avoid this loss.
On the other hand, Ollie Watkins rose in price overnight. His streak of six goals in seven games is timed perfectly for Bournemouth (H), with Kai Havertz and Brennan Johnson also about to follow a nice Gameweek 28 with a Double Gameweek 29.
Fantasy Football Scout have a detailed piece comparing Watkins and Havertz, whilst Johnson faces Newcastle (H), Wolves (H) and Leeds (a) compared to Haaland's one outing.
To conclude, selling Kane would make little sense but going without Haaland for two Gameweeks could work. He's still very capable of hauling at home to Liverpool, though.