What is happening during the international break?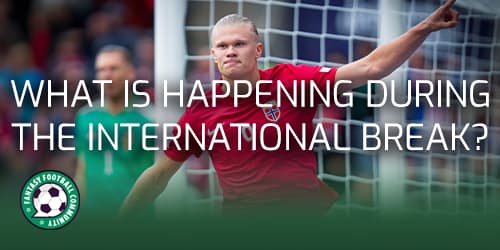 We look through what is happening during the international break. Which international competitions are back up and running? Are there any players we can monitor for things like form, fitness and minutes? We answer those questions.
The international break means club competitions take a break. This in turn means that Premier League Fantasy managers can also take some time out until the domestic football returns. For the keen FPL managers around the world, it could also be beneficial to keep an eye on the players within our fantasy teams.
How long is the break?
The last Premier League match will be played on the 18th of September. With top tier English football returning on 1st of October, this means that the break for FPL managers will be around 12 days.
What International competitions will be running?
The most popular competition running is the Nation's League. This is where the best international teams in Europe are separated into groups, where both promotion and relegation are possibilities for most. For more information on the structure of the Nations League, you can take a look here.
Another international competition running will be the Africa Cup of Nations. Teams are currently aiming to gain qualification to the advanced stages of the tournament from their group. You can check out the schedule for the African Cup of Nations here.
Team to monitor-England
The in-form Brentford striker Ivan Toney (£7.2m) has been given a call up. FPL managers will be hoping to see his great form extend within the break. The forward has now hit four returns in his six matches so far. Another player to watch could be Chelsea midfielder Mason Mount (£7.6m). His start to the season has arguably been poor. The Chelsea man has failed to register more than one attacking return in his first six matches. With great fixtures ahead, FPL managers could be waiting for his solid 21/22 campaign form to return.
Defenders Trent Alexander- Arnold (£7.5m) of Liverpool and Reece James (£6m) of Chelsea will also be heavily watched by FPL managers. Both have failed to meet many expectations this season, but it could be the break they both needed to regain top form.
Player to monitor
Norway face matches against Slovenia and Serbia in the Nations League. Man City forward Erling Haaland (£12m) remains the highest owned and the highest scoring player in FPL. Managers will be hoping for both great form and minutes without injury.
---
Who is the best captain for Gameweek 8? We answer that very question here.