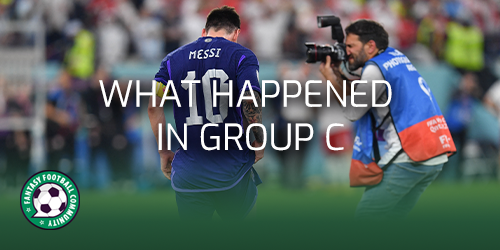 The World Cup continues. As the final round of Matchday 3 progresses, we can look back and reflect upon results and teams that have progressed to the latter stages of the competition. We overview the first group and look at what happened in Group C.
Looking at what happened in Group C can help World Cup Fantasy managers prepare for next round ahead. Overviewing the results, player performances and key fantasy assets can aid in important factors like transfers, captaincy and chip strategy.
Group C
Below is a table showing Group C as a whole. We can see that Argentina and Poland have progressed to the next round of the World Cup. We can also see that both Mexico and Saudia Arabia have both failed to advance.

Argentina
Matchday 1 came, and Argentina were heavy favourites against Saudi Arabia. However, we saw the first shock of the tournament as Saudi Arabia won the game 2-1. Argentina started strong and striker Lionel Messi put his penalty away to take a 1-0 lead. Two quick fire goals stunned Argentina, both within five minutes. Argentina lost their opening match.
Argentina knew they would have to win against Mexico in Matchday 2. Although dominant, Argentina could not break Mexico down until the 64th minute. Lionel Messi scored the first goal again which was created by midfielder Angel Di Maria. Lionel Messi was involved in the second goal of the match when he put the ball on a plate for Enzo Fernandez. Argentina won 2-0.
Argentina came into Matchday 3 knowing less than a win could cause them problems. The South Americans were clearly the better side against Poland. Lionel Messi stepped up to a penalty but missed. It took until second half for Argentina to score their first goal. Midfielder Alexis Mac Allister scored the opening goal with the help of Defender Nahuel Molina. Argentina killed the game when striker Julian Alvarez scored and Ennzo Fernandez assisted. The game finished 2-0 and Argentina won their group.
Conclusion
It was quite clear that Lionel Messi carried Argentina through the group stages and with the help of Enzo Fernandez, Argentina powered their way to the top of the group. Investing in their increasingly strengthening back line could be beneficial moving forward.
One player who hasn't met World Cup Fantasy standards is midfielder Angel Di Maria.
Poland
Poland have progressed but they cut it close. Matchday 1 meant a meeting against Mexico. The European side looked poor for the majority of the game and Mexico dominated. Although better, Mexico failed to convert which led to a 0-0 stale mate.
Saudia Arabia lay ahead in Matchday 2. Saudia Arabia looked exciting offensively, but Poland stood strong. Poland picked their opponent apart and the first goal came from midfielder Piotr Zielinski, created by striker Robert Lewandowski. Goalkeeper Wojciech Szczesny made a save the penalty spot and Poland reacted when star man Robert Lewandoski scored the second to finish the game 2-0.
Poland faced a meeting against Argentina in Matchday 3, knowing even if they lost they could still progress. Luckily results went their way in the other match and Poland progressed, even after losing their game 2-0.
Conclusion
Poland were hit and miss in the group stage and without Robert Lewandowski would have failed to progress. Defensively nervy, it could be wise to avoid in terms of World Cup Fantasy in the next stage of the competition.
Mexico
The Mexicans dominated against Poland in Matchday 1. However, they failed to make that dominance count. Their blunt attack could not score, which led to a very dry 0-0. Although that was the case, it wasn't a bad result as they had picked up their first point of the competition.
Mexico faced the tough task of keeping Argentina out in Matchday 2. Although they did exactly that for the majority of the game, they could not maintain it. Mexico lost the game 2-0 and were heading into Matchday 3 needing to win.
A win was a must against Saudi Arabia. Mexico held strong defensively and sharpened their blade in attack. The first goal came in the second half from striker Henry Martin and was created by defender Cesar Montes. Mexico thought they had a great chance at qualifying when they scored their second goal. Midfielder Luis Chavez made it 2-0 but Saudi Arabia killed any hope of going through on goal difference with their stoppage time goal.
Conclusion
Mexico failed to progress and the biggest factor that contributed towards that was their lack of goals. Even if Mexico progressed, it could have been very difficult to pick out any World Cup Fantasy options.
Saudi Arabia
Saudi Arabia marked their opening game against favourites Argentina with a shock win. Although they conceded an early goal there was a huge reaction from Saudi Arabia. They equalised in the second half. The goal was scored by striker Saleh Al-Shehri and assisted by striker Firas Al-Buraikan. It took five minutes for Saudi Arabia to score their second goal and it was striker Salem Al-Dawsari who put it away with a fantastic strike.
Matchday 2 arrived and Saudi Arabia were looking to take their confidence into their match against Poland. Although extremely lively offensively, they ran out of steam and were picked apart by Poland, losing the game 2-0.
Saudi Arabia needed something from their Matchday 3 game and although they tried, Mexico proved too difficult. They lost the game, but star man Salem Al-Dawsari proved clinical after he scored in the 95th minute. His goal was assisted by striker Hattan Bahebri.
Conclusion
Saudi Arabia started well but their excitement and energy was their downfall, especially when teams counter attacked. Salem Al-Dawsari became the main man, and it is likely he will finish the tournament as proud as his country.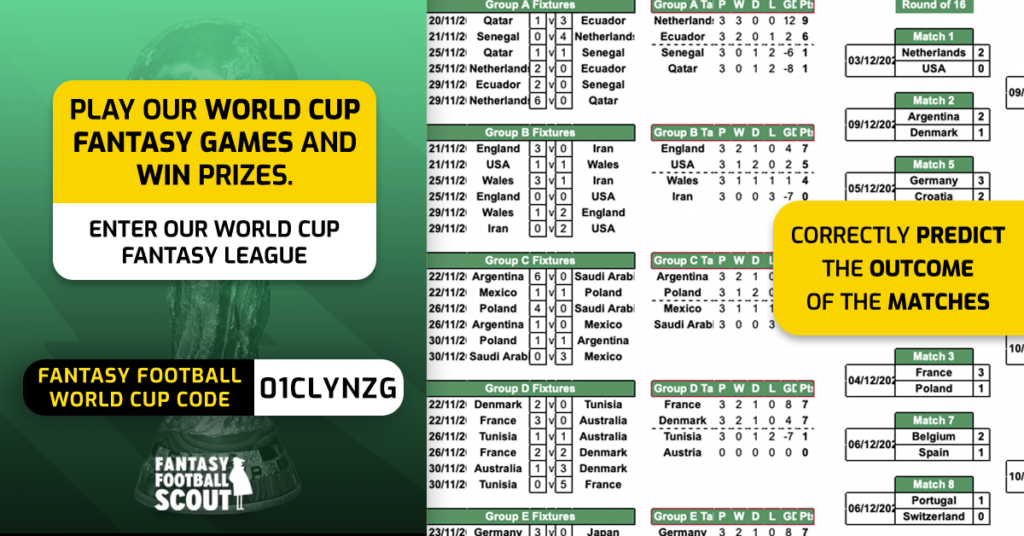 ---
Not sure what happened in Group B? We cover all of the goals and standout performances from each team involved in our article here.