Unlimited Transfer team draft – Sam FPLFamily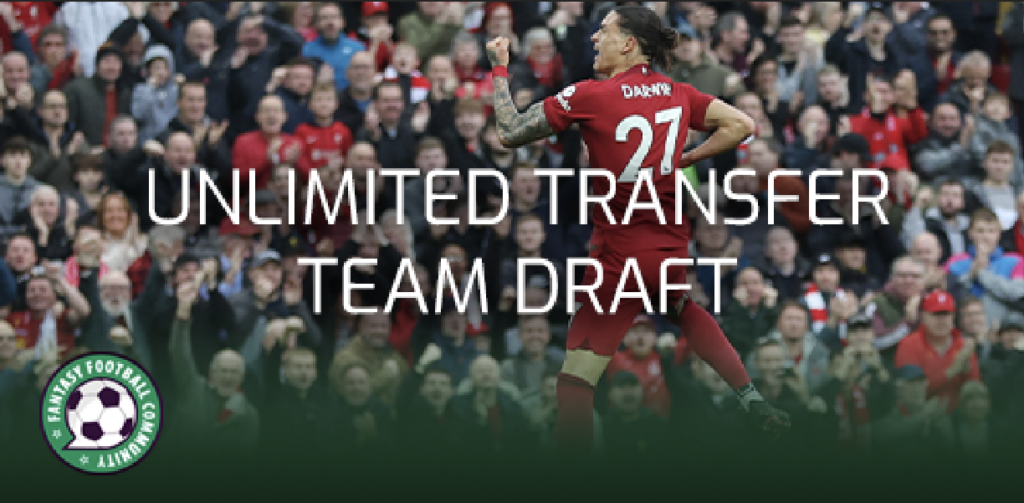 The Unlimited Transfer window is open right up to the Gameweek 17 deadline. This means that FPL managers are busy making changes to their FPL teams. Here Sam from FPLFamily shares her Unlimited Transfer team draft as it stands.
The Unlimited Transfer window feels like a Wildcard – only better!
I don't have to worry about player price rises and falls and can concentrate on watching the form of the players without reacting quickly.
My phone camera roll is currently full of a variety of different drafts. All of which have the potential to be my Gameweek 17 squad.
However, the Premier Leagues fixture announcement did change my plans somewhat. My original thoughts were to target the teams who were top of then fixture ticker for the next five gameweeks. Doing this would enable me to play the fixtures. However, the double gameweeks as well as the potential fixture congestion in January means that I am somewhat tweaking my plans.
The Fixture Ticker has now changed with the addition of double gameweeks for Fulham and Chelsea in Gameweek 19 and Spurs and Man City in Gameweek 20. There is still potential for the Gameweek 20 double fixture between Man City and Spurs to be cancelled if either club needs a replay in their FA Cup match.
Unlimited Transfer team draft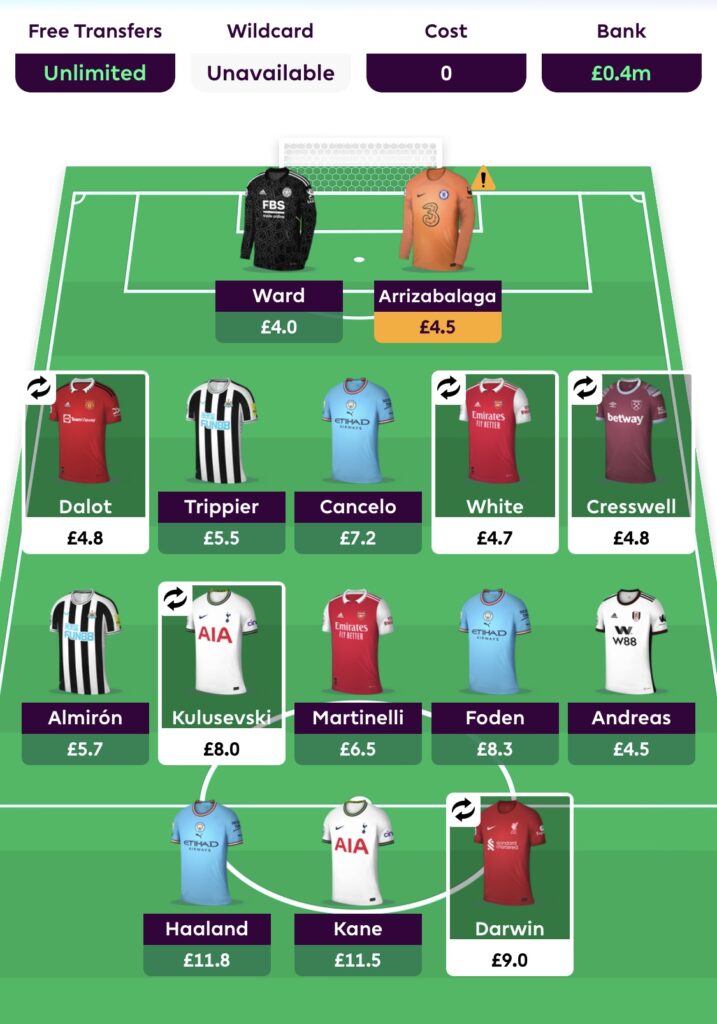 News on the Chelsea injuries will go a long way in deciding what happens with my team. Indeed the same is true of Liverpool.
With Chelsea the fixtures look reasonable for a number of clean sheets if Kepa returns from injury ahead of Gameweek 17. Graham Potter is known for his defensive solidity and if he gets his key defenders back from injury the blues could be a good investment. My current draft is torn between having Kepa in goal and Reece James in defence. Injury news will help to make that decision.
Non-negotiable players
There are a number of players in this squad who for me are non-negotiable. Of course this is as long as they are fit after the World Cup.
Erling Haaland and Miguel Almiron did not travel to the World Cup as their countries did not qualify. In addition they have both been on exceptional form in the Premier League and therefore both will stay in my team ahead of Gameweek 17. Likewise Andreas Periera has proved himself to be the perfect budget enabler. Indeed he is the fifth midfielder that I never really want to bench.
It isn't only the Spurs' fan in me that makes Harry Kane a non-negotiable. Kane is the second highest scoring player in the game. Is almost certain to play every game for Spurs (unless England make it to the World Cup final) and he is having a great season so far. Investing in a double premium attack with both Haaland and Kane requires a lot of budget, however it is something that for me I won't compromise on.
Kieran Trippier offers FPL managers so much. Clean sheet potential, set piece threat, assist potential and so much more. He is a player that could and should return multiple double digit hauls over then second half of the season. I think Newcastle will finish in the top four this year and if they do a large part of their success will be to do with Trippier.
Key picks
Gabriel Martinelli is a player I have owned pretty much all season. Arsenal have a double gameweek in January and the midfielder is at an exceptional price point. I have a lot of value tied up win Martinelli and therefore I would have to be certain he was a player I didn't want to own again before I sold. With Arsenal top of the league and in great form, Martinelli is certainly part of my plans for the rest of the season.
In season's gone by Joao Cancelo would have been a non-negotiable. However, there are so many good value defenders that I have contemplated going without him. But, Man City have two double gameweek's in January and Cancelo is likely to start almost every match for City. They are a great defensive unit and Cancelo has the attacking threat too. Whilst I don't think that Cancelo is essential, for me he is a key player to keep as part of my unlimited transfer team.
Differentials
It is very easy when picking a squad to fall into the obvious, popular choices. However, my overall rank is not where I would want it to be. Therefore choosing some differential picks who can improve my overall rank is going to be key.
Dejan Kulusevski's return from injury, coupled with him not going to the World Cup has come at a great time. Spurs have some nice fixtures in January along with a double gameweek. If Kulusevski can get back to scoring and assisting goals he will have a real positive impact on my overall rank.
Likewise, alongside Kulusevski, Dalot and White have relatively low ownerships and therefore will have a positive impact on my overall rank with every point they score.
Players who might not stay
Phil Foden might have scored in Gameweek 16 but I have not forgotten about the three benching's that preceded it. Foden could easily be transferred out for a number of other players. The likes of Bukayo Saka, as well as currently injured Luis Diaz really appeal. If Luis Diaz is available for Gamewek 17 I would likely bring him into my team over Foden as, even though Liverpool don't double his fixtures as the season restarts are fantastic.
There are a number of other positions which are still negotiable too. Diogo Dalot, Reece James/Aaron Cresswell and Daniel Iverson/Kepa are still to be firmly decided. Alongside awaiting to see when the rest of my team return from the World Cup and therefore whether they are likely to start for their Premier League teams in Gameweek 17.
Double Gameweek players
This squad will give me a Chelsea player and a Fulham player for their doubles in Gameweek 19. Two Spurs and potentially three Man City players for their double in Gameweek 20. As well as the same City and two Arsenal for the double in Gameweek 23.
I want to try to maximise the potential for double gameweek players, whilst not adding too many players at risk of rotation to my squad. Man City could have nine fixtures in January, if they stay in the League and FA Cups. Therefore maybe taking a risk on too many of their players is a step too far. Especially as teams like Villa have nice fixtures and will only play five times.