Double Gameweek Announcements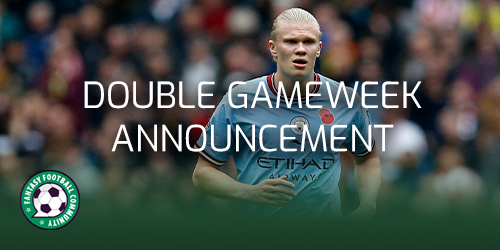 Today Official FPL have announced the rescheduling of fixtures which have been postponed. The fixtures that have been rescheduled were postponed in September and October. This means we have Double Gameweek announcements. We take a look at what that means for FPL managers and when the Double Gameweek's are.
The Premier League have announced the following dates that these matches will now be played.
Thursday 12 January
Fulham v Chelsea (BT Sport)
Sunday 15 January
Chelsea v Crystal Palace*
*Consequent to the rescheduling of Fulham v Chelsea
Thursday 19 January
Man City v Spurs
Sunday 22 January
Man City v Wolves
*Consequent to the rescheduling of Man City v Spurs
Wednesday 15 February
19:30 Arsenal v Man City
This means that there will now be three Double Gameweek's in the New Year. Gameweek 19, 20 and 23 will all feature teams that play twice.
Double Gameweek 19
Fulham: Leicester City (a) and Chelsea (h)
Chelsea: Manchester City (h) and Fulham (a)
Double Gameweek 20
Manchester City: Manchester United (a) and Tottenham Hotspur (h)*
Tottenham Hotspur: Arsenal (h) and Manchester City (a)*
*Subject to neither side being involved in an FA Cup third-round replay
Double Gameweek 23
Manchester City: Aston Villa (h) and Arsenal (a)
Arsenal: Brentford (h) and Manchester City (h)
Unlimited Transfer Window
FPL managers should therefore think carefully about the teams that are doubling in the new year. This will be especially important when building their Unlimited Transfer Window squads. The timing of the Double Gameweek announcement is useful for FPL managers who can now maximise the number of doubling players. Teams like Spurs, Man City and Arsenal all double and also have good fixtures after the World Cup.
However, FPL managers will need to be mindful of the FA Cup third round results. If Spurs or Man City need a replay in the FA Cup then their match will once again be postponed. Managers will not know this until the first weekend of January when the FA Cup third round takes place.
---
Keep abreast of all of the FPL news and updates here.