Transfer Window: gossip and rumours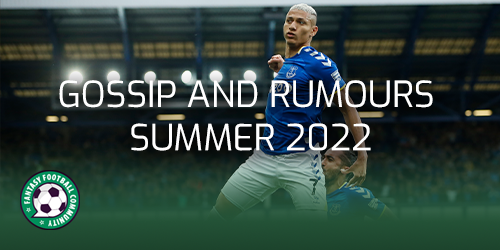 With the summer here, the internet is rife with FPL transfer rumours and gossip. So here is a round-up of today's key talking points.
The summer transfer window is always busy for clubs as they get ready for the new season. It is also a time where FPL managers carefully watch the market to get a feel for how their FPL teams might look next season.
As singings are made official our new signings article will be updated.
Tuesday 21st June; gossip and rumours
Di Marzio is reporting that West Ham are targeting the signature of Amando Broja from Chelsea. The forward spent last season on loan at Southampton, however returned to his parent club at the end of the season.
FPL Comment: Broja made 21 starts for Southampton last season. In that time Broja scored six goals and registered two assists. He averaged 3.9 points per start. If Broja gets a permanent move to a Premier League club such as West Ham he could be a good budget forward option in 2022/23.
Footballl London are reporting that Spurs made spoke to Eriksen's camp but have not followed up interest in resigning the player.  In addition Goal are reporting that Erik ten Hag want Man United to sign both Eriksen and Frenkie de Jong this summer.
FPL Comment: Eriksen proved that he us still a fantastic asset for Premier League clubs. He made nine starts for Brentford last season, in that time he registered five attacking returns. If Eriksen does sign for a Premier League club this summer he will likely be a popular FPL asset next season.
Both The Mail and Indy Sport are reporting that Chelsea have entered the race to sign RicharIison. Both London clubs would have to pay the £50m that Everton reportedly want for the forward.
FPL Comment: FPL managers would enjoy having a good Chelsea forward option for the new season. There was a lack of consistency of form and starts for Lukaku and Werner least season. Therefore if Richarlison moves to the Blues he could be a good investment option for FPL managers. Richarlison scored 125 points last season. He was the ninth highest scoring forward in the game in 2021/22.
Monday 20th June: gossip and rumours
Chelsea are hoping to sign Sterling from Man City as reported by Gianluca Di Marzio. However Fabrizio Romano are reporting that the initial bid has been rejected.
FPL Comment: Sterling returned 163 points in FPL last season, he was the sixth highest scoring midfielder in the game. He could be a great addition to the Chelsea team and could be a good FPL option with more consistent game time.
Romano is reporting that Man United are discussing putting together a new proposal for Frankie de Jong.
FPL Comment: United have lacked a defensive midfielder in recent seasons. Frankie de Jong can play as both a defensive and attack minded midfielder. He would be able to sure up the United defence, potentially making them more attractive FPL options for 2022/23.
Friday 17th June: gossip and rumours
The Mirror are reporting that Liverpool are still interested in signing Jude Bellingham. Bellingham currently plays for Borussia Dortmund. However, the Anfield Watch are reporting that Dortmund won't sell this summer and Liverpool will wait for the midfielder.
FPL Comment: With Liverpool adding Nunez to their squad alongside Salah, Jota, Dias, Firmino and Mane there could be a lot of rotation at Liverpool. Even if Mane leaves this summer then there are still a lot of attacking players at the club. Jota, Dias and Bellingham's minutes therefore could be shared weakening FPL appeal if Bellingham does move to Liverpool.
The Guardian: City to offer on Cucurella
The Guardian are repotting that City have made Cucurella their top left-back target. They state that the Champions are preparing to make an offer.
FPL Comment: Cucurella really impressed at Brighton last season. However, he didn't return as many attacking returns as he potentially could have. Had Brighton finished more chances last season the left-back would have returned more FPL points. At City finishing chances will not be an issue and therefore Cucurella's appeal would grow substantially.
---
Previous rumours
Thursday 16th June: Philips to City – Bale back in the Premier League – JWP to leave St Marys?
Wednesday 15th June: Jesus to Arsenal – Raphinha to stay in Premier League
Tuesday 14th June: Phillips moving – Bissouma to Spurs – Fulham in for Soloman and Leno
Monday 13th June: Eriksen's future – Ebiowei to the Premier League – Potential Fixtures
Friday 10th June: West Ham keen on Keane – Nunez to Liverpool
Thursday 9th June: The race for Nunez – Richarlison asks to leave