Transfer Window: gossip and rumours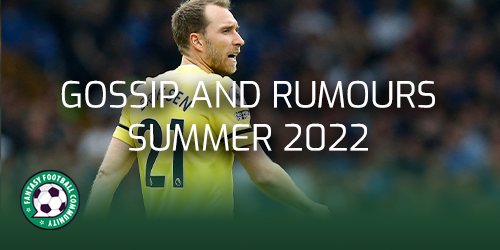 With the summer here, the internet is rife with FPL transfer rumours and gossip. So here is a round-up of today's key talking points.
The summer transfer window is always busy for clubs as they get ready for the new season. It is also a time where FPL managers carefully watch the market to get a feel for how their FPL teams might look next season.
As singings are made official our new signings article will be updated.
Monday 13th June: gossip and rumours
The Express are reporting that Christian Eriksen, has decided to leave Brentford. They suggest he favours a return to Spurs or even Manchester United.
Talk Sport also seem to confirm the link to Spurs and Manchester United.
FPL Comment: Eriksen has a fantastic record in FPL. He returned 1098 FPL points for Spurs in the game between 2013/14 and 2019/20. Eriksen's record with Brentford this season suggests that he is still a fantastic FPL asset and would be a great own in 2022/23.
Fabrizio Romano: Ebiowei to the Premier League
Romano is reporting that Derby Country's Malcolm Ebiowei will play in the Premier League next season. He reports that both Manchester United and Crystal Palace are interested in signing the 18 year old right winger. Ebiowei signed for Derby from Rangers B last September.
FPL comment: Ebiowei made 16 appearances in the Championship last season, returning one goal and two assists. The winger also made seven appearances in the U18 Premier League and returned more than one return per match, with seven goals and one assist. He would need to get regular minutes in the League to make him a good FPL option.
OddsOnFPL has reported that these are the opening six Gameweeks of the Premier League season.
FPL comment: If these fixtures are correct then they would make Manchester United popular targets. West Ham also look to have potentially promising fixtures at the start of the new campaign.
Friday 10th June: gossip and rumours
Yesterday the rumour was that Liverpool and Manchester United were competing for Darwin Nunez signature. Today The Athletic are reporting that Liverpool have reached an agreement with the player.
FPL Comment: As reported yesterday Nunez scored 32 goals for Benfica in the 2021/22 season. Six of these goals came in the Champions League including a goal in each of the two quarter-final matches against Liverpool. The forward could be a fantastic asset to FPL managers if he arrives at Anfield.
The Football Insider are reporting that West Ham are interested in signing Michael Keane from Everton. This come after Everton were rumoured to have won the race to sign James Tarkowski from relegated Burnley on a free transfer.
FPLComment: The arrival of Tarkowski if this transfer happens would likely lead to changes in the Everton defence. A move away for one of their other central defenders makes sense. Keane had a good attacking record of the Everton defenders last season. Keane returned five attacking returns last season, more than any other Everton defender.
---
Previous rumours
Thursday 9th June: The race for Nunez – Richarlison asks to leave
Wednesday 8th June: Chelsea and Spurs target Skriniar – Jesus on the move
Tuesday 7th June: Forest on the hunt for a new goalkeeper – Saka desired – Mane moving
Monday 6th June: Spence to Spurs – Newcastle target Lodi
Friday 3rd June: Asensio to United – Arsenal target Tielemans