Transfer Window: gossip and rumours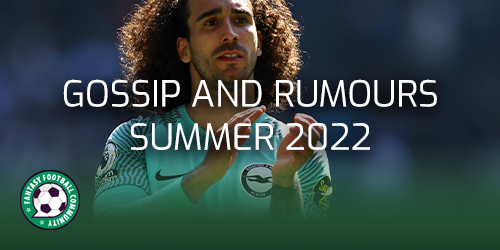 With the summer here, the internet is rife with FPL transfer rumours and gossip. So here is a round-up of today's key talking points.
The summer transfer window is always busy for clubs as they get ready for the new season. It is also a time where FPL managers carefully watch the market to get a feel for how their FPL teams might look next season.
As singings are made official our new signings article will be updated.
Friday 17th June: gossip and rumours
The Mirror are reporting that Liverpool are still interested in signing Jude Bellingham. Bellingham currently plays for Borussia Dortmund. However, the Anfield Watch are reporting that Dortmund won't sell this summer and Liverpool will wait for the midfielder.
FPL Comment: With Liverpool adding Nunez to their squad alongside Salah, Jota, Dias, Firmino and Mane there could be a lot of rotation at Liverpool. Even if Mane leaves this summer then there are still a lot of attacking players at the club. Jota, Dias and Bellingham's minutes therefore could be shared weakening FPL appeal if Bellingham does move to Liverpool.
The Guardian: City to offer on Cucurella
The Guardian are repotting that City have made Cucurella their top left-back target. They state that the Champions are preparing to make an offer.
FPL Comment: Cucurella really impressed at Brighton last season. However, he didn't return as many attacking returns as he potentially could have. Had Brighton finished more chances last season the left-back would have returned more FPL points. At City finishing chances will not be an issue and therefore Cucurella's appeal would grow substantially.
Thursday 16th June: gossip and rumours
Football Insider are reporting that Leeds' midfielder Kalvin Phillips wants to leave this summer. They report that he has told the club he wants to join Manchester City.
Meanwhile, The Athletic report that City believe that £45m-50m would enough to convince Leeds to sell the player. They suggest that once the offer is in Phillips will push for the transfer to go through.
FPL Comment: Leeds really missed Phiips when he was out injured during the 2021/22 season. The midfielder would add to the defensive security of Man City. This would. increase the appeal of players like Phil Foden and Joao Cancelo. Philips himself only registered one attacking return last season. This means his FPL appeal is more likely to be the impact on other assets.
The Sun: Bale to return to the Premier League?
The Sun report that Spurs, Newcastle and Aston Villa are all monitoring Gareth Bale. Bale is a free agent after his contract with Madrid expired.
FPL Comment: With Wales heading off to play in this years World Cup, Bale will be motivated to have a good start to the season. When he played for Spurs in 2020/21 he had a good campaign once fully fit and available. A fully fit and motivated Bale could be a great addition to FPL squads, although at Spurs he would likely command a premium price tag in the game.
Sky Sports: JWP to leave St Marys?
Sky Sports are reporting that West Ham and Newcastle are both interested in signing James Ward-Prowse.
FPL Comment: Ward-Prowse took more corners and had more attempts from set-pieces than any other midfielder last season. His 16 successful corners was six more than any other midfielder. Ward-Prowse's route to points make him a fantastic FPL asset. A move to West Ham or Newcastle would likely increase his FPL appeal.
Wednesday 15th June: gossip and rumours
The Evening Standard are reporting that Man City striker Gabriel Jesus favours a move to Arsenal this summer. They suggest that he wants to be reunited with Mikel Arteta, who used to be the assistant manager at City. This is also being reported by a number of outlets including the Transfer Exchange.
FPL Comment: Jesus is a proven Premier League goal scorer. However his limited game time had made him a difficult FPL pick. However, if he moves to Arsenal and is a regular starter he would be an excellent FPL asset.
The Athletic: Raphinha to remain in the Premier League
The Athletic are reporting that Raphinha is a now target for both Arsenal and Spurs. It was originally thought that Raphinha would move to Barcelona this summer, however the Premier League clubs are reportedly now in the race. Raphinha's representatives are reportedly concerned that Barcelona will not be able to fund the deal.
This story is also being reported by The Mail.
FPL Comments: Over the last two seasons Raphinha has been a great FPL asset for managers. If he stays in the league he will remain a good asset, especially if he moves to one of the North London outfits.
---
Previous rumours
Tuesday 14th June: Phillips moving – Bissouma to Spurs – Fulham in for Soloman and Leno
Monday 13th June: Eriksen's future – Ebiowei to the Premier League – Potential Fixtures
Friday 10th June: West Ham keen on Keane – Nunez to Liverpool
Thursday 9th June: The race for Nunez – Richarlison asks to leave
Wednesday 8th June: Chelsea and Spurs target Skriniar – Jesus on the move