Transfer Window: gossip and rumours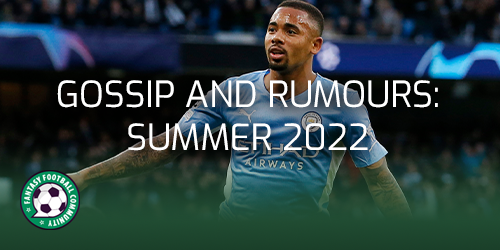 With the summer here, the internet is rife with FPL transfer rumours and gossip. So here is a round-up of today's key talking points.
The summer transfer window is always busy for clubs as they get ready for the new season. It is also a time where FPL managers carefully watch the market to get a feel for how their FPL teams might look next season.
As singings are made official our new signings article will be updated.
Wednesday 8th June: gossip and rumours
The Daily Mail: London calling for Skriniar
Chelsea and Tottenham both want to sign Inter Milan and Slovakia defender Milan Skriniar.
FPL Comment: Skriniar has played until Conte before when Inter won Serie A in 2021. The centre-back played 48 times in all competitions for Inter last season and he scored four goals, including one in the Champions League.
Fabrizio Romano is reporting that Jesus is still keen to leave Man City. He also reports that he is expected to stay in the Premier League.
FPL Comment: Jesus' lack of game time at Man City has meant that for FPL managers he hasn't been a viable long term option. At a different Premier League club with regular minutes he could be a gift to FPL managers.
Tuesday 7th June: gossip and rumours
David Ornstein: New man between the sticks at Forest
Ornstein is reporting that Brice Samba has turned down a new contract at Forest and wants to leave the club this summer.
The Daily Mail are reporting online that Nick Pope could be his replacement.
FPL Comment: FPL managers will be disappointed not to have Samba available in FPL next season. Especially as the community were hoping to see him priced at £4.5m. However, the opportunity to own Pope again would ease the disappointment, especially as a rotating pair of goalkeepers.
The Mail as well as a variety of social media outlets are reporting that Man City have joined Liverpool in their desire for Saka. However the Mail reports the move is unlikely to happen this summer.
FPL Comments: Saka was the seventh highest scoring midfielder in FPL last season. He is the go to midfielder at Arsenal in FPL, however at Man City rotation may put FPL managers off.
The Mail: Sadio on the move?
The Mail are reporting that Mane has asked Liverpool team-mate Thiago Alcantara if he can move into his house in Munich if he joins the Bayern Munich.
---
Previous rumours
Monday 6th June: Spence to Spurs – Newcastle target Lodi
Friday 3rd June: Asensio to United – Arsenal target Tielemans
Thursday 2nd June: Hugo Ekitike to Newcastle – Pulisic's time in London nearly over?
Wednesday 1st June: New West Ham defender – Lukuka to leave Chelsea?
Tuesday 31st May: Man City in for Cucurella and Philips – the race to sign Spence
Monday 30th May: Mane to leave Liverpool – Conte to stay at Spurs and bring in Perisic