Who are the top FPL points scorers so far?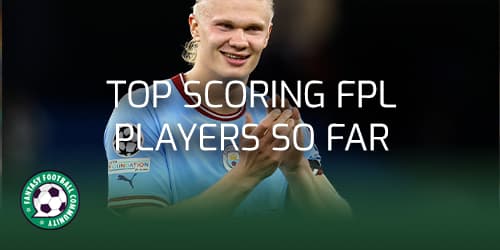 We are now eight gameweeks into the 2022/23 season. FPL managers have therefore learned a lot about the Premier League teams and the assets who are in the best form. Here we take a look at the top FPL points scorers so far this season. This should help managers to target the right players when the Premier League and FPL returns after international break.
Top five scorers overall
Erling Haaland – 73 points
Harry Kane – 50 points
Ivan Toney – 47 points
Kevin De Bruyne – 45 points
William Saliba – 44 points
All of the top three scoring players in the game so far are forwards. This is something that we have rarely seen in recent FPL seasons. Usually the midfielders outscore the forwards, partially as a result of the extra point for a goal sas well as the potential for a clean sheet point. However, this season the forwards in the game have been in fantastic form with many FPL managers shifting their strategy in the early weeks to include three playing forwards instead of a burner slot.
Of the top five scoring players in the game two of them Ivan Toney and William Saliba could be considered as budget options. At their price points they are great enablers as well as being amongst the highest scoring players in the game.
Managers considering the double up with De Bruyne and Haaland or investment in Saliba should be mindful of the upcoming blank. Man City and Arsenal fail. to play in Gameweek 12 as a result of Arsenal's rescheduled Europa League fixture.
Top ten highest scoring goalkeepers
Top ten highest scoring defenders
Top ten highest scoring midfielders
Top ten highest scoring forwards
Why is this helpful?
The players who have scorers the most points so far this season have started the season in good form. For FPL managers investing in the in from players increases the likelihood of good points returns. Therefore for managers it is important to know who are the top FPL scorers so far, an own as many of them as possible.