Should Blank Gameweek 25 impact transfers now?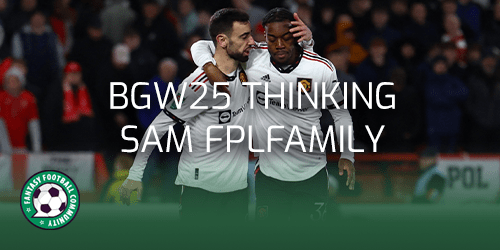 Blank gameweeks are an important part of the FPL season. FPL managers will need to have a strategy to manage the blank gameweek. Sometimes this is able to be sorted just ahead of the the gameweek with transfers. Sometimes the plan to manage the blank will need to be formulated in advance. We asked Sam from FPLFamily for her views on how Blank Gameweek 25 impact transfers now.
Blank Gameweek 25 has two matches less currently because of the EFL Cup final. Whilst it is possible that there maybe some fixtures rearranged into that week managers, we should be thinking ahead to Gameweek 25 already.

Sam Bonfield FPLFamily
Forward Planning
Forward planning is difficult in some ways as managers have been busy planning for Gameweek 22 and 23. However, having a long term view of what my FPL team will potentially look at each week is really important. I like to think about my team over a couple of week periods. Before I make a transfer I like to look at what that might mean for the team I have in the next three weeks.
Of course things change, blank and double gameweeks are announced etc, but fundamentally I like to have a plan.
For me knowing that Manchester United, Newcastle, Brentford and Brighton blanks mean I need to think carefully about any investments.
Managing Gameweek 25
My team currently contains four players who will blank in Gameweek 25.
Kieran Trippier
Luke Shaw
Bruno Fernandes
Marcus Rashford
This is too many players to get a full XI out in Gameweek 25. Manchester United doubled in Gameweek 22 and therefore I wanted three. However, I am happy to sell one of my United players ahead of Gameweek 25. This means I will have a full team, but no bench!
Transfers up until Gameweek 25
One of my transfers in to Gameweek 25 will be losing one of my United assets, likely Bruno Fernandes. I may yet bring him back in after the blank and for the rest of the season. The bigger is for me comes with players like Mitoma.
Mitoma and Brighton are in exceptional for and have fantastic fixtures around the blank. However if I bring Mitoma in it will cause a bigger issue for Blank Gameweek 25 and this is compounded by the fact that Brighton could also blank in Gameweek 28. The FA Cup results will mean further blanks in Gameweek 28.
As long as managers are aware of how they are going to manage Gameweek 25 then there is no reason to avoid assets who blank in Gameweek 25 now. However, be careful that you don't have too many which means you will have to either free hit or take multiple hits to have a team.