My FPL season so far – Marc Jobling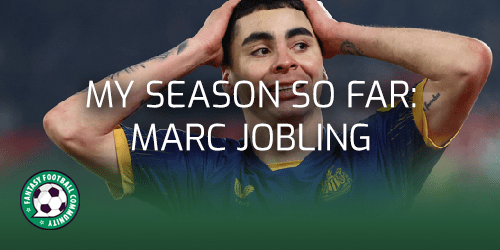 This FA Cup weekend is a time for managers to self-assess and think about the future. Here is Marc Jobling with his FPL season so far.
Well, my team is in a rut right now – the season started so well but having such a template squad is making noteworthy rises impossible, or even just any rise at all.
Previously, my end-of-season ranks have neither been disastrous nor special. Solid, probably. Last season's 127k included a huge rise in the latter weeks, so I hoped this momentum could carry over and finally create that great, consistent campaign.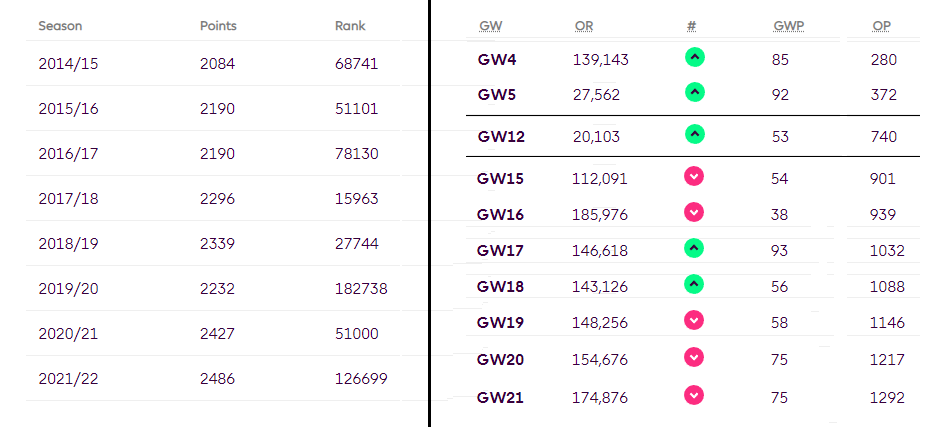 EARLY WEEKS
The first dozen Gameweeks saw ranks of 27,526th, 27,542nd and 20,103rd, which made me ecstatic. Some previous FPL winners have had worse starts, so anything was possible.
Highlights included owning Dejan Kulusevski for his opening weekend's 13 points, having the early Pascal Gross successes and captaining Erling Haaland for his hat-tricks of Gameweeks 5 and 9. Goalkeeper Vicente Guaita hauled in Gameweek 11, whilst I played Kyle Walker-Peters for Southampton's only clean sheet so far.
Unfortunately, the final pre-World Cup weeks saw me constantly punished for not having Harry Kane or an Arsenal defender. Worse – as a Newcastle fan who historically stays away from our players – missing Miguel Almiron's highly-owned purple patch was a mistake, as was only having one defensive asset rather than a Nick Pope double-up.
For the long six-week break, a rank of around 186k.
SINCE THE WORLD CUP
So I wanted to take advantage of the period for unlimited free transfers by grabbing Kane (threemium), Almiron, an Arsenal defender and Sven Botman. Cover the main bases and play it safe.
Botman has been one of the only successes so far, although buying Luke Shaw for his 15-point Gameweek 19 haul was another.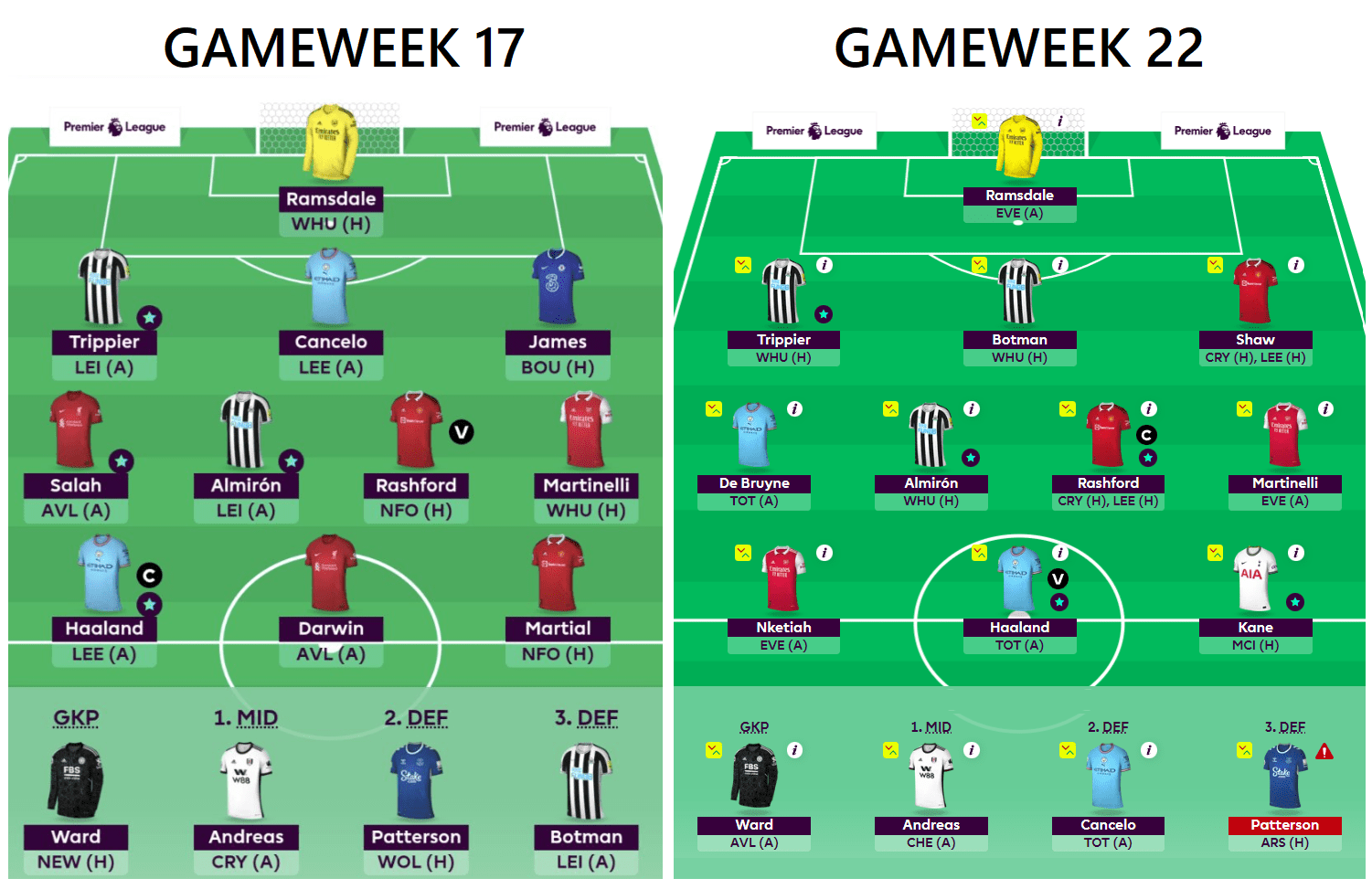 The rest is a series of mistakes. I ultimately fell for the Darwin Nunez hype over Kane and reluctantly went for Reece James, knowing he trolls me every time. Sure enough, an injury 52 minutes into Gameweek 17.
Additionally, I overruled my gut feeling on two other issues. Nervous about Joao Cancelo's attacking potential and high ownership, I didn't follow up on Ederson interest. Also, choosing Anthony Martial over Ivan Toney was a poor decision.
Now, I've barely risen over the five rounds, dwindling around the same ranks. No gains from Haaland, Kieran Trippier and Marcus Rashford points, with the few well-owned names I don't have – Martin Odegaard, Kepa, Bukayo Saka – repeatedly delivering.
LOOKING AHEAD
Therefore I need to shake things up. Time to sell Almiron, Cancelo and Gabriel Martinelli, ideally for some differential names.
One of my two Gameweek 22 transfers has already replaced Aleksandar Mitrovic with Eddie Nketiah. The other needs to sort out the Man City defensive situation whilst possibly shifting Martinelli to Saka. Both by their Double Gameweek 23.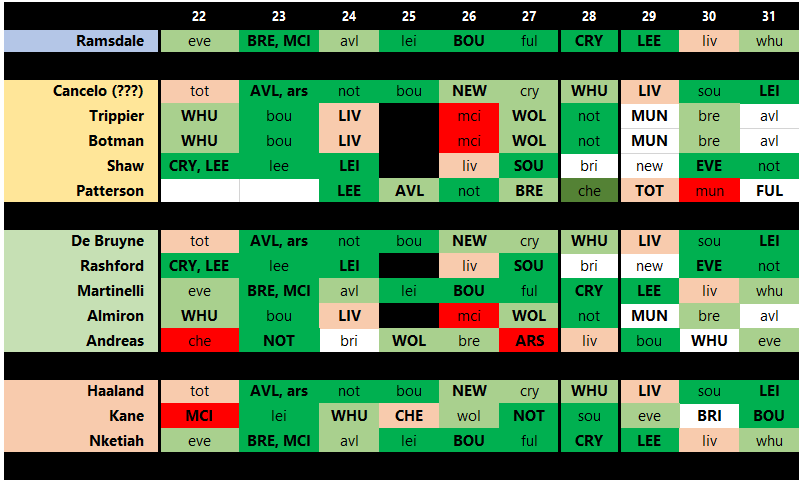 This is part of the big spreadsheet I keep when planning and it assumes that Man United v Newcastle will be the Carabao Cup final during Gameweek 25.
Once these FA Cup matches reveal a bit more about Blank Gameweek 28, I'll start thinking of a chip strategy. Firstly, Triple Captain is still available and may go to Rashford for the upcoming double.
Overall, I'm just really disappointed with how this campaign is petering out. There's a temptation to Wildcard soon and fix all fires but then I remember that, actually, my squad is good. And I'm following logic.
Time to stop stressing about a free game and start enjoying Newcastle's season!