MLS Fantasy Round 13 team reveals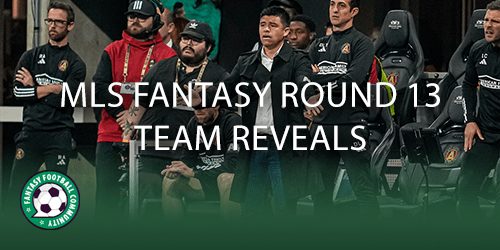 The brand new campaign continues! We take a look at MLS Fantasy Round 13 team reveals from some of the most experienced managers around. They share their thoughts on their teams going into the new round including captaincy.
Looking at some MLS Fantasy Round 13 team reveals can be extremely beneficial for new managers. Seeing some of the best assets, who managers will be looking to captain and their general thoughts can help bring clarity within our own teams.
@dmpwright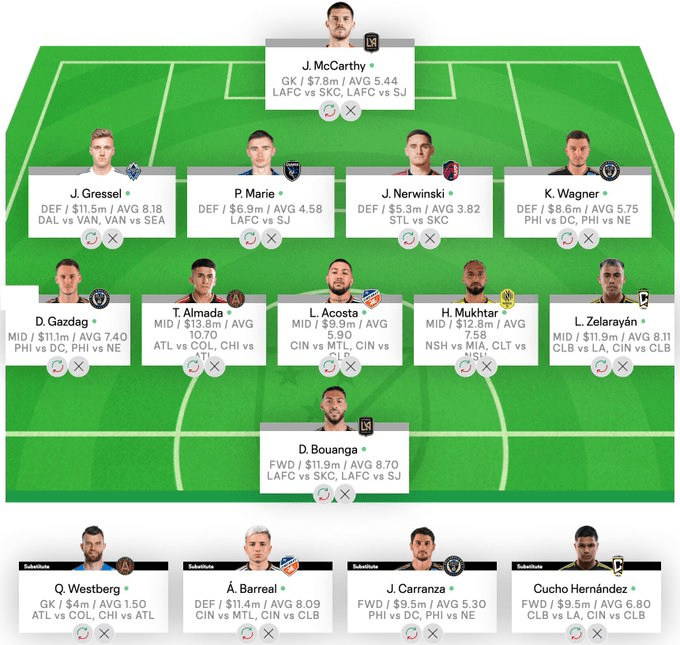 Notes
My goalkeepers for this round are Quentin Westberg and John McCarthy. I don't particularly like the Westberg pick because Atlanta are liable to defensive errors and I don't expect them to keep a clean sheet in either game. However, for $4.0 million I don't mind taking a punt on their first DGW fixture; should it not pay off, I am happy to fall back on McCarthy, who stands a good chance of at least one clean sheet this week.
In defence, Kai Wagner and Álvaro Barreal are locks due to their offensive potential; Barreal will be on the bench though, as he is one yellow card away from suspension. Julian Gressel continues to post outstanding attacking numbers but has seen a drop off in his fantasy output. His DGW fixtures also aren't the best and he is most at risk of being cut from my back line, with Brooks Lennon, John Tolkin and Yeimar Gómez also in my thoughts.
Jake Nerwinski and Paul Marie are my fallbacks from the weekend SGW teams, should none of my bench players hit.
Thiago Almada, Lucho Acosta and Hany Mukhtar, despite his below-par performance against DC United in the last round, are all locks in my midfield, with one of them likely to be my captain.
My other two midfield picks are Lucas Zelarayán and Dániel Gazdag. Zelarayán was rotated for Columbus' game against Orlando but is guaranteed to be in my team providing he starts against LA Galaxy.
Philly have arguably the best DGW fixtures and, for that reason, I cannot overlook Gazdag; Evander is also in my thoughts though after back-to-back double-digit hauls.
Dénis Bouanga, Cucho Hernández and Julian Carranza were among the first names in my team this week. The Bouanga and Hernández picks speak for themselves, with both players capable of scoring and creating goals for their teams. As for Carranza, I prefer the upside play of a second attacker over Andre Blake given Philly's favourable matchups. With Mikael Uhre out, Carranza is likely to be the focal point of the Union offense.
@melvin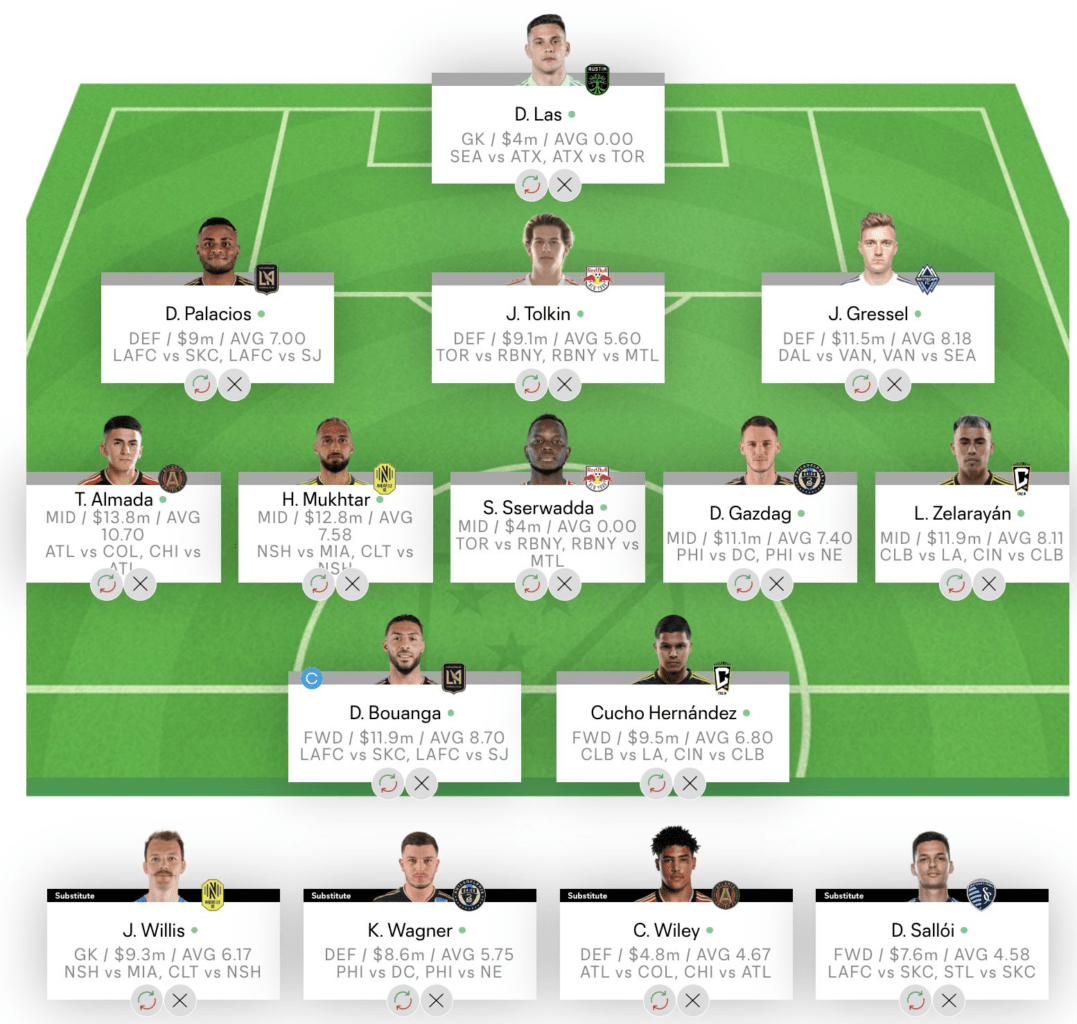 Notes
Defender: Julian Gressel (VAN; 11.5m): MLS defender leader for big chances created, shots and even though playing away to Dallas in the first game of the dgw, he has a home game v Seattle on the weekend. He poses a good chance to get attacking points as he is playing OOP.
Midfielder: Daniel Gazdag, (Philadelphia Union,11.1m): Philadelphia Union have a high xGF this DGW and they play two home games with Gazdag having two goals and three assists in his last four games. This makes him a noteworthy pick this round.
Midfielder: Hany Mukhtar (NSH; 12.8m); Mukhtar got an incredible 21-pointer two weeks ago and Nashville have an easy dgw. This makes him a great pick again this round. Mukhtar is also high with stats like shots, shots on target, key passes and crosses in MLS.
Forward: Denis Bouanga (LAFC; 11.9m), Denis Bouanga added another goal on Saturday to bring his total to nine goals and two assists in 10 games. LAFC have a good DGW with both at home and Bouanga is the focal point of their attack.
My captain is likely to be one of Almada or Bouanga.
That's it for my Round 13 team, good luck!
@Mahoney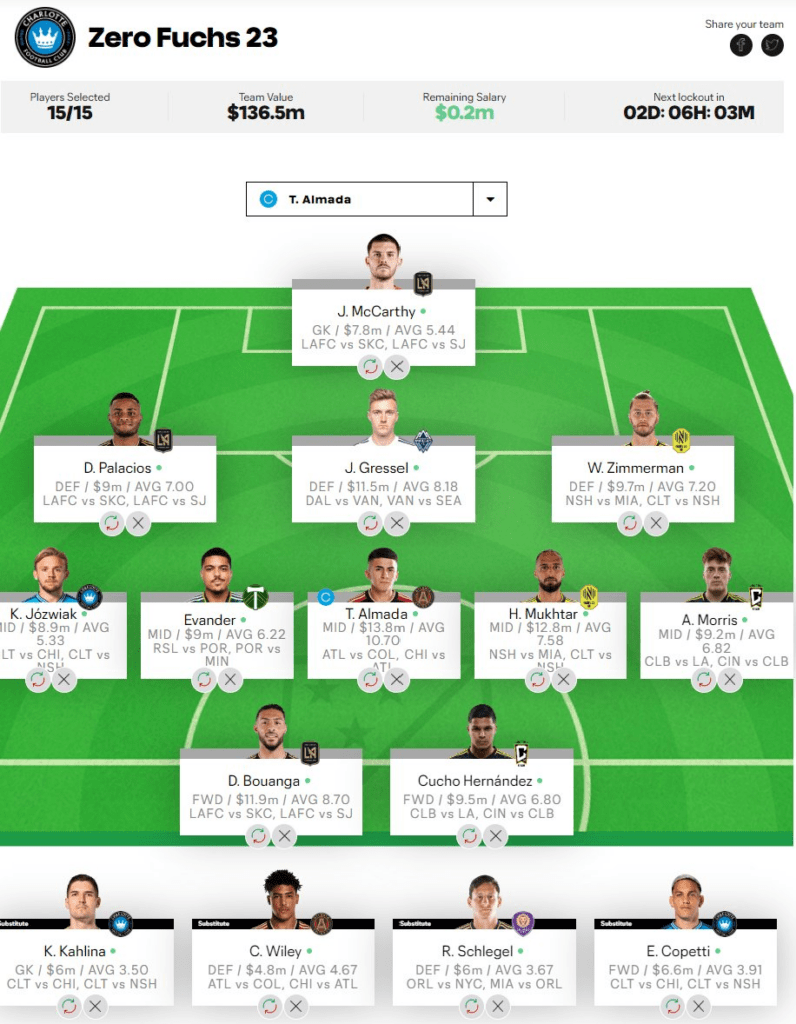 Notes
Round 12- 81 points this weekend and a move up 110 spots to 1162 in the world.
Mukhtar, Buanganga and Evander were the big hitters.
It is a double Gameweek for many this week so nearly a total overhaul to the squad.
LAFC have two home matches and MLS fantasy points are far better when at home in general.
Captaincy is tough but I am going for Almada this week.
Defensive candidates Gressel and Palacios are both options.
Kamil J has been stellar for Charlotte FC driving a lot of the scoring chances and they also have two home matches. If Kahlina has good points after the first match on Saturday I'll replace the starting keeper with a throwaway though I won't have much time in between the first matches to make the switch.
That completes my Round 13 team reveal.
@MotleyBarnets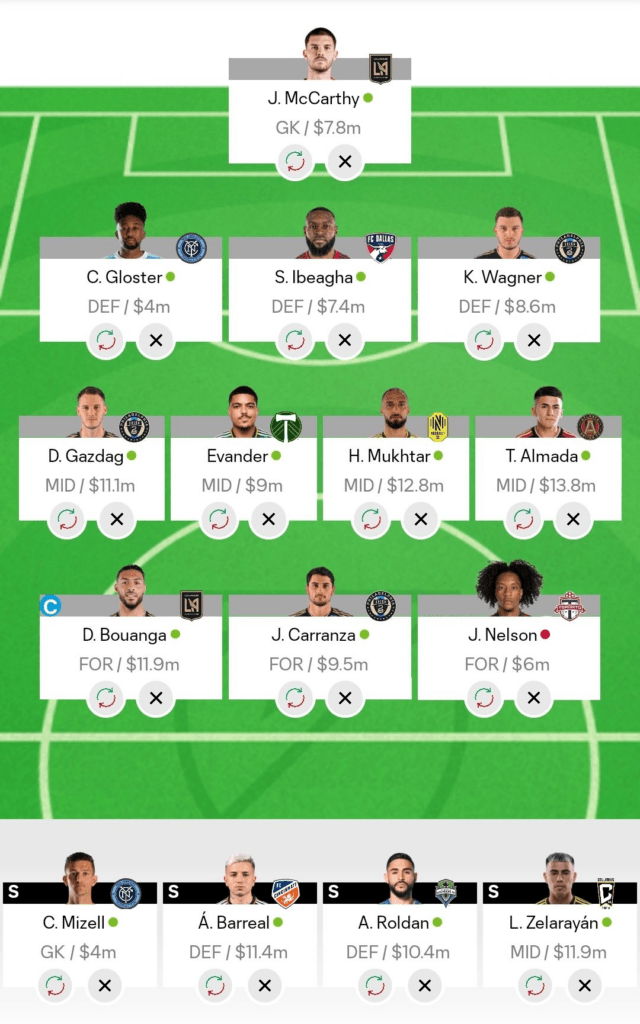 Notes
Round 12 Recap – 80 points – Down to 314th OR – TV increase of $2.1m to $144.2m.
Goalkeepers – With LAFC one of the few teams with two home games, I'm going to start with McCarthy ($7.8m) in goal with Mizell ($4m) on the bench.
Defenders – Two teams that are near the top of my "Expected Ave. FPTs per Defender" rankings are Seattle and Cincinnati. The logical picks are to go with Barreal ($11.4m) and Roldan ($10.4m), but with both players a yellow card away from suspension, I may just put both on the bench and see which ones come on for an autoroo.
Dallas and Philadelphia are another two teams that have favourable double-home fixtures. Because of this Wagner ($8.6m) and Ibeagha ($7.4m) make up my back-three In addition, Gloster ($4m) makes cut. He is a "safe-scrub" having been bought out of his contract by NYCFC.
Midfielders – I've decided to go all guns blazing in midfield by lining up with Gazdag ($11.1m), Almada ($13.8m), Evander ($9m) and Mukhtar ($12.8m). Meanwhile, I have doubts about Zelarayan ($11.9m) following his disappointing no-show in the last GW. Because of this, he will take up the last spot on the bench.
Forwards – Leading the line are two forwards that both have double-home games. Those players are Bouanga ($11.9m) and Carranza ($9.5m), with the former having the captains armband having averaged 12.25 points per home game this season.
The last spot is taken by another, yet more expensive, "safe scrub" – Nelson($6m). He was transferred out of Toronto to Rosenborg.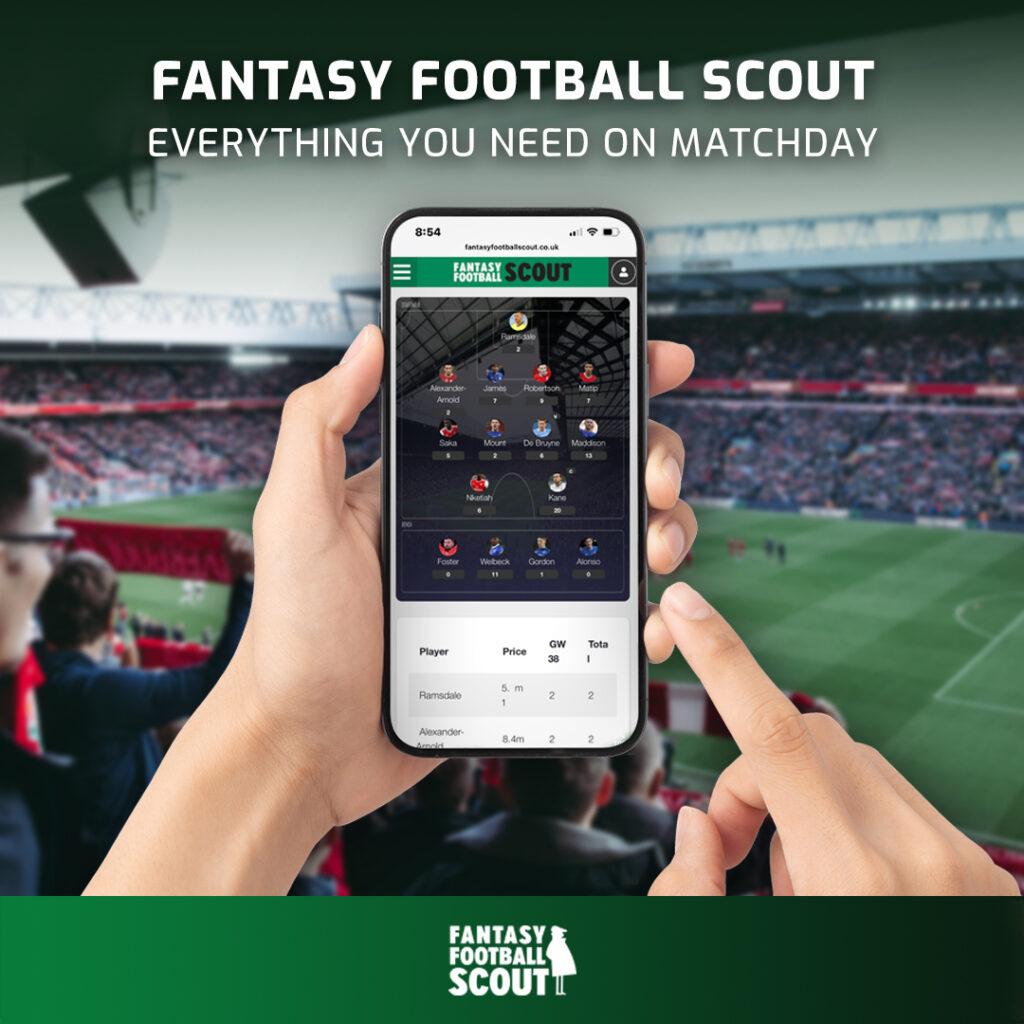 ---
Using your free hit in FPL this week? Check out our best free hit team for Gameweek 37 right here.