MLS Fantasy Round 12 team reveals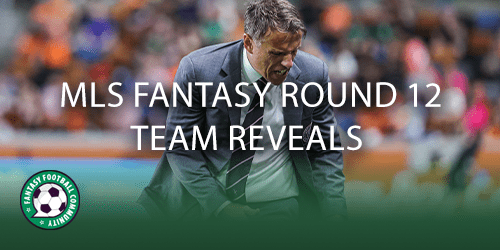 The brand new campaign continues! We take a look at MLS Fantasy Round 12 team reveals from some of the most experienced managers around. They share their thoughts on their teams going into the new round including captaincy.
Looking at some MLS Fantasy Round 12 team reveals can be extremely beneficial for new managers. Seeing some of the best assets, who managers will be looking to captain and their general thoughts can help bring clarity within our own teams.
@dmpwright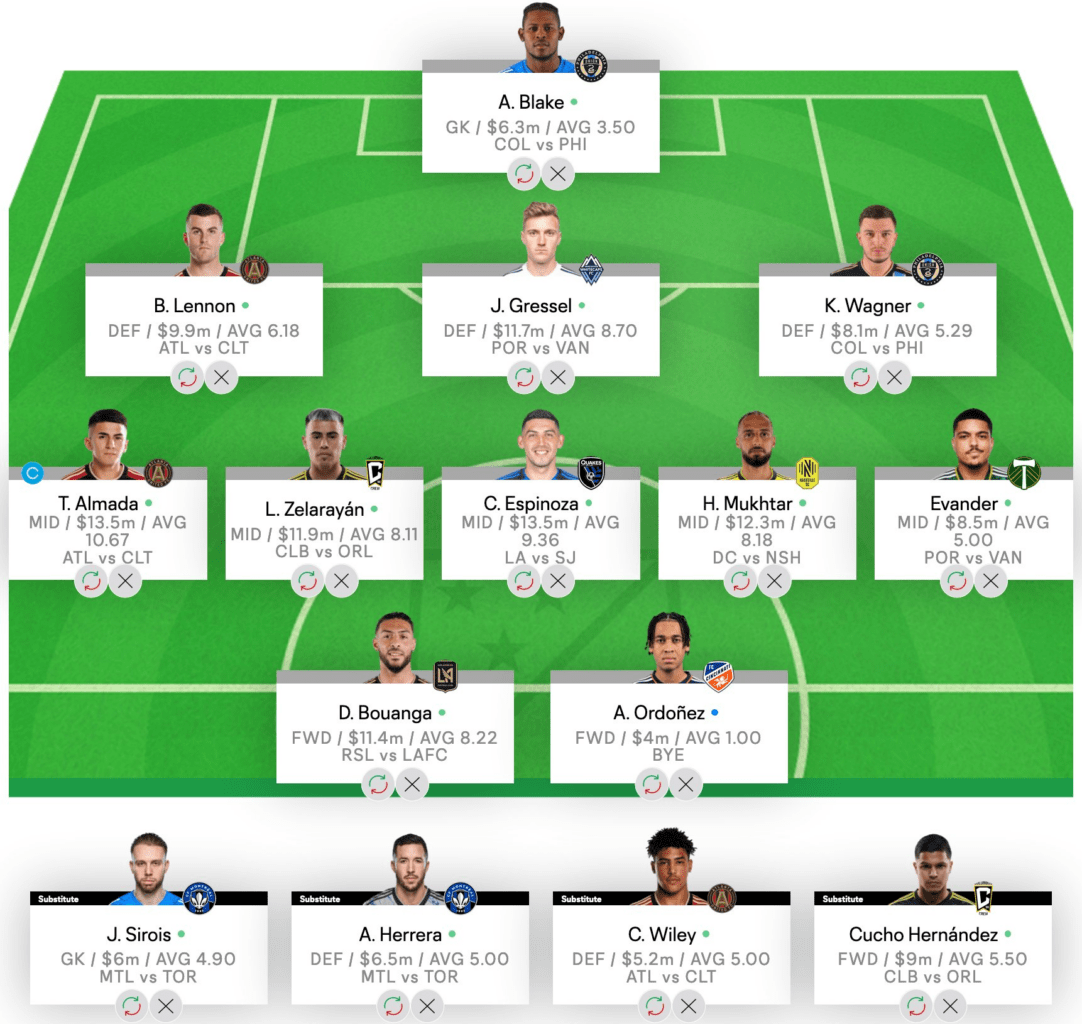 Notes
My goalkeepers for Round 12 are likely to be line-up dependent. Currently, I have opted for Jonathan Sirois with Andre Blake as a fallback: Montreal face an out-of-sorts Toronto side and are on a run of three clean sheets in their last three games, while Philadelphia have looked better since exiting the CONCACAF Champions League. However, if João Klauss doesn't start for St Louis then I will probably pivot from Sirois to Chris Brady and take one of Carlos Terán or Arnaud Souquet at the same time.
In defence, I have paired Sirois and Blake with Aaron Herrera and bonus-point magnet Kai Wagner, respectively. Brooks Lennon and the out-of-position Caleb Wiley are locks due to their promising home match up against Charlotte. Julian Gressel is also a shoo-in due to his offensive potential, despite playing Portland away.
In midfield, Thiago Almada (my captain for this round), Cristian Espinoza, Hany Mukhtar and Lucas Zelarayán all pick themselves this week. My final midfield slot is up for grabs. At the moment, I have gone with Evander, who is starting to show glimpses of his Midtjylland form and has a good chance of attacking returns against Vancouver. However, I may go with Eduard Löwen in place of Evander if Klauss does start for St Louis, while Héctor Herrera and Daniel Gazdag are also in my thoughts.
Upfront, Denis Bouanga was one of the first players in my team. He is in incredible goal-scoring form and should do well despite playing Real Salt Lake away. I also expect Cucho Hernández to be among the goals when Columbus play Orlando.
My final forward slot is currently scrubbed. I have money in the bank to bring in Jeremy Ebobisse should none of my bench players return – he is a good fallback as he plays at the end of the round and faces a so-far dismal LA Galaxy defence.
@_FutboIOscar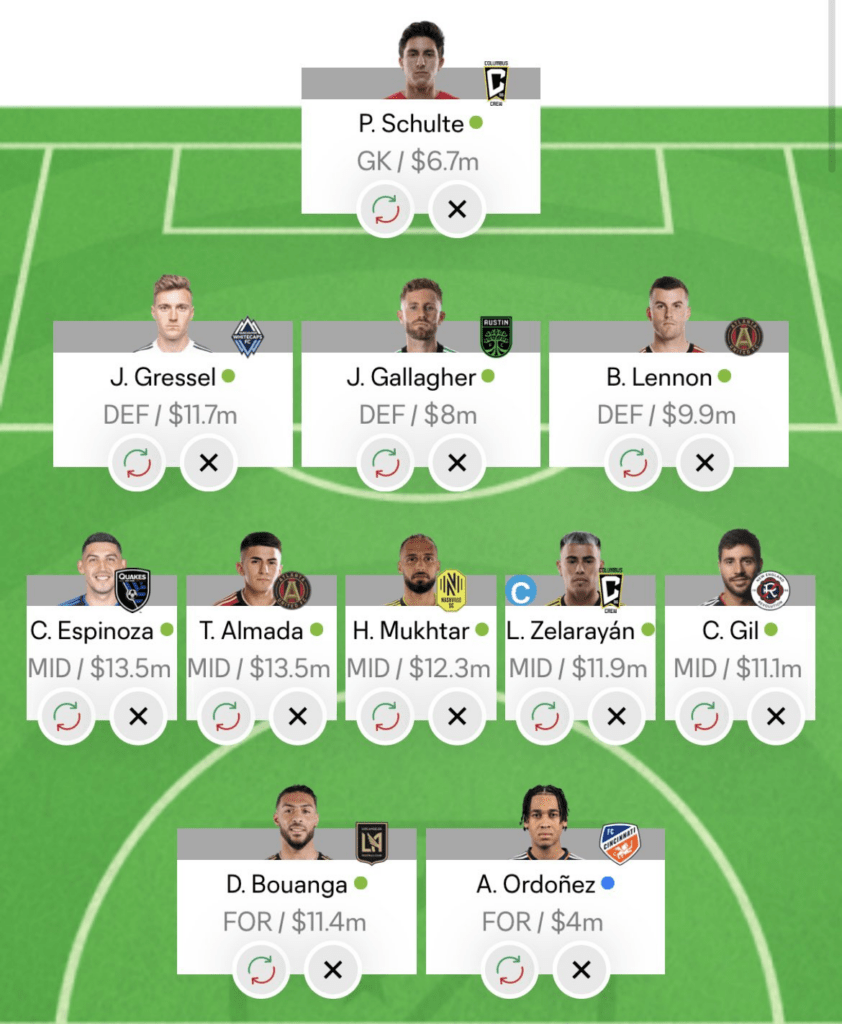 Notes
97 points in round 11 saw me drop down to 24th overall. I'm hoping to bounce back this week before the big double in Round 13.
In goal this week I've gone for Brady and Schulte. Westberg ($4.1m) and Sirios ($6m) are also worth considering.
My defender pick this week is Atlanta United's Brooks Lennon who's racked up three assists and 16 key passes in his last four appearances.
In midfield this week I'm likely to have Espinoza, Almada, Mukhtar and Zelarayan. My last midfield pick is currently Revs' playmaker Carles Gil but I'm also considering Hector Herrera of Houston Dynamo.
Forwards: Denis Bouanga scored again in Round 11 and is now up to eight goals this campaign. I've paired the LAFC attacker with Cucho Hernandez and a BYE.
My captain this week will be Lucas Zelarayan. The Armenian playmaker has three double-digit returns in his last five appearances.
@melvinmbabazi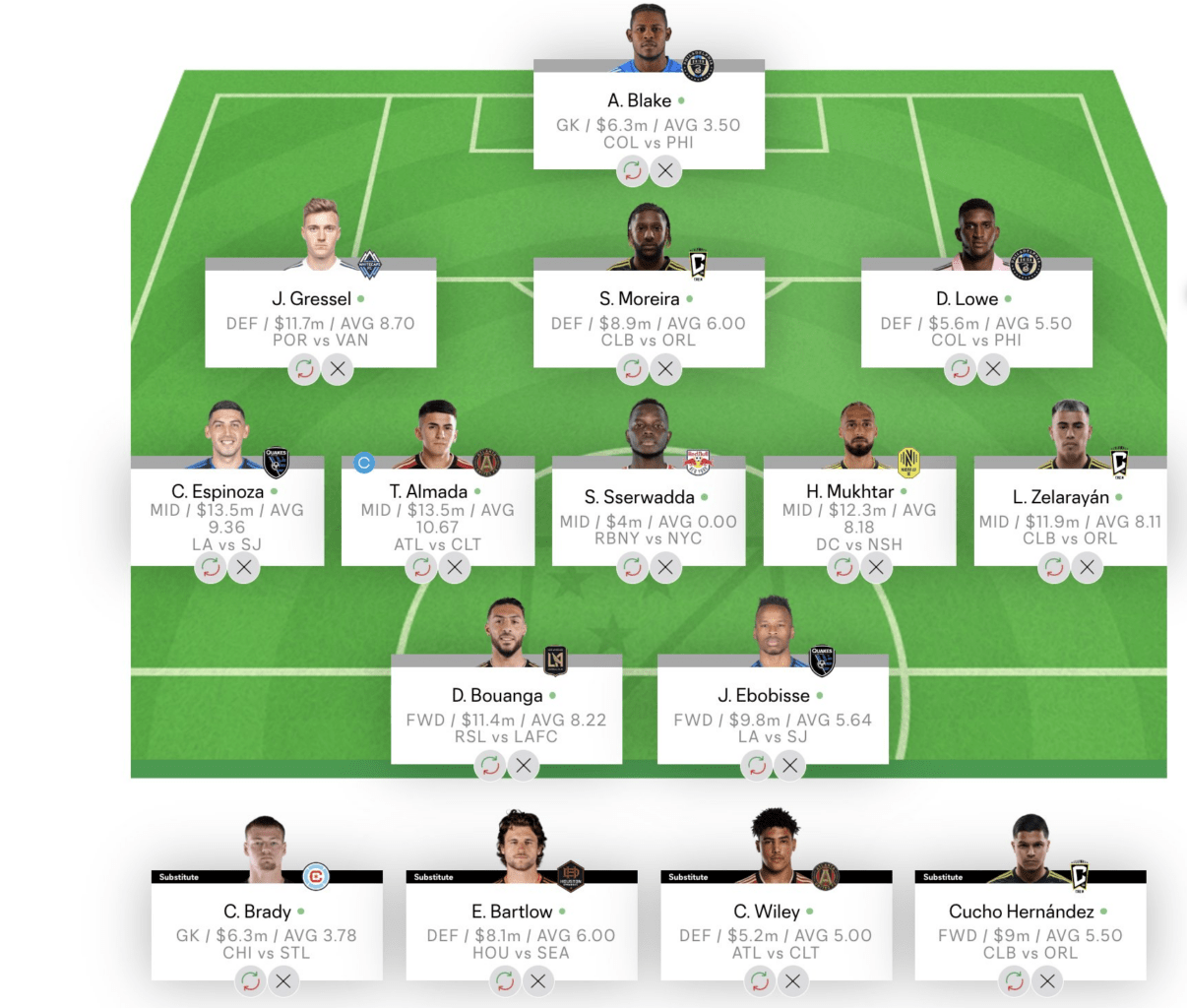 Notes
Defenders – Julian Gressel (VAN; 11.7m): MLS defender leader for big chances created and shots. Even though he is playing away to Portland, he poses a good chance to get attacking points as he is playing OOP.
Midfielder: Cristian Espinoza (SJ; 13.5m); Premium midfielder, Espinoza has been on fire in 2023. He's scored seven goals across his last six outings, and he's averaging over nine fantasy points per game, look for Espinoza to continue to fuel the San Jose attack.
Midfielder: Hany Mukhtar (NSH; 11.8m); Mukhtar got an incredible 21-pointer last round which makes him a great pick again this round. Mukhtar is also high with the stats on shots, shots on target, key passes and crosses.
Midfielder: Thiago Almada (ATL; 13m), Another Premium midfielder, Almada has five goals and six assists in nine games this season. Almada also averages over 10 PPG, making him a good option this round.
Captain My captain is likely to be one of Almada or Espinoza.
@eytexi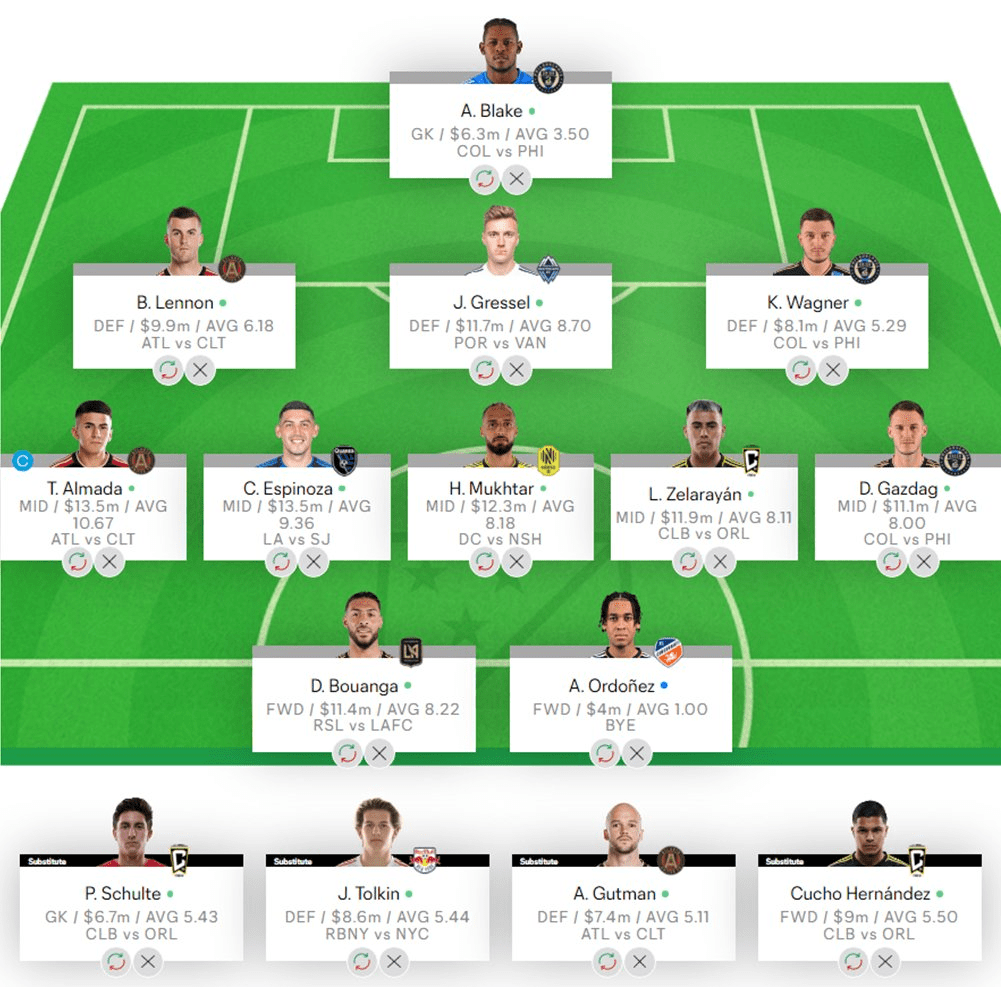 Notes
Brooks Lennon: four assists (tied first), 23 key passes (tied second), and 26 successful crosses (first) all stand out among MLS defenders this season; three assists, 16 key passes, and 15 crosses have come within the last four fixtures! The league's best winning odds and joint third best clean sheet odds make this the perfect week for Lennon!
Kai Wagner: Philadelphia may have an away game, but Wagner's brace in the US Open Cup midweek is worth attention. Three bonus points in each of his last two games bodes well for his floor, whilst the MLS' second best winning odds among away sides suggests we shouldn't be put off by the fixture!
Lucas Zelarayán: Columbus Crew have the league's second best winning odds for round 12, goals looking likely having seen them score 14 in five MLS home games so far this season. Just two players can top his 37 shots, whilst only three are able to top his 182 final third passes in 2023.
Dániel Gazdag: Five goal involvements and 31 points in his last three games justifies his inclusion over Gil and Herrera as the fifth midfielder for round 12. An away fixture for Philadelphia may put some off him, but I'm tripling up for their second consecutive away game, hoping to gain again!
@Mahoney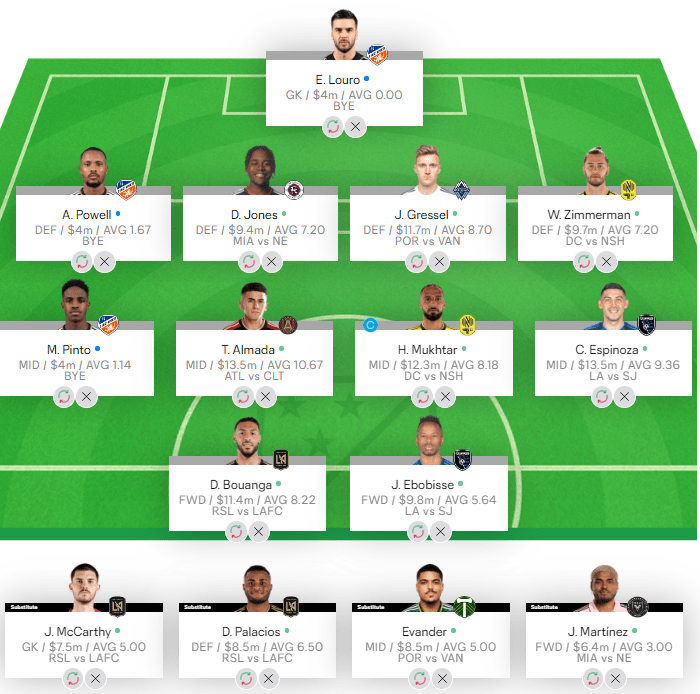 Notes
104 points and one of my better weeks with the brace from Copetti at home for Charlotte FC, fun match to watch.
OR up from 1503 to 1272 and a couple of good mini-league wins.
This week I am adding to LAFC defence with GK and DEF with Palacios.
Sticking with captain Mukhtar again this week though ATL-CLT could be a goal fest with both teams giving up the most goals in the conference so far.
Copetti for CLT is suspended for this match for accumulation of yellows so adding Josef though minutes may be limited.
@MotleyBarnets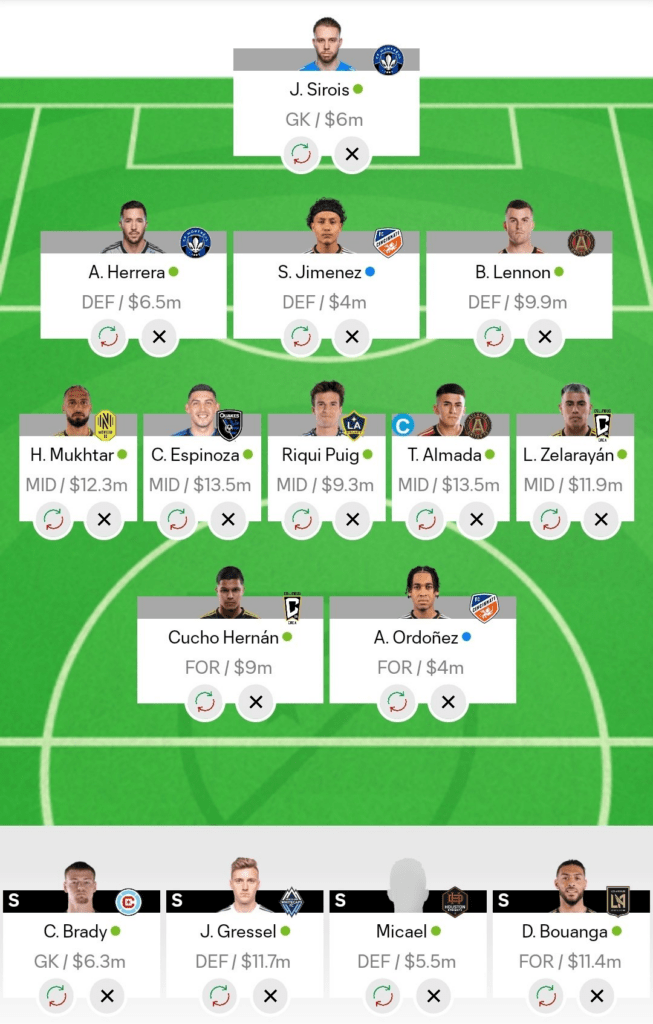 Notes
Round 11 Review – 97 points – Down to 307th OR – TV increase of $3m to $142.1m – 18 points outside of FCL qualification.
Goalkeepers – I may go with Brady ($6.3m) on the bench as Chicago host St. Louis in the early game. If he does well, then I'll scrub either Sirois ($6m) or Clark ($8.5m) from my starting XI – with current preference for the former, as Montreal seem to have turned a corner and host a Toronto side who have given up an average of 6 points to opposing 'keepers in their last 3 away games.
Defenders – I'm also looking to Montreal for my first defender and Herrera ($6.5m) has been on great form recently. Houston meanwhile are at the top of my expected points rankings for defenders, and with Hadebe out I really like the value pick of Micael ($5.5m). Atlanta also has a favourable home fixture and stand 4th in my expected points rankings. This makes Lennon ($9.9m) a firm choice in my starting XI.
Despite being on the road, I'm still being drawn to Gressel($11.7m) and a BYE player will complete my selection.
Midfielders – The midfield foursome of Mukhtar ($12.3m), Espinoza ($13.5m), Almada ($13.5m) and Zelarayan ($11.9m) will be incredibly chalky this week. Even if the former two both have away games.
Despite playing for one of the worse teams in the MLS, Puig ($9.9m) is my differential pick. With him playing on the Sunday, he will be an easy scrub if my bench hits. Also, Galaxy are somehow second on my expected points rankings for midfielders.
Forwards – My front line is easily as straight forward with Cucho ($9m) and Bouanga ($11.4m) being accompanied by a BYE player. This team leaves me with $7.3m in the bank to play around with further combinations closer to the rolling lock-outs, as team line-ups are revealed.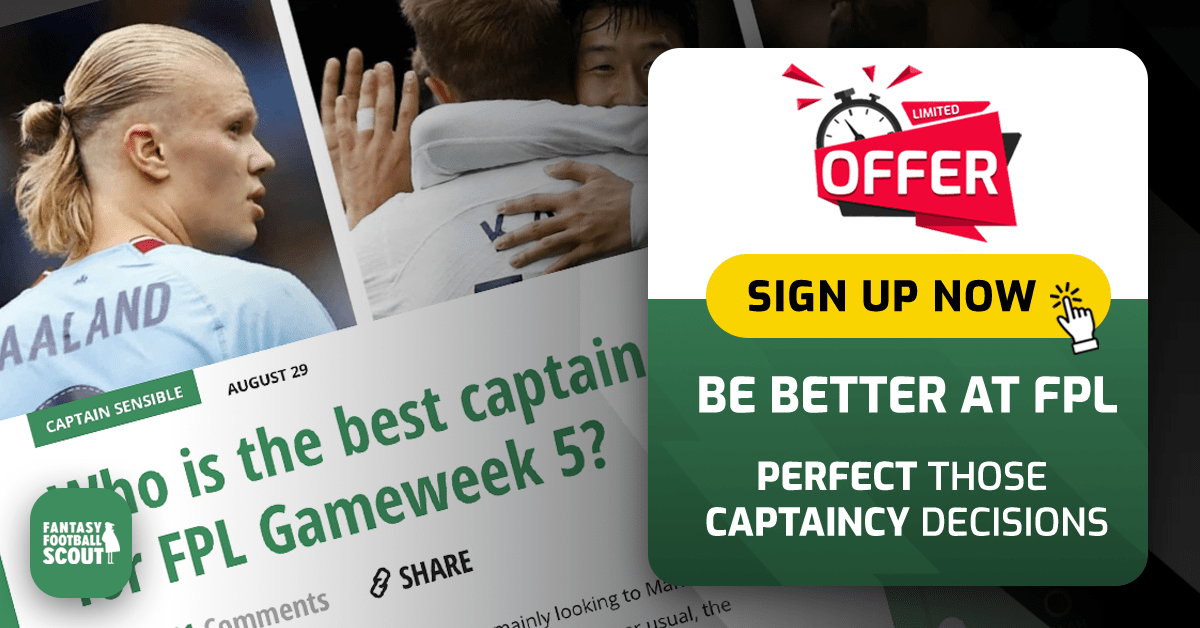 ---
Are you looking to gain rank in Fantasy Premier League? Check out some of the best differentials for Gameweek 36 in our article here.