GAFFR Gameweek 21 Key takeaways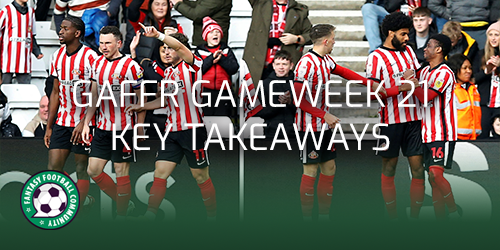 Taking a look at GAFFR Gameweek 21 key takeaways. We go through each and every game that played in the Championship in the most recent round. Taking into account clean sheets, assists, goals and bonus points we highlight the most successful assets in Gameweek 21.
Picking out key moments in each game every Gameweek can give GAFFR managers even more information to make those all-important decisions for the Gameweek ahead. Whether it be for transfer plans or captaincy, the more information we have the clearer our decisions could be.

Birmingham v Sunderland
It was a tightly contested match between Birmingham and Sunderland that finished 2-1 to the away side. The highest scoring player from Birmingham was striker Jutkiewicz (£5.4m), hitting seven points for his goal.
Sunderland midfielder Diallo (£6.1m) picked up the biggest return. His 16 points consisted of an assist, goal and performance bonus.
Bristol City v Watford
It was a 0-0 stalemate between both sides meaning there were plenty of defensive returns. Bristol City defenders Pring (£4.4m) and Dasilva (£5.1m) hit 10 points each for their clean sheets. The biggest earner from Watford was defender Kamara (£6m). He hit collected 10 points for his clean sheets and bonus.
Cardiff v Sheffield United
Cardiff lost 2-1 against the in-from Sheffield United and that meant a lack of returns for the Welsh. The biggest haul came from defender Baldock (£6.1m). Baldock managed a massive 15 points due to his clean sheets, goal and bonus.
Coventry v QPR
There was a slight surprise within the community when Coventry took a comfortable 2-0 victory from QPR. The QPR loss meant no significant returns in GAFFR. Coventry striker Viktor (£8.1m) clawed a huge 16-point haul for his two goals.
Coventry midfielder O'Hare (£6.9m) collected 10 points after creating an assist and receiving bonus.
Huddersfield v Swansea
The second 0-0 stalemate of the Gameweek came between Huddersfield and Swansea. Huddersfield defender Lee (£5.5m) bagged nine points for his clean sheets and bonus. Swansea defender Manning (£5.2m) went one better because of his clean sheets and bonus with 10 points.
Hull v Reading
As expected, it was an entertaining game between Hull and Reading. However, it was Reading that took the spoils in a 2-1 win to extend their great form. Hull defender Greaves (£5m) returned 10 points for his goal and bonus whilst teammate and midfielder Seri (£5.5m) matched that after his assists and bonus.
The biggest Reading GAFFR performance came from striker Meïté (£6.5m) who scored and hit bonus to pick up 11 points.
Luton v Rotherham
It was a very close match in the Luton v Rotherham and that was reflected in the 1-1 draw. Luton's biggest success came from midfielder Clark (£5.5m) as he bagged nine points after creating an assist and earning performance bonus.
Rotherham's biggest returns was from midfielder Lindsay (£4.8m) who matched Clark with his goal and bonus points.
Norwich v Middlesbrough
Norwich were in great form until they met Middlesbrough. The away side took three points from the game with their 2-1 win. Norwich did have two top performers though. Midfielder McLean (£5.4m) collected 10 points for his assist and bonus whilst teammate and striker Sargent (£7.7m) bettered that with 11 points after his goal and bonus.
Middlesbrough's biggest performer was midfielder McGree (£6m) who scored and hit bonus resulting in an 11-point return.
Preston v Millwall
The away side Millwall came out on top with a massive 4-2 win over Preston. The home side weren't without big GAFFR returns though. Defender Hughes (£5m) picked up 11 points for his goal, assist and bonus.
Preston midfielder Flemming (£7.4m) hit a colossal haul of 21 points for his goals and bonus points.
West Brom v Stoke
A 2-0 loss to Werst Brom meant no significant returns for Stoke assets. West Brom defender Bartley (£5.9m) returned 13 points after his goal, clean sheets and bonus. Midfielder Swift (£9.7m) returned to form, bringing in 11 points for his owners due to his assist and bonus.
Burnley v Blackurn
It was a big 3-0 victory for home side Burnley against Blackburn. Striker Barnes (£8.4m) picked up a massive 16 points for his goals and bonus whilst midfielder Zaroury (£7.1m) hit 15 points for his assist, goal and bonus.
Sunderland v Millwall
Sunderland took convincing 3-0 win against Millwall. Their most successful GAFFR asset was striker Simms (£5.6m), collecting 14 points for his goal and assist.
---
Stay up to date with all of our GAFFR articles here.