Fantasy Champ Man GW7 preview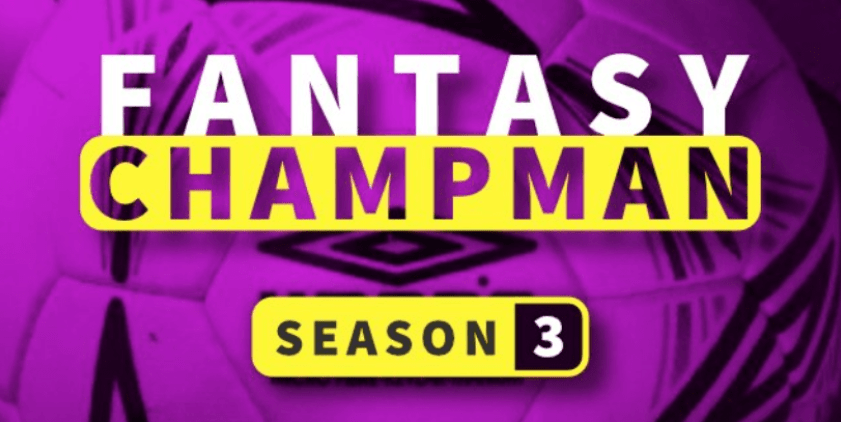 With season three of Fantasy Champ Man underway, expert David (@FPL_Gills) is here to provide regular advice to the FPL community.
---
If you haven't pulled the trigger yet, I believe that this week is an excellent time to pull the wildcard.
THE LEAK
Make sure you follow @CM_Scarface on Twitter for leaked line-ups each week. The official account will also tweet the leak out but it's worth getting the heads up to plan in advance. Let me explain why.
We found out on Sunday that Ben Muirhead is starting for Man United. This indicates that they are rotating players for one of their easier home games against a low reputation team. These are the only three games where Muirhead has started in our sim, both in the cup, and you can see the difference below.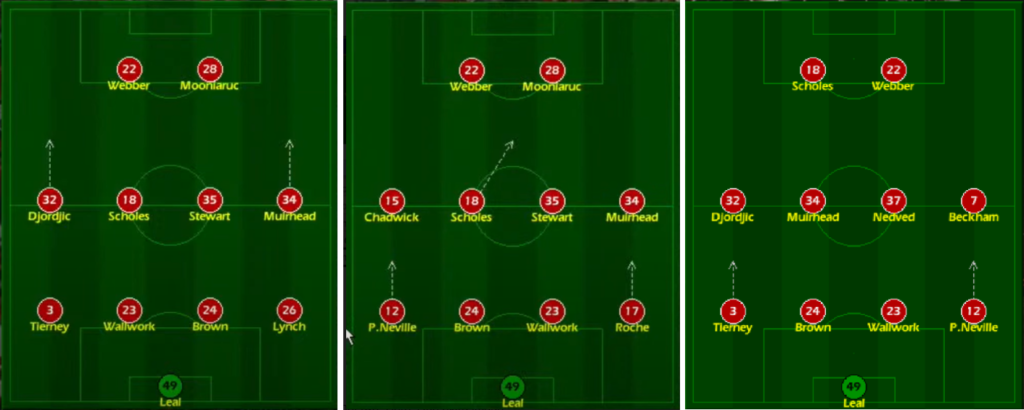 The likes of Juan Sebastian Veron, Ruud Van Nistelrooy, Luke Chadwick, Ugo Ehiogu and Mikael Silverstre are all a huge risk and most, if not all, are likely to be rested this week.
Also leaked was Sami Hyypia not starting. After this week, Liverpool will have two away games. I brought him in a couple of weeks ago but am looking to get rid.
Kevin Kilbane is also announced to be starting for Sunderland. This suggests rotation too, so if you have the likes of Kevin Phillips, Libbra and Julio Arca, there's a chance they won't feature.
Back-to-back home games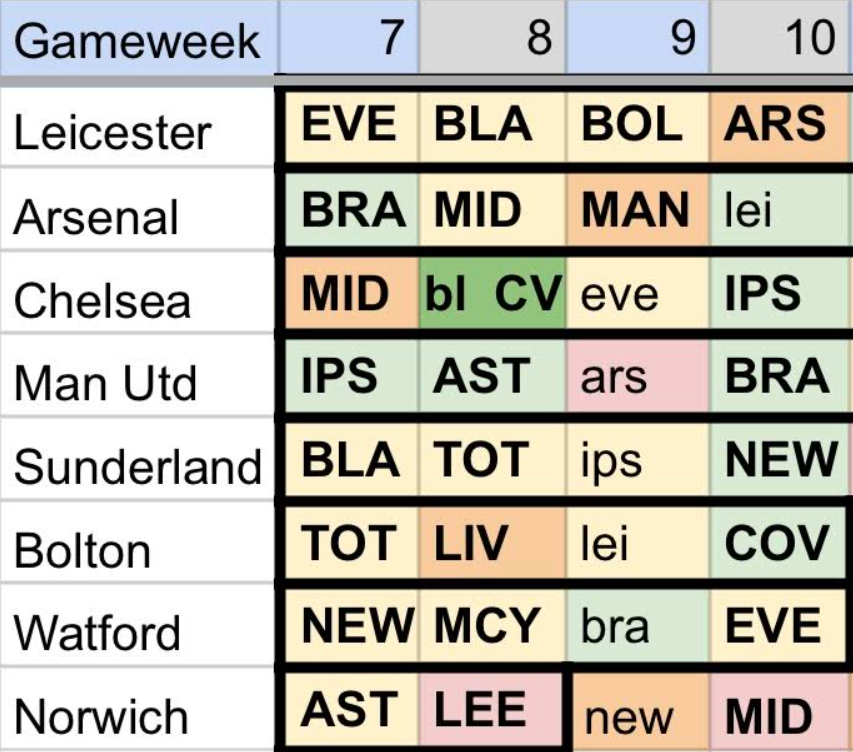 Seven teams have at least two home games back-to-back, starting this week. There's three-in-a-row for Arsenal, four for Leicester, plus the Double Gameweek for Chelsea to set up for. Thierry Henry and Smith could score a hatful this week. For midfielders, I'd consider Pedersen, Petkov and Benito Carbone.
You can also set your bench up nicely by having a Man United or Sunderland defender there, knowing that you'll have enough cover with your fresh squad. Don't ignore the likes of Silverstre and Emerson Thome for a third bench spot.
Great fixtures to target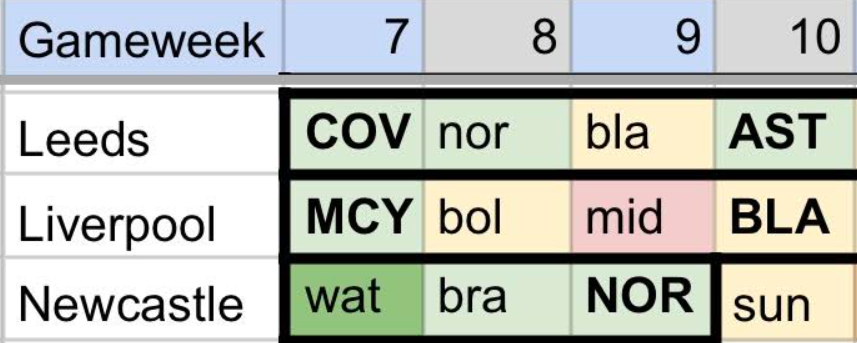 Leeds and Liverpool have just the one home game but the likes of Mark Viduka and Michael Owen can still score plenty this week. Newcastle have three great fixtures, starting with Watford who have a new manager playing 5-3-2 sweeper. There's a known bug in the game that make this an awful formation. Aston Villa put three past the Hornets last week and I'd expect the likes of Carl Cort and Alan Shearer to do the same.
I'd also consider Neil Maddison and Olivier Bernard, both £4.5m and playing on the wings. Wingers playing against wingbacks tend to do well in CM01/02. I'd recommend looking ahead at Watford's run and targetting their opponents for captaincy, especially when playing away.
Bench planning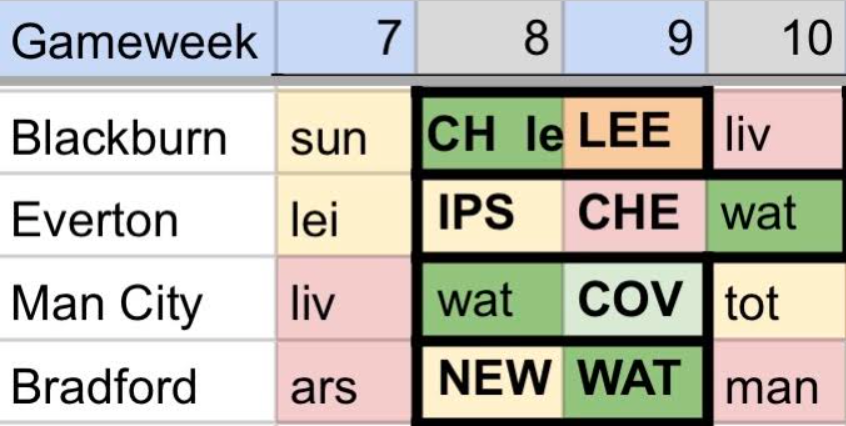 The four teams above have poor away games this week but are all at home in Gameweek 9. I would consider putting a few of these on your bench to balance out the squad. There is also Blackburn's double to consider – David Wetherall is my top pick from their team and can be benched this week.
Fixture swing for popular assets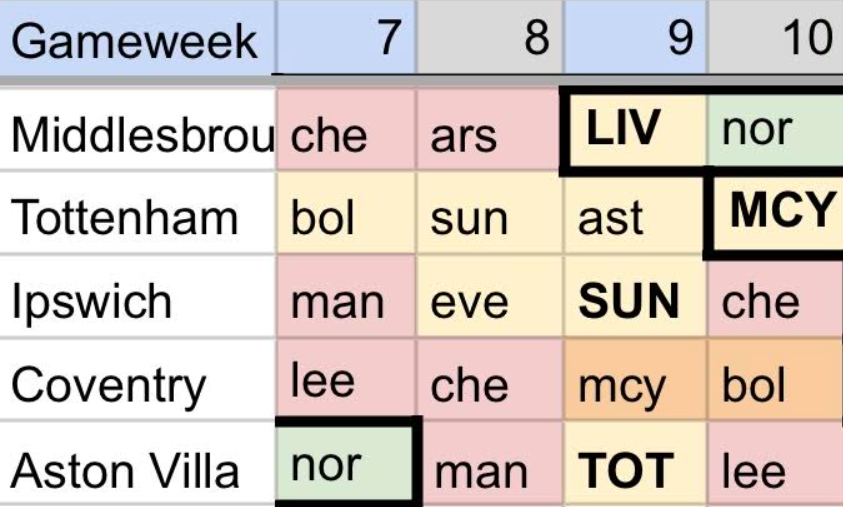 It's likely that you may still have several assets from the above teams. Villa players can be held and benched if required but Middlesbrough, Tottenham and Ipswich have horrible runs coming up. For me, if you have four or more players from these teams, I'd advise hitting that Wildcard button.
My team's fine – when else should I wildcard?
It's possible that your team is in fine shape this week – congratulations if so! I'd look at trying to hold right through until Gameweeks 16 or 17. Chelsea, Middlesbrough, Everton and Leeds all have a double in 17.
Follow @talha_nadeem_90 on Twitter for top tips on Double Gameweeks – he knows his stuff.
Shout outs to the community
Finally, the people in the Fantasy Champ Man community make the game so good. I'd like to give a huge shout out to the following accounts on Twitter who sim, create content, present the live streams or help create the game.
@ManOnPod_Craig, @ManOnPod_Martyn, @ManOnFPL, @ffscout_luke, @FPL_Panda, @FplKaptain, @whitebeard_fpl, @FF_Deakin, @FPL_MarmaladeF, @DiscussionFpl, @BenjoBD, @Moukokofpl, @FPL_Hayden, @cootfpl, @fpl_tactician, @FplRonarid9
Make sure to engage with the Fantasy Champ Man community on the Discord and YouTube channels, with links on my previous articles, or tweet me.