Famous People Playing FPL – GW10 Review
A weekly round-up of how comedians, actors, TV stars and generally famous people are doing at FPL, including footballers.
---
Current world chess champion Magnus Carlsen is a well-known lover of FPL, finishing in tenth place at the end of the 2019/20 season. His progress was tracked by the community throughout, as his real-life credentials made managers wonder whether there is more logic and strategy to FPL than originally thought.
His team this season has had a more stuttered start but scored 66 in Gameweek 10, taking him from 159k up to 65k. Each midfield player returned at least six points and Reece James brought him a further 21, making up for the poor performance of his three strikers.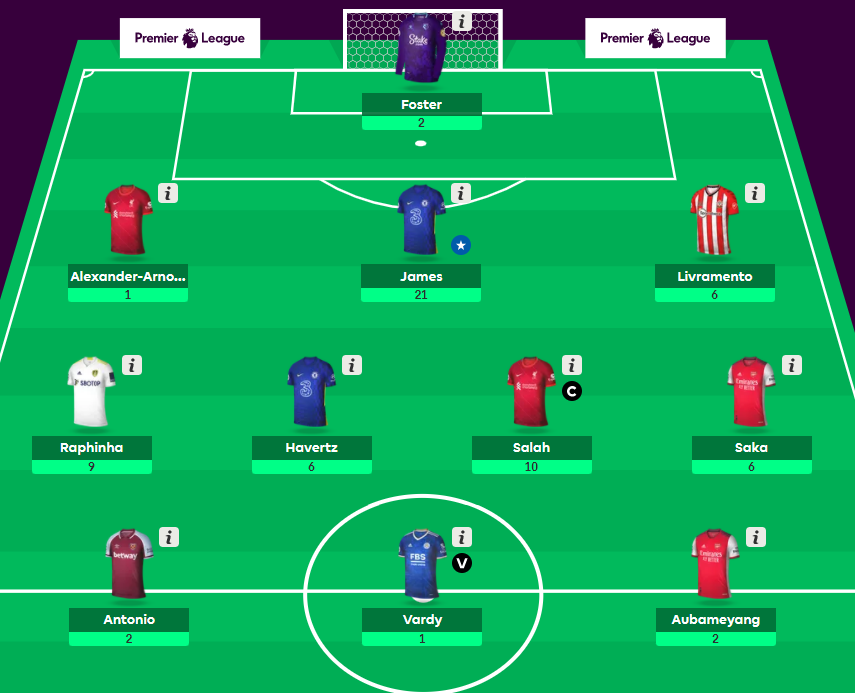 'Sheffield Thursday' continues to rise for Sophy Ridge. The Sky News presenter rolled her transfer into next week and managed to score 60 points thanks to Aaron Ramsdale (10), Raphinha (9), Raul Jimenez (9) and Ben Chilwell (8). She is only just outside of the top 1k, currently ranked 1,265 out of 8,554,743.
One participant from the 'Comedians Playing FPL' mini league did better than both – Rob Beckett. His only transfers of the season took place during a Gameweek 5 Wildcard, yet he amassed a Gameweek 10 score of 75 because his Mohamed Salah-less team still has the captain's armband on Cristiano Ronaldo. That contributed to 24 points, with Reece James (21) and Conor Gallagher (13) taking him from 6.9 million to the lofty heights of 6.2 million in the global rankings.
Matt Forde's two-week streak of beating co-host Jon Richardson ended here, as the latter won 62-36 on this occasion. Richardson's 'Bielsa Bubbly' team showcases his love of Leeds United and their duo Raphinha (9) and Rodrigo (6) helped him out here. However, he will be frustrated that his Gabriel Jesus for Pierre-Emerick Aubameyang transfer didn't work out, as well as the six points of both Ben White and Michael Keane remaining on his bench.
Beating Richardson by one point this week is producer, presenter and best-selling author Richard Osman. His 'Saturday Murder Club' boys did him proud, again with Ronaldo captain over Salah. Emily Dean is still on top of their league, with Iain Stirling marginally closing the gap.
Amongst current players, Robert Snodgrass had a great week. He made two transfers at a cost of four points, buying the immediate 30 of James and Emile Smith Rowe. The West Brom man has had a poor FPL season, yet scored 77 points this week in spite of captaining Kevin De Bruyne (1).
His defence alone brought in 53 points, tripling-up on Chelsea's back line (James, Antonio Rudiger, Edouard Mendy) whilst also having the six points of Tino Livramento and the 14 from Burnley's Matt Lowton. Snodgrass also collected the goal and assist of Ronaldo.
Dwight McNeil did not have Lowton amongst his two Burnley players – opting for himself and James Tarkowski – but racked up an impressive 73 points because of James, Ronaldo and Raphinha. The Clarets convincingly defeated Brentford, with a McNeil assist delivering his first attacking return of the season.
Arsenal's Bukayo Saka actually sold Ronaldo for Ivan Toney but otherwise had a good weekend. Not only did the Gunners win at Leicester; his assist and Ben White's clean sheet produced 12 points for his FPL team.
Finally, it's interesting to note that Brighton's Shane Duffy has already made 19 transfers, alongside a Wildcard used in Gameweek 7. Three were made last time and four came in this week, with mixed success. He sold Ronaldo (12) amongst the four, but James (21) was a wise purchase. Just a shame that it cost him 12 points to do!