England v Iran match report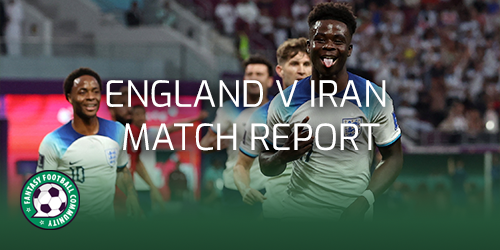 The World Cup is now here. Our second kick off begins with today. We take a look at the England v Iran match. We will highlight the line-ups, pick out the key moments and standout World Cup Fantasy performances during the match.
Covering the England v Iran match can be very useful to World Cup Fantasy managers. Highlighting line-ups, key moments and standout fantasy performances can aid decisions regarding future transfers, captaincies and chip strategy.
Line-ups – England
Defender Kieran Trippier (£5m) is the most owned player in the game. Trippier's owners will be hoping to keep a clean sheet at the very least. Striker Harry Kane (£11m) will be hoping to fire England ahead and reward his owners.
Iran
Star striker Mehdi Taremi (£7m) is in fine form for his club. Furthermore, for Porto this season Taremi has scored an impressive six goals and created five assists so far. Former Brighton midfielder Alireza Jahanbakhsh (£5.5m) will also be looking to cause an upset.
Key moments
After a clash of heads, Iran goalkeeper Ali Beiranvand (£4m) looks to be injured but is adamant he will continue. Although that was the case, several minutes later, asked to be substituted off.
Iran midfielder Alireza Jahanbakhsh (£5.5m) fouls England defender Luke Shaw (£5m) and picks up a yellow card.
England defender Kiean Trippier (£5m) sends in a corner which comes off centre back Harry Maguire's (£5.5m) head and strikes the bar.
Left back Luke Shaw sends in a looping cross which is met by midfielder Jude Bellingham (£7.5m) and glanced into the back of the net making it 1-0 to England.
Harry Maguire nods down a ball from the corner which was met with a stunning half volley from midfielder Bakayo Saka (£8m) to make it 2-0,
Striker Harry Kane glides a ball across the opposition's goalkeeper and is poked into the net by forward Raheem Sterling (£8.5m) putting the score at 3-0.
The first half finishes 3-0.
Bakayo Saka added to his tally after dribbling in the box and curling a shot past the left-hand side of the goalkeeper, making it 4-0.
Iran forward Mehdi Taremi strikes the ball off the bar and into the net to score, 4-1 England.
Harry Kane plays the ball into forward Marcus Rashford (£7.5m) who despite just coming on, scores to make it 5-1 to England.
Harry Kane is substituted off on the 75th minute but is replaced by forward Callum Wilson (£7m).
Callum Wilson got into a fantastic position, despite that, he squared it to midfielder Jack Grealish who slid the ball into the net to make it 6-1.
Iran earned a penalty which was put away by Taremi despite this the loss was still heavy because the game finished 6-2.
Standout World Cup Fantasy performances
Harry Kane was one of the standout performers. Kane provided two of the assists to help England win.
Bukayo Saka was the biggest success. Saka's two goals helped him reach a double-digit haul.
Another big performance came from Jude Bellingham after his goal.
Iran's Taremi scored two goals. His goals put him on double points.
@FPLReaction's comments
England were rampant offensively and Saka stole the show for me. Iran forward Taremi could also be an interesting option as his fixtures improve.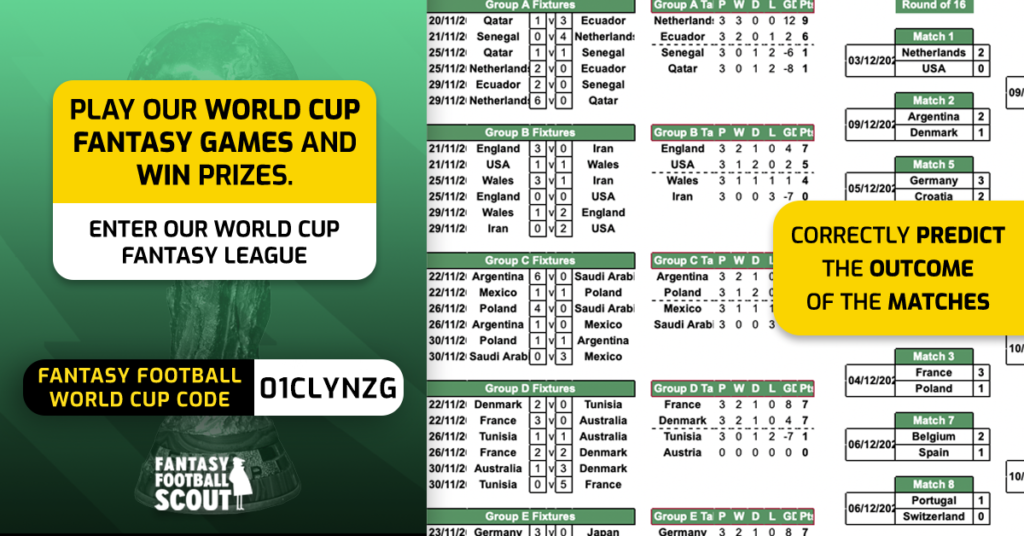 ---
Did you miss the Qatar v Ecuador match? We picked out the key moments, standout World Cup Fantasy performances and @FPLReaction's comments right here.