Early thoughts on World Cup Fantasy Matchday 5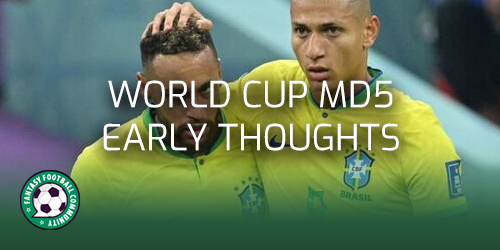 A collection of early World Cup Fantasy thoughts for Matchday 5, with quarter-finals taking place on Friday and Saturday.

So the round of 16 is over, as things intensify with quarter-final football on Friday and Saturday. Unfortunately for us football lovers, that means today and tomorrow are blank days where other areas of life need attention.
With much drama to come, perhaps this breather is needed.
BEST MATCHDAY 5 PLAYERS
NETHERLANDS v ARGENTINA
The 38 per cent ownership of wing-back Denzel Dumfries was delighted to finally see an attacking return come in. Then two more. In fact, not to sound ungrateful, his 14-point haul could've been much more had one of his other assists been converted or the Dutch defence not lost their clean sheet.
In a rematch of their 1998 World Cup quarter-final, will Lionel Messi provide a magical goal to rival Dennis Bergkamp's? He's practically dragging Argentina through this tournament and, as FIFA Fantasy's most-owned player, it'd be foolish to go without the maestro.
Midfielder Angel Di Maria wasn't fit enough to start against Australia but could be a good pick here. Although it's hard to predict any clean sheets at this stage, with all opponents tough, no nation has conceded fewer goal attempts.
ENGLAND v FRANCE
Unlike Argentina, Brazil and France, England avoided letting in a late consolation goal, learning a lesson from Iran's pair in Matchday 1. Gareth Southgate's side hasn't conceded since then, although they've yet to be tested. Certainly not against someone like Kylian Mbappe, who is in frightening form.
It's a fascinating encounter between two of the tournament's favourites but England have nothing to fear in attack. They lead the way for goals, have seen eight different scorers and France have conceded in every match. Harry Kane and Bukayo Saka could do well.
What's harder to predict is events at the other end of the field. Will Southgate switch to a three-man defence, bringing in Kieran Trippier for a midfielder? How will Mbappe be handled? Olivier Giroud and the two centre-backs are familiar with each other, so who wins that battle?
CROATIA v BRAZIL
Still unbeaten, Croatia were lucky to sneak past Japan on Monday. Ivan Perisic headed home an equaliser and was central to the majority of attacks, so is probably their only player worth considering. Certainly not a forward – Zlatko Delic keeps switching them around, impressed by none.
Both nations were without their preferred left-backs in Matchday 4, Borna Sosa and Alex Sandro. It remains to be seen whether either will return by Saturday.
As for Brazil, it's just a shame that there are so many strong options for Fantasy's three forward slots. Neymar, Vinicius Jr, Richarlison and Raphinha all danced their way to a 4-0 half-time lead over South Korea, yet a double-up requires some high-profile omissions elsewhere.
MOROCCO v PORTUGAL
At the same time, it's hard to find five appealing midfielders. This game provides a few options – Bruno Fernandes, Hakim Ziyech and Sofiane Boufal – but it's a struggle.
Neither of these defences can be trusted to keep a clean sheet, therefore focus on the attacking tendencies of Joao Cancelo and Achraf Hakimi.
So, let's enjoy Matchday 5 and grab some Fantasy points!