Community Team Reveal Gameweek 36 – Marc Jobling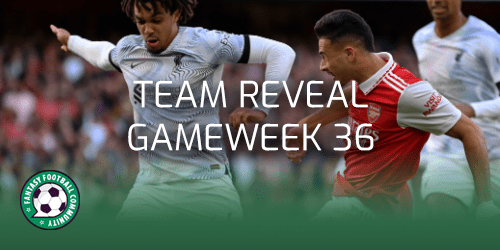 Each Gameweek brings an FPL community team reveal. As a result, that person gives insight into their transfers, captaincy and future plans.
---
Ahead of Gameweek 36, it's the turn of Marc Jobling tell us what he is doing to his team.
Hi Marc and thanks for the team reveal. So how did Gameweek 35 go?
38 points gave a marginal rise to 63,983rd, although I'm frustrated that it's barely up from my Gameweek 29 ranking of 64,620th. With such a template team, week-by-week movements are tiny – except the Gameweek 32 Free Hit which somehow ended up with a decent-sized drop. It was a disaster but totally my fault.
So this initially promising season is petering out a bit. For the last two rounds, Alexis Mac Allister has turned a red arrow into green but the lack of Trent Alexander-Arnold is certainly a problem. Liverpool's right-back has returns from seven successive matches.
What does your defence look like?
I have two free transfers and £2.3m in the bank, so buying Trent is likely. Yet I also think Liverpool will concede at Leicester, so is it wise to buy such a defender and then bench the double gameweek of Pervis Estupinan?
Especially when I'm changing my mind about not playing Sven Botman. As a Newcastle fan, I've lost all confidence in our defence and certainly didn't want to double up, even with two matches.
But I look at Leeds and wonder whether it'll finally be a clean sheet. Or maybe Brighton are starting to tire.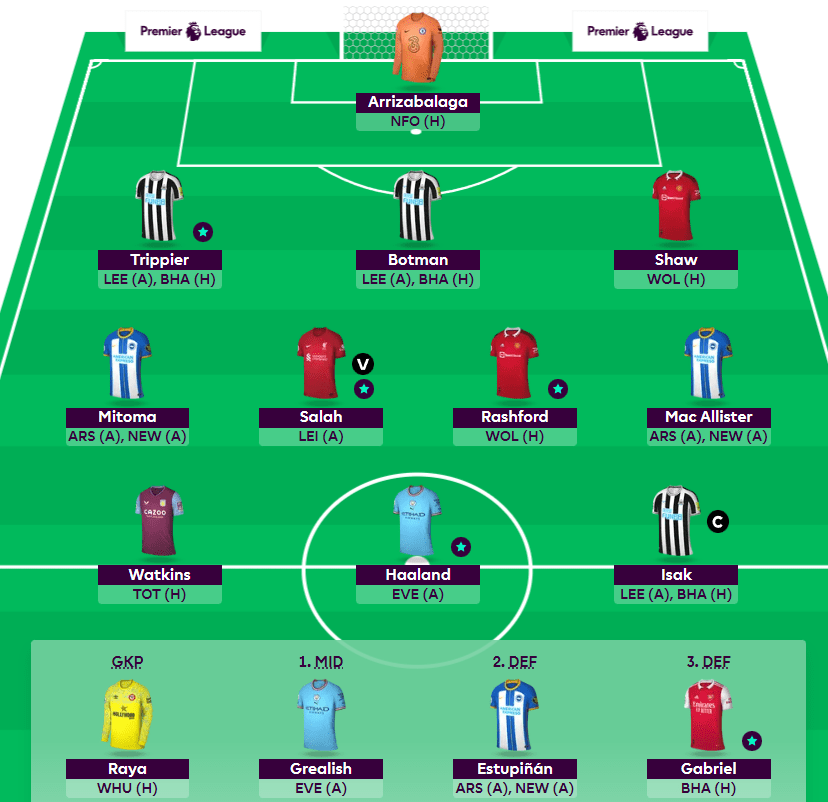 Meanwhile, what about your midfield and attack?
It's nice to finally feel ahead when seeing many others grab Mac Allister and Alexander Isak – a duo that I already have. No more fearing Solly March either, with expected names like Mohamed Salah, Marcus Rashford and Kaoru Mitoma locked in.
Ollie Watkins has blanked in his last four although, unlike in the past, at least I benefitted from his good run before he returned to some troll tendencies.
So what are your transfer plans for Gameweek 36 and beyond?
For a lot of this season, the transfers have felt mindless and predetermined – where that week's trends and situations lead us to an obvious place, with no room for creativity. But these two free transfers have potential at such a late stage.
With the aforementioned template frustrations, there's a real desire to go differential. Jack Grealish to depart, replaced by someone like Wilfried Zaha or Son Heung-min.
Of course, he could also become Bruno Fernandes, although I'm not a fan and don't feel excited by the prospect. The compromise could be Gabriel Martinelli – pure excellence but with 'just' 23% ownership inside the top 100k.
Grealish and possibly centre-back Gabriel make way, with a late decision on whether to Trent. Then, ideally, two final-day punts on forwards.
Finally, what about captaincy?
I'm pessimistic about my real-life team and whether they'll stay in the top four. Liverpool should get nine points so Newcastle need six or seven from a tougher fixture run. Still, I'll be captaining Isak rather than Mitoma, Haaland or the explosive Salah.
Good luck and thank you for the team reveal!