Community Team Reveal Gameweek 31 – FPL Shake n Bake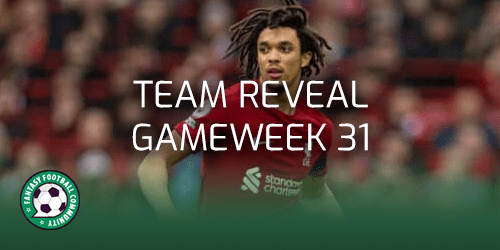 Each Gameweek brings an FPL community team reveal. As a result, that person gives insight into their transfers, captaincy and future plans.
Ahead of Gameweek 31, it's the turn of FPL Shake n Bake (Brett) to tell us what he is doing to his team.
Hi Brett and thanks for the team reveal. So how did Gameweek 30 go?
It was a week of what could've been. VAR's personal agenda against Kaoru Mitoma cost me a goal and a potential assist, whilst Ivan Toney missed a penalty and David Raya scored an unfortunate own goal. Despite this, and taking a four-point hit, I still managed a tiny green arrow with 62 points. This is thanks to the Man City boys that came in – Erling Haaland and Jack Grealish.
What does your defence look like?
I currently have David Raya and Keylor Navas in goal, likely keeping them until the end of the season with Raya as set-and-forget. Navas was bought with my Wildcard purely for Bench Boost 29, where he disappointed, although replacing a substitute keeper is the least of our priorities as we look towards the final weeks.
In defence, I have the hero Kieran Trippier, alongside Oleksandr Zinchenko, Pervis Estupinan, Luke Shaw and Timothy Castagne. The latter also came in for Bench Boost, where he surprisingly provided an assist.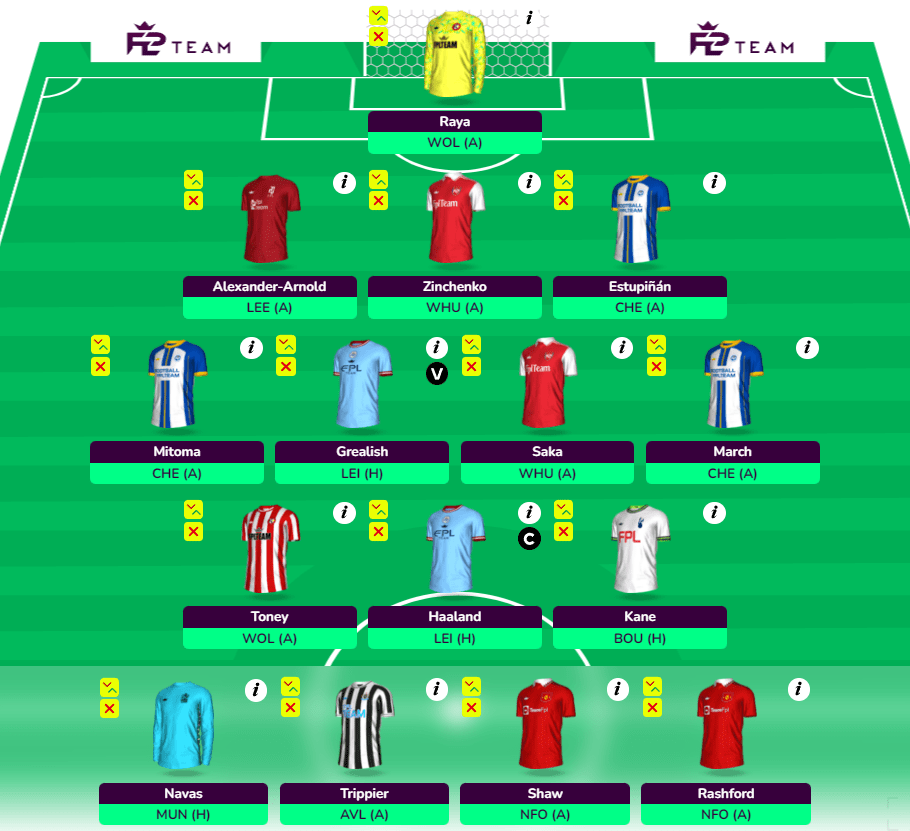 Meanwhile, what about your midfield and attack?
So I managed to get ahead of the curve by bringing in Grealish last week. It meant taking a points hit and removing James Maddison versus Bournemouth, which really worked out for me. Alongside Grealish, my midfield has Bukayo Saka, Brighton duo Mitoma and Solly March, plus the hot topic of FPL this week, Marcus Rashford. A decision is to be made there.
So what are your transfer plans for Gameweek 31 and beyond?
I'm planning to use my Free Hit in Gameweek 32, meaning there's no point in rolling my transfer as otherwise I'd lose it for Gameweek 33. The main talking point has been what to do with Rashford after the vague injury update. Considering form, price, the upcoming Double Gameweek 34 and my Free Hit, I can afford to give him a few weeks of recovery before deciding whether to sell.
The same applies to Luke Shaw and both will sit on this week's bench. Therefore, the transfer I'm looking at removing Castagne, as Leicester are woeful and about to face rampant Man City. In his place comes Trent Alexander-Arnold. Although Liverpool's defence hasn't been impressive, with left-sided attackers getting a lot of joy against Trent, he is beginning to remind us of the attacking strengths that make him such an exciting prospect.
With 44 points in his last eight appearances, it's a good time to bring him in and I hope his form can continue. However, it gives me a slight benching headache. As I really like Brighton's fixture against Chelsea, I will play all three assets and drop Trippier to the bench because I can see Aston Villa scoring against Newcastle.
Finally, what about captaincy?
It has to be Haaland. I like the fixture so much that I'm vice-captaining Jack Grealish just in case Haaland is rested.
Good luck and thank you for the team reveal!