Community article: Is Rodrigo essential?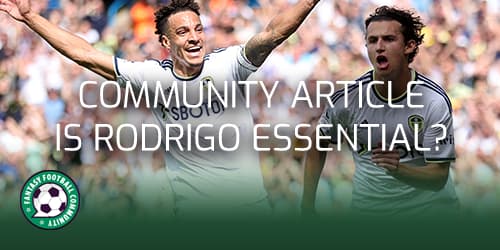 Leeds' Rodrigo is hot property in FPL at the moment following a fantastic start to the new season. With returns in all of the opening three matches he is the highest scoring player in the game, is Rodrigo essential? Leo Daruto from Bendito Fantasy has taken a look at the Leeds man in FPL.
Leeds currently sit third in the Premier League table. This is not a surprise given the performances we have seen in the opening three weekends of the season. Especially in the last game in which they dispatched Chelsea in a clear and forceful way by a score of three goals to nil.
Although all of Jesse Marsch 's pupils are playing at a high level, there is one player who is standing out within the pack: Rodrigo Moreno.
Thanks to him, Leeds have found the goals. In the following lines I will analyse the role that Rodrigo is having on the Leeds team. As well as deciphering why his impact this season is being much higher. But, above all, analysing whether Rodrigo is worth FPL investment. Is Rodrigo essential?
Rodrigo is living the dream!
Leeds have two wins and a draw so far this season. Many FPL managers focus has been on Man City's new signing Haaland. However, it is out of position Rodrigo who should be the focus. Leeds' midfielder in his third season for the club has finally found his mojo.
The numbers speak for themselves so far. Rodrigo has been crucial for his team as a goal scorer, scoring four times in just three games. In addition Rodrigo also has an assist to his name. Two of his goals have been headers, one with his right leg and the other with his left. This shows us not only that he is in a great moment, but that he is likely to have many opportunities to return.
In three games he has had 13 goal attempts. 46% of those shots have been directed at goal. He only has one clear opportunity that he has let go, underscoring his current extraordinary state.
Whilst many forwards have a shot and then remain in the area this is not the case for Rodrigo. He is an all-rounder, and his most common position is midfield. However, he does have tendency to charge down the right flank. This is highlighted by the way Leeds play. Marsch's team absorb pressure and deploying fierce counterattacks. often moving through the left to end up in Rodrigo's position on the right.
Reasons to avoid
Although in the Chelsea game, the high pressure game worked for Leeds, it is a type of approach that requires a lot of fitness. It will be necessary to see how far they area able to maintain that type of intensity. We have the example of the previous week against Southampton. During this match Leeds lose the win in the final 10 minutes of the match.
With their intensity of play the chances of Leeds scoring at the end of matches drops considerably. This is a disadvantage for Rodrigo as a potential goal scorer. If he doesn't find the rival goal relatively early, it most likely won't happen the rest of the game. This is especially true given he is often substituted in the final minutes.
Reasons to invest
With those small points against him, Rodrigo has several situations in his favour. Firstly, he is in a good purple patch. But beyond that, strikers are in fashion in FPL currently. We have the peculiarity that Leeds is without its starting striker as a result of injury to Patrick Bamford. This secures Rodrigo's position in the team and means him playing out of position up front for Leeds. However, even if Bamford does return, he's likely to remain as an attacking duo.
Many FPL managers were watching the Chelsea game as an audition for their FPL teams. Rodrigo passed his audition with flying colours.In the next six Gameweeks, he now has a much more attractive set of fixtures. Gameweek 4 opponents Brighton appear to be the most difficult match up between now and Gameweek 9
Conclusion: Rodrigo essential
Without competition, with a good schedule and priced at only £6.3 million everything points to Rodrigo. A week ago Rodrigo was in less than 10% of teams. This week he is the most transfered in player and now sits in more than 17% of teams.
The midfielder has returned 10 points more than his closest rival Gabriel Jesus (£8.1m). The current leading scorer in the game is likely to become another of those players who will soon be part of the template. Therefore it is important to invest early to gain maximum benefit. Managers who don't invest earlier will likely have to pay more for Rodrigo. For me this makes Rodrigo essential.
---
Don't forget to download this week's episode or follow the live broadcast on Tuesday, to hear rest of the Bendito Fantasy team weigh in on Rodrigo. You can also read this article in Spanish here.